According to reports, Microsoft Word integrates ChatGPT by using the third-party Ghostwriter add-in so that you can enjoy this AI chatbot. In this MiniTool post, you can find much information including Ghostwriter ChatGPT for Word, as well as how to use ChatGPT in Microsoft Word.
As an AI-powered chatbot, ChatGPT is well-received by users worldwide due to its extensive uses. It can be used to help you write papers, do homework, answer your questions and give you suggestions, write music, and more.
Because of its fun and practicability, Microsoft attempts to integrate ChatGPT into its products. Recently, it announces the support for ChatGPT in its Bing search engine. In our previous post – ChatGPT for Bing Is Supported & How to Get New AI-Powered Bing, you can see some details.
In addition, ChatGPT for Word is also supported. In the following part, some details will be introduced.
Microsoft Integrates ChatGPT into Word via Ghostwriter
Want to interact with ChatGPT when creating a document in Word? Now, this can be realized. According to reports, Microsoft Word has integrated AI-powered ChatGPT with the help of Ghostwriter. Ghostwriter is the creation of Patrick Husting who is an entrepreneur and software developer from Seattle.
Ghostwriter ChatGPT is a third-party add-in that allows Microsoft Word to provide ChatGPT with a prompt from this app's sidebar. You can query ChatGPT and view the content made by this chatbot that can be added directly to the document you're drafting. Besides, you don't need to switch between windows using the Word program and ChatGPT.
Ghostwriter add-in for Word is not a free service but requires you to pay for it to use its full features. Currently, the Basic edition of Ghostwriter ChatGPT for Word costs $10 (one-time fee) and this edition only offers about two paragraphs to respond to your query. While the Pro edition costs $25 and it supports a configurable response length and all of the available OpenAI language models like Ada, Babbage, Davinci, and Curie.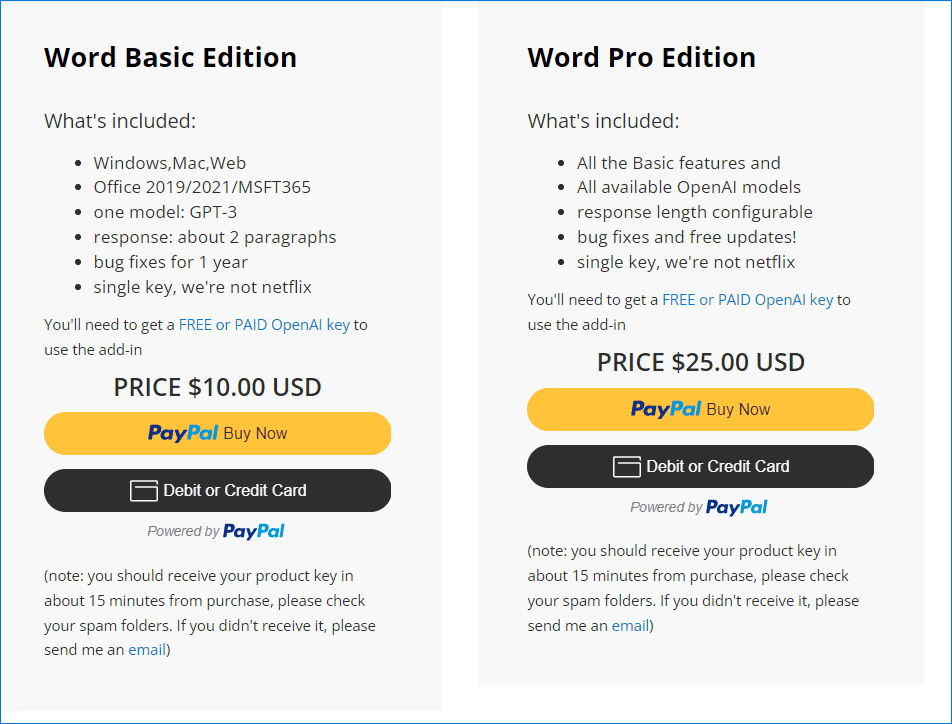 Well then, how to get the support of ChatGPT for Word via Ghostwriter? Or how to use ChatGPT in Microsoft Word by adding Ghostwriter add-in? Move to the next part to find what you need.
How to Integrate ChatGPT into Word (2 Ways)
The ways to use ChatGPT for Word are simple and two methods are offered in this part. Before adding ChatGPT, you should purchase the Ghostwriter add-in via this website – https://creativedatastudios.com/.
Integrate ChatGPT to Microsoft Word Online
The ChatGPT integration is compatible with Microsoft Word's web version and you only need to add the Ghostwriter add-in for Word.
Step 1: Go to www.office.com and log in with your Microsoft account. Note that you should subscribe to the Microsoft 365 plan to install an add-in.
Step 2: Open a blank Word document.
Step 3: Go to the top-right corner to click Add-ins and choose More Add-ins.
Step 4: In the new window, click STORE, search for Ghostwriter, and then click the Add button next to this add-in's name in the search result. Then, Ghostwriter ChatGPT is intergraded into Word and appears in a pane on the right sidebar.
Step 5: Next, enter the purchase email address and a product key under the Ghostwriter section. In terms of the product key, you should go to https://openai.com/api/, create a personal account, and get an OpenAI API Key. Next, click the VALIDATE KEY button.
Tips:
If you have any questions on the OpenAI API Key, go to the corresponding section of this official document to find details.
Step 6: After activating Ghostwriter ChatGPT for Word, you can input your question and click ASK ME. Then, ChatGPT will respond to you and add the content directly to this Word document.
Tips:
To choose the desired response length and OpenAI text generation model, you can click OpenAI Configuration Settings before clicking ASK ME.
Integrate ChatGPT into Word (Desktop Version)
In addition to using ChatGPT in online Word, you can use it in the desktop app. See how to use ChatGPT in Microsoft Word app.
Step 1: Open a Word document on your Desktop.
Step 2: Click Insert > Get Add-ins from the Ribbon section.
Step 3: Click STORE, search for Ghostwriter, and click Add.
Step 4: Enter an email address and a product key to validate the key.
Step 5: Ask for something you want with ChatGPT.
Tips:
Want to back up your Word documents on your computer PC? It can be easily done and the free data backup software - MiniTool ShadowMaker is a choice.
MiniTool ShadowMaker TrialClick to Download100%Clean & Safe
Final Words
It is very easy to get ChatGPT for Word. Just add Ghostwriter add-in for Word (web version and desktop version) by following the given methods. If you have any idea on how to integrate ChatGPT into Word, you can share it with us in the comment section below.