What is Google Meet? If you want to use this service to make a video meeting, how to download Google Meet app on your Windows 11/10 laptop, iOS or Android? This guide is written for you by MiniTool and you can easily get this app on your device by following the instructions below.
Overview of Google Meet
Google Meet is from Google and is a conferencing service. Formerly, it is called Google Hangouts. According to Google, there are two apps to be designed to replace Hangouts and one is Google Meet and another is Google Chat. Via this service, you can start a secure video meeting.
Google Meet offers some highlighted features, as shown below:
Call encryption between all users
Two-way and multi-way audio and video calls with up to 720p resolution
Integrated with Google Calendar and Google Contacts to offer one-click meeting calls
Supports joining meetings via a web browser or through Android or iOS apps
Hosts can deny entry and remove users during a call
…
If you are interested in this service, download and install it on your PC, Android, or iOS device. See what you should do from the following part.
Google Meet Download for PC Windows 10/11
How to download Google Meet on laptop?
Unlike Microsoft Teams and Zoom which have dedicated clients, this Google product doesn't have a desktop app. However, this doesn't mean you cannot install the Google Meet app for your Windows 11/10 PC. You can use Google's Progressive Web Apps (PWA) feature for this task.
PWA has the same features as Google Meet and it is supported on Windows, Mac, Linux, and ChromeOS. Here, let's see the steps on Google Meet download for Windows 11/10 & installation.
Step 1: Launch Google Chrome on your laptop, visit this path: https://meet.google.com/.
Step 2: Sign in to this page with your Google account.
Step 3: Go to the address bar, click the download icon and choose Install. Then, you can see a shortcut of Google Meet on the desktop.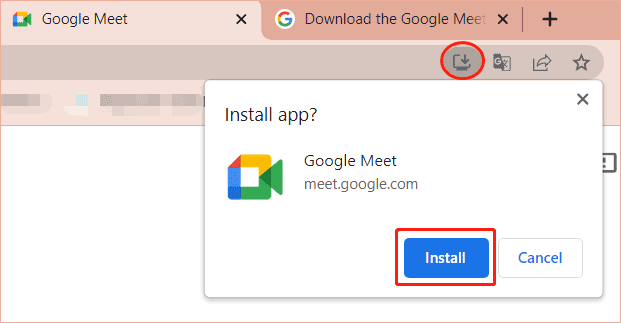 To get Google Meet, you can try another method – click the three-dots menu and choose Install Google Meet > Install.
Tips:
If you only want to create a shortcut for the Google Meet home page on your desktop, click More tools > Create shortcut > Create.
After installing Google Meet on your Windows 10/11, you can launch it for a meeting. Just enter a code or link and click Join to get started. Or, you can click New meeting to create a meeting for later, start an instant meeting, or schedule in Google Calendar.
Related post: How to Share Screen on Google Meet During a Meeting?
Google Meet Download for Android & iOS
If you decide to use Google Meet on your phone, you can get this app. See the guide on the Google Meet app download:
For Android, launch Google Play and search for this app, then install it. For iOS, you can download install Google Meet app and install it via App Store.
Google Meet Uninstall from Windows 10/11
If you don't want to use Google Meet on your laptop, you can remove it. To do this work, go to Settings > Apps > Apps & features, locate Google Meet, and click Uninstall. Then, confirm the operation and click Remove. It is recommended to also clear data from Chrome (meet.google.com).
Final Words
This post focuses on Google Meet download for Windows 11/10/Android/iOS and uninstall it from the PC. If you want to join a video meeting, just follow this guide to get the Google Meet app for use.