Is there a time limit on Google Meet? What is the Google Meet time limit? How to increase Google Meet time? Go to find answers to these questions from this guide from MiniTool. Here, you can know much information about Google Meet.
Google Meet is a service that can help organize secure and premium video meetings for everyone. It is available on multiple platforms including PC (via a web browser), Android, and iOS. During a meeting, your information and privacy are kept secure with an encryption feature.
When reading here, some of you may ask: does Google Meet have a time limit? To find the answer to this question, move to the next part now.
Google Meet Time Limit
In March 2020, Google released Meet to all personal Google accounts. That is, Google Meet is free for everyone. Formerly, it was only available for G-Suite users (now it is Workspace).
At that time, Google Meet supported up to 100 participants, and users with a free account can meet uninterruptedly for up to 24 hours. Actually, the Google Meet time was unlimited. In an announcement, Google said it would limit the meeting length to 60 minutes for group video calls in September 2020.
But because of an ongoing pandemic, Google extended the unlimited calls offer to March 2021, and then June 2021. Now some users may wonder if the extension has come to an end. Of course, there is a time limit on Google Meet currently.
In terms of the new Google Meet time limit, the details are listed here (for free Google Meet users):
One-on-one calls for up to 24 hours
Calls with 3 or more participants for up to 60 minutes
According to Google, at 55 minutes, a notification that the call is about to end will be sent to everyone. The meeting will close after the completion of 60 minutes.
How to Extend Google Meet Time
As mentioned above, the Google Meet time limit is 60-minutes for a group video meeting. Sometimes, the time is not enough for businesses. After 60 minutes, the meeting closes but work hasn't been discussed, which is annoying.
If you are a participant, you may wonder about how to increase Google Meet time. In general, you need to upgrade your Google Account. Google offers Workspace Individual Plan that supports one-on-one calls and group calls with 3 or more participants for up to 24 hours. This edition allows you to free try for 14 days. Before October 2022, the Individual Plan costs $7.99 per month and you can cancel it at any time.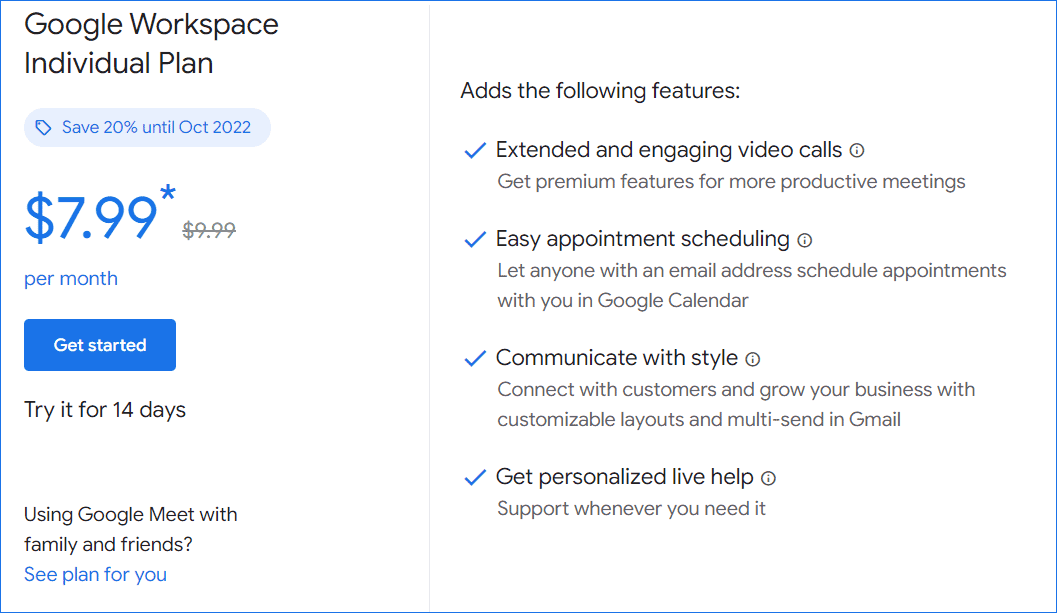 Google Workspace Individual is a plan designed for one user. For a team, try Google Workspace Essentials. Just get started with a company email address and a credit card.
Tips:
In addition to Google Meet, there are many services for video meetings. In our previous posts, we show you Google Chat, Zoom, and Microsoft Teams. To know one of them, click the corresponding link for details.
The End
That's all the information about the Google Meet time limit and how to extend Google Meet time. If you need to make a video meeting, you can install this service on your device to free make video calls in a group within 60 minutes.