Sometimes Halo Infinite gets stuck when loading the map and most of the time, it gets stuck at 0%, 35%, or 54%. Take it easy. Refer to this post and MiniTool will show you how to help you out of the Halo Infinite loading map stuck issue on your PC.
Halo Infinite Stuck on Loading Map Screen
Halo Infinite is one of the most popular first-person shooter games in the world. It doesn't always function well and you can encounter some issues, for example, Halo Infinite not working/not opening, no sound, DirectX 12 error, etc.
As new updates and changes are made to Halo Infinite, this game seems to run with many problems. According to reports, Halo Infinite gets stuck on loading map after a recent change to the progression system and some tweaks. The percentage at which the map is stuck is different and the common is 0%, 35%, or 54%.
The possible reasons for this issue are virtual memory allocation, UAC issues, background app conflicts, high-resolution DLC texture pack, low network speed, and more. Well then, how can you fix the issue of Halo Infinite stuck on loading screen on your PC? Go to find solutions from the following part.
Fixes for Halo Infinite Loading Map Stuck
Reset the Internet Connection
If you are using a wireless internet connection, try to connect the PC with a cable. Besides, disconnect any other devices connected to your network. Disconnect the router, leave it unplugged for 2 minutes, and plug it back into the wall outlet.
After that, clear DNS cache by launching Command Prompt as an administrator and executing the command – ipconfig /flushdns.
Check the Server Status
If Halo Infinite is stuck on loading map, make sure the server of this game runs properly. Just go to a third-party website like Downdetector to have a check. If it is down, you can do nothing.
Log out of Your Microsoft account
Launch Halo Infinite on your PC and press F1 to enter the Settings menu. To sign out of the Microsoft account, press F on the keyboard. Confirm your choice and go back to the splash screen. Next, exit this game and restart your PC.
Then, restart the system and run Halo Infinite, sign back into your account, and see if the issue of Halo Infinite loading map stuck is fixed.
Change Virtual Memory
If Windows virtual memory is not configured correctly, Halo Infinite is easy to get stuck when loading the map. Virtual memory plays an important role in this game. To fix your issue, change it.
Step 1: Press Win + I to open Settings and go to System > About > Advanced system settings.
Step 2: Click Settings under the Performance section.
Step 3: Under the Advanced tab, click Change.
Step 4: Check the Recommended value under Total paging file size for all drives. If the value is lower than the Currently allocated size, the virtual memory is not the reason for Halo Infinite stuck on loading screen.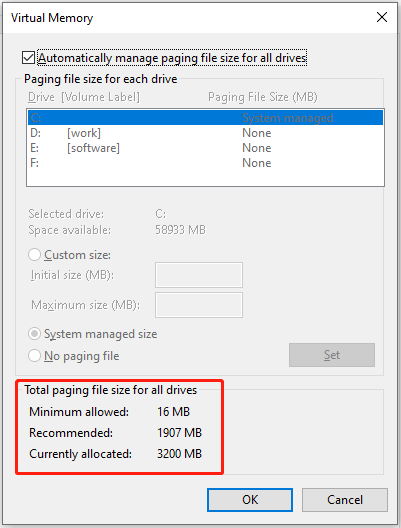 Step 5: If the value of Currently allocated is lower than Recommended, uncheck the box of Automatically manage paging file size for all drives.
Step 6: Choose your boot drive, click Customize size, enter a value (lower than your recommended value) to the Initial size section, and enter a size (larger than the recommended value) to Maximum size.
Step 7: Click Set and OK to save the change.
After that, restart the PC and try to run Halo Infinite to see if the issue is solved.
Disable High-Res DLC Texture Pack
High-resolution DLC texture packs are designed for resolutions running higher than or at 4K. If your PC uses a lower resolution, Halo Infinite may be stuck at 0, 35, or 54% when loading the map. You can disable these texture packs.
Step 1: Go to Steam Library.
Step 2: Right-click on Halo Infinite and choose Properties.
Step 3: Click DLC and uncheck the box of Multiplayer High-Res Textures.
Clear Halo Infinite Cache
To fix Halo Infinite loading map stuck, you can try to delete the game cache.
Step 1: In Steam, go to find Halo Infinite in Library and right-click on it to choose Properties.
Step 2: Navigate to the Local files tab, click the Browse button and open the disk_cache folder.
Step 3: Open the gamecmcache folder and delete all the files in that folder.
Step 4: Restart the PC, and then the cache folder will be recreated automatically, and the loading time will be unusually long. During the process, the cache folder is regenerated.
Disable Real-time Protection in Windows Defender
Sometimes Windows Defender, especially its real-time protection can misidentify Halo Infinite when loading maps, leading to the stuck loading screen. To get rid of this situation, turn off real-time protection by following the steps below:
Step 1: Type Windows Security in the search box and click the result to open the app.
Step 2: Click Virus & threat protection and click the Manage settings link.
Step 3: Go to Real-time protection and disable the feature.
Besides, you can add the Halo Infinite folder as an exception. Just go to Steam Library, right-click on this game and choose Properties. Then, go to manage settings of Virus & threat protection and click Add or remove exclusions > Add an exclusion. Choose Folder, copy & paste the path of Halo Infinite to the address bar, and add this folder to the Windows Security exclusions.
Other Fixes for Halo Infinite Stuck on Loading Map Screen
In addition, there are some other methods you can try to fix the stuck screen when loading maps in the game:
Run Halo Infinite as an administrator
Reinstall Halo Infinite
Lock the frame rate
Load each map individually