Many people are looking for a feasible Halo Infinite tracker. In this post, MiniTool introduces several available Halo Infinite trackers to help you track the Halo Infinite KD, ranks, stats, etc. Now, keep on your reading.
Halo Infinite is available on Xbox, Windows Store, and Steam. With so many players joining and trying the game, many wondered how they compare. One of the ways players will want to compare is through the Halo Infinite stats tracker. Thus, this post introduces the top 4 Halo Infinite trackers.
Top 1: Halotracker.com
The first Halo Infinite stat tracker is Halotracker.com. It has two versions – online and desktop. This Halo stats tracker can see who is the best in our global and regional leaderboards for players around the world. Besides, you can check your Halo Infinite stats and ranks for multiplayer in halotracker.com. You can also check your friend's stats and compare them with yours.
Get & Use Online Version:
If you want to use the halotracker.com online version, you need to go to its official website. You can type the XBOX Live username in the Search box and press the Enter key. Then, you can see three results – Search Results, Recent Players, and Favorites.
To check your favorite game, you need to sign in. You can click Sign in with Xbox Live. Then, input your corresponding username and password to log in.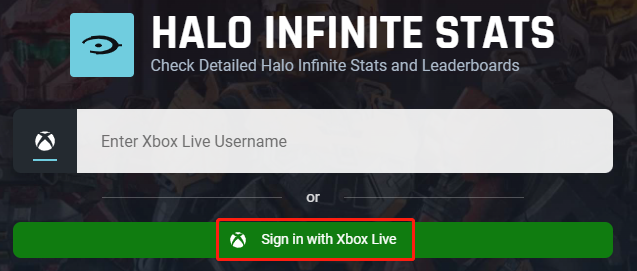 Get & Use Desktop Version:
If you want to get and use the halotracker.com app version, follow the guide below. This Halo Infinite tracker app can be used on iOS, Android, and Windows devices. Here, we show you how to get and use the Halo Infinite tracker on Windows PCs.
Step 1: Go to the official website of Halotracker.com.
Step 2: Click the Get the Apps tab and then click Tracker Live (with Windows icon) from the drop-down menu.
Step 3: On the next page, click the Download Now button and choose a path to store the download package.
Step 4: Double-click the downloaded Tracker Live – Installer.exe to run it.
Step 5: Choose a language based on your condition and click Next.
Step 6: Choose the path to store the installation package and check the privacy policy agreement. Then, click Next. After the installation process finishes, you need to click Launch.
Step 7: Now, you can start to use the Halo Infinite stats tracker.
Top 2: Halo.info
The second Halo tracker Infinite tool for you is Halo.info. It is also a website where you can check your career stats, slayer proficiency and all awarded medals. To use it, you need to go to Halo.info's official website and search for the game tag.
Top 3: Cryptum halodotapi
A very quick and easy way to get an easy-to-understand summary of Halo Infinite stats is to use the Cryptum halodotapi. You need to replace "your name" in the URL below with the Halo Infinite username for which you want to see stats.
https://cryptum.halodotapi.com/tooling/cards/games/hi/stats/players/yourname/top-100-summary.png
Top 4: Mystats.gg
The last Halo Infinite KD tracker for you is mystats.gg. This online Halo Infinite stat tracker can check player stats, look for users, check leaderboards, view meta insights, compare with other players, etc.
To use it, navigate to its official website. Then input your username or game ID and press Enter. After that, you will get the results.
Final Words
The top 4 Halo Infinite trackers have been illustrated. You can choose one of them based on your needs. If you have any better choices, please leave them in the following comment zone.