Desktop icons are shortcut for apps, files, folders, and settings; they provide easy ways for users to quickly open programs or access settings. Windows systems come with some default desktop icons, including the Recycle Bin icon. This MiniTool webpage will show you how to hide or delete the Windows 11 Recycle Bin icon.
Windows 11 Recycle Bin Icon Is Put on Desktop by Default
Every time when you start your computer, you'll see a lot of desktop icons ready for you to use. You can double click on any icon to directly open an app, a program, a file, a folder, or even a setting entry. Some icons are put on the desktop by default, while others are placed there by third-party applications or users manually.
What Is Windows 11 Recycle Bin Icon for
Windows 11 Recycle Bin icon refers to the icon of Recycle Bin in your Windows 11 PC; it is put on the desktop (the first thing you see after starting a computer successfully) by default. Why Microsoft decides to put the Recycle Bin icon on the desktop? The reason is simple: to make it easy and quick for users to find the Recycle Bin.
By double clicking on the Recycle Bin icon, users are able to open Recycle Bin in Windows 11 directly.
By dragging shortcuts, files, and folders directly onto the Recycle Bin icon, users can delete things they don't need quickly.
Well, the good news is that you are allowed to decide which icons to appear on your desktop by hiding, deleting, or adding the icons. This page will talk about Windows 11 Recycle Bin icon and tells you how to hide, delete, or restore the Recycle Bin icon step by step.
Tip:
The Recycle Bin on Windows is used to store deleted items (documents, photos, apps, videos, etc.) temporarily. If users find they have deleted useful files by mistake, they can open the Recycle Bin and restore them easily. They can also empty the Recycle Bin to clear disk. But
how to recover permanently deleted files
? They need a professional data recovery tool like MiniTool Power Data Recovery.
MiniTool Power Data Recovery TrialClick to Download100%Clean & Safe
How to Hide or Delete Recycle Bin Icon in Windows 11
Some Windows 11 users are wondering how to hide or delete the Recycle Bin icon to keep the desktop clean. There are generally three ways available.
The First Way: Hide All Desktop Icons
You can hide all the icons on your desktop, including the Recycle Bin icon by following this guide.
Go to your Windows 11 desktop.
Right click on any blank area.
Navigate to the View option in the right click menu.
Find the Show desktop icons option from the submenu and then click to uncheck it.
Then, all the desktop icons will be disappeared.
How To Remove Icons From Desktop Windows 10?
The Second Way: Hide Recycle Bin Icon via Settings
Click the Start icon in taskbar or press Start on your keyboard.
Select Settings under the Pinned section. You can also open Settings directly by pressing Windows + I.
Look for the Personalization option in the left panel and select it.
Then, look for the Themes option in the right panel and click on it.
Locate the Related settings section and click Desktop icon settings under it.
The Desktop Icon Settings window will appear. Please look for the Recycle Bin option and uncheck it.
Click on the Apply button and then click OK.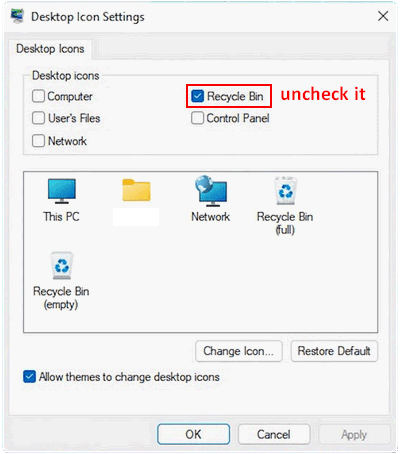 How To Fix When Your Windows 11 Settings App Is Not Working?
The Third Way: Delete Recycle Bin Icon Using Run
Press Windows + R to open Run.
Type cpl ,,5 into the textbox.
Click OK or press Enter to open the Desktop Icon Settings window.
Uncheck the Recycle Bin option and click OK.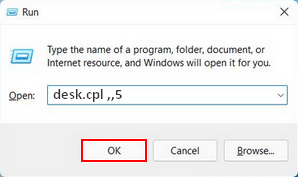 How to Restore Recycle Bin Icon
Can you show the Windows 11 Recycle Bin icon again when you need it? Of course yes.
If you hide all desktop icons, you should right click on the desktop, and then select View -> Show desktop icons.
If you hide only the Recycle Bin icon via Settings or Run, you can also repeat the steps to open Desktop Icon Settings; then, check the Recycle Bin option again and click OK.