What if Hogwarts Legacy crashes all of sudden? Do you come up with any solutions to it? To minimize the frustration and ensure a better game experience, this post on MiniTool Website will provide you with some possible workarounds. 
Hogwarts Legacy Keeps Crashing on PC
It's reported that quite a few players suffer from Hogwarts Legacy crashing when trying to play the game. Don't worry! You are not alone! This guide will provide the causes and solutions for you. Here are the possible culprits:
Outdated graphics drivers.
Old game version.
Corrupted game files.
Interaction of antivirus programs.
Running too many background applications.
Tips:
To ensure that there's no unexpected data loss in and out of the game, it's advisable to create a backup of your valuable files with a reliable backup software – MiniTool ShadowMaker. It offers you a quick and effortless way to back up your important data.
MiniTool ShadowMaker TrialClick to Download100%Clean & Safe
How to Fix Hogwarts Legacy Crashing on Windows 10/11?
Fix 1: Disable Unnecessary Programs
Some unnecessary background tasks may consume many resources. If you are running too many third-party programs in the backend, you are very likely to face in-game issues like Hogwarts Legacy crashing, lags, stutters, or black screen issues. Therefore, disabling them can be a good fix.
Step 1. Right-click on the taskbar and select Task Manager.
Step 2. Under the Processes tab, right-click on resource-hogging programs and select End task one by one.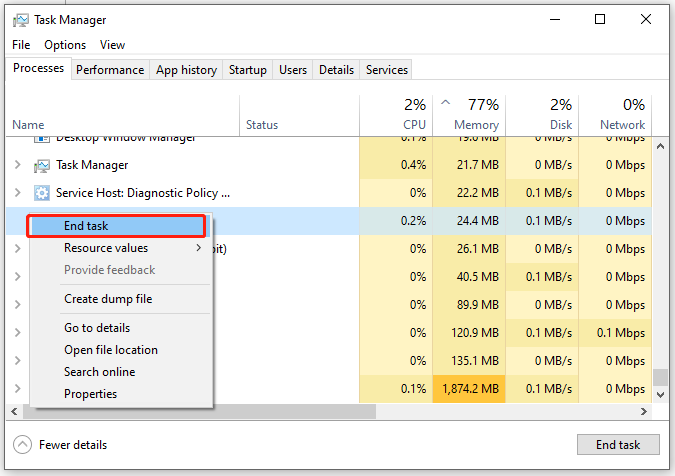 Step 3. Reboot your computer and relaunch the game to see if you can run it without any errors.
Fix 2: Verify Integrity of Game Files
If you encounter Hogwarts Legacy crashing after loading a few seconds, you can check the game file integrity. Here's how to do it:
Step 1. Launch Steam and find Hogwarts Legacy in Library.
Step 2. Right-click on the game and select Properties.
Step 3. Under Local Files, hit Verify Integrity of Game Files.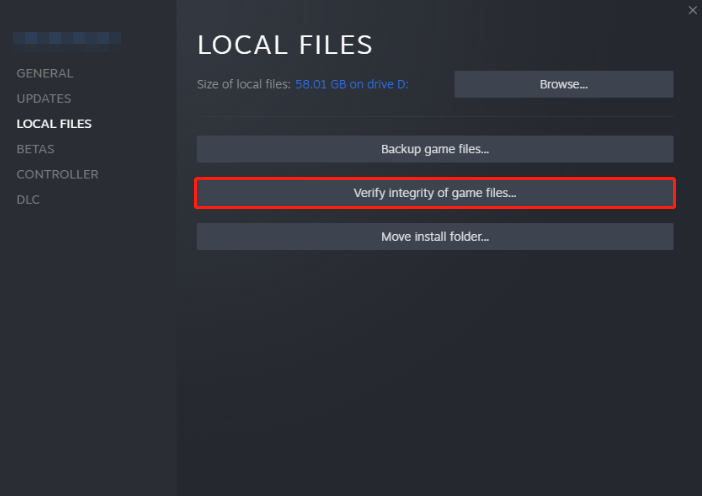 Step 4. Launch Steam and the game again to see if Hogwarts Legacy crashing on startup still occurs.
Fix 3: Update Graphics Driver
Updating your graphics driver in time will help to tackle Hogwarts Legacy crashing issues to some extent. Therefore, if you don't update your GPU driver for a long time, follow these steps.
Step 1. Press Win + X to open the quick menu and select Device Manager.
Step 2. Expand Display adapters and you can see your graphics card.
Step 3. Right-click on in to choose Update driver > hit Search automatically for drivers > follow the on-screen instructions.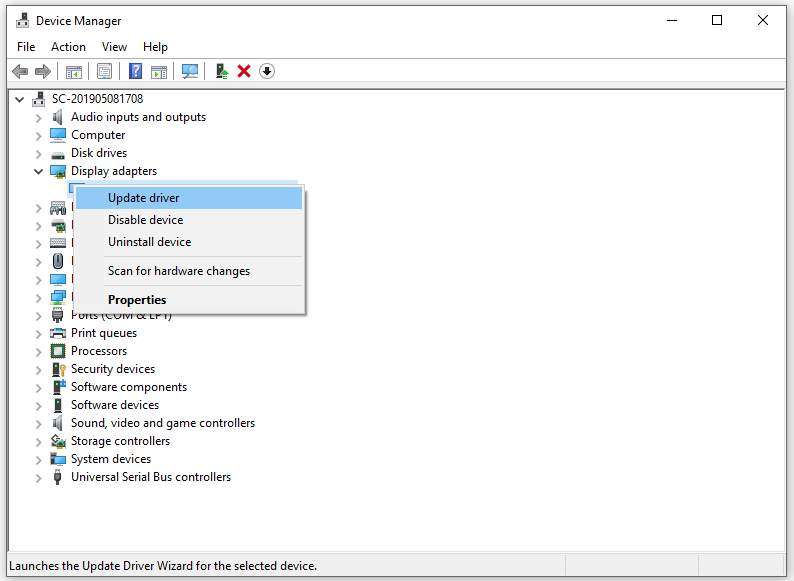 Fix 4: Lower Graphics Settings
Increasing the settings will put more workload on your hardware, so you had better lower some of these graphics settings to medium or low. Even if your system meets the minimum or recommended specifications for Hogwarts Legacy, enabling rendering quality may also affect the performance and stability negatively.
Fix 5: Disable Antivirus Software Temporarily
Although antivirus software can prevent your computer from the invasion of malware and viruses, it might be so protective that it can block certain game files, causing Hogwarts Legacy crashing. If that's the culprit, follow these steps to disable your antivirus software temporarily.
Step 1. Press Win + I to go to Windows Settings.
Step 2. Go to Update & Security > Windows Security > Virus & threat protection.
Step 3. Under Virus & threat protection settings, click on Manage settings and then toggle off Real-time protection.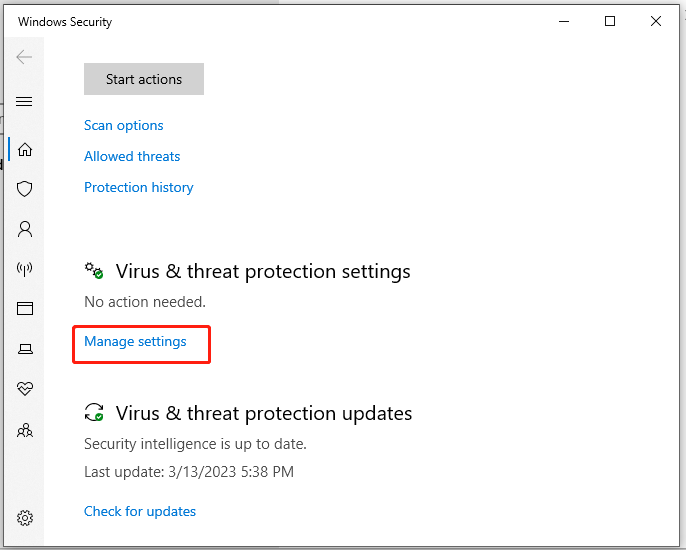 Fix 6: Fresh Installation of the Game
If Hogwarts Legacy still keeps crashing, the most effective but time-consuming way is to reinstall the game. To do so, you need:
Step 1. Launch the Steam client and find Hogwarts Legacy from Library.
Step 2. Right-click on the game and select Manage > Uninstall.
Step 3. After the process is complete, install the game from the Steam client again.