How much RAM do I have? This post gives a brief introduction of computer RAM and introduces ways for how to check RAM in Windows 10 or Mac.
What Is RAM?
RAM, short for Random Access Memory, is a kind of computer hardware that can temporarily stores computer data. It provides speedy read and write speed for running applications and accessing data. Unlike the computer hard drive where all your data is stored, the RAM is where all the currently working data is put.
Normally the more RAM you have, the more applications you can run at the same time. Many modern laptops build the RAM onto the motherboard, and this prevents you from adding more RAM to your computer. But for a desktop PC, you can easily add more RAM.
Below is the step-by-step guide for how to check RAM in your Windows 10 PC/laptop in 4 ways.
How Much RAM Do I Have | How to Check RAM Windows 10
Way 1. Check Computer RAM from Start
You can click Start, type about, and click About your PC. You can see the Installed RAM of your computer in the right Window.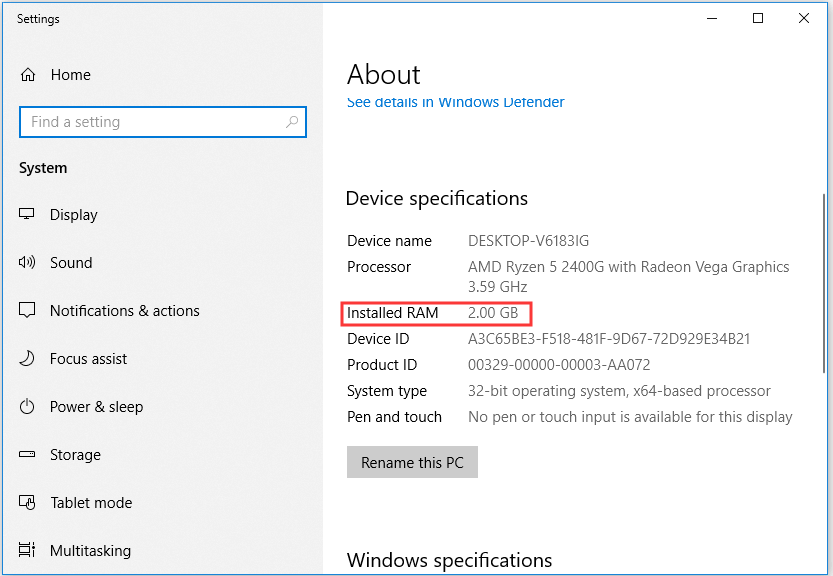 Way 2. Check Windows 10 RAM from System Information
You can press Windows + R to open RUN dialog, type exe, and hit Enter to open System Information window.
You can check the Installed Physical Memory (RAM), Total Physical Memory, Available Physical Memory of your computer.
Way 3. Check RAM in Windows 10 from Control Panel
Click Start and type control panel to open Control Panel Windows 10.
Then click System and Security -> System -> View amount of RAM and processor speed.
Scroll down to find the Installed memory (RAM) of your computer under System section.
Way 4. How to Check RAM Windows 10 in Task Manager
You can press Ctrl + Shift + Esc to open Task Manager window.
Click Performance tab, and click Memory from the left panel. You can see how much RAM you have in total, and how much RAM is being used, and how much memory is available in your Windows 10 computer. You can also check the RAM speed, total memory slots and used slots of your Windows 10 PC.
Related: Hard Drive/SSD Speed Test with Best Free Disk Benchmark Software
How Much RAM Do I Have in Windows 7 PC or Laptop
You can right-click Computer icon on desktop screen and choose Properties. You can see the installed memory (RAM) and detected total amount of RAM in your Windows 7 computer.
You can also click Start -> System and Security, and click View amount of RAM and processor speed under System to check computer memory in Windows 7.
How Much RAM Do I Have Mac
For Mac users, you can click the Apple icon at the top-left corner of Mac screen, and choose About This Mac.
Next you can click Overview tab, and you can see the installed memory on your Mac.
For desktop Mac computers, there is a Memory tab at the top. You can click Memory tab, and it will display how many memory slots your Mac computer contains, and the type of memory chips your Mac computer is compatible.
Final Words
As for how much RAM do I have (total, used, or available RAM) in my Windows or Mac computer, you can easily figure it out by following the detailed guides above.
For how much RAM do you need for a Windows 10 computer, you can check this post: How Much RAM Does Windows 10 Need.