Not all the computers come with a Bluetooth adapter, but this doesn't mean you cannot experience the convenience of wireless technology. In this post, MiniTool will show you how to add Bluetooth to PC. Just follow the guide to easily install Bluetooth on Windows 10.
Nowadays Bluetooth is used by many devices, such as keywords and headphones. For both laptop and desktop users, Bluetooth adds range and mobility.
You can easily transfer data between two paired devices through Bluetooth, for example, move images from your phone to PC without a cable. Besides, you can connect your mouse and other Bluetooth-enabled peripherals.
Many computers come with Bluetooth. But if you have an older device that doesn't support it, can you still use Bluetooth? You are lucky enough since you can use a Bluetooth dongle/adapter to add Bluetooth to your PC. The following is how to install Bluetooth on Windows 10.
How to Add Bluetooth to PC
You may ask: how do I install Bluetooth on my computer? The installation is easy and the following is a guide about adding Bluetooth to PC. Let's see it.
Step 1: Buy a Bluetooth Adapter
Buying a Bluetooth adapter or dongle is the simplest way to add the Bluetooth feature for your laptop or desktop. Just go to purchase one, connect the adapter to a USB port of your PC, and make it able to communicate with other devices via Bluetooth. If there is no available USB port, you can use a USB hub.
Just go to Amazon to find and purchase a high-quality Bluetooth adapter or dongle.
Step 2: Install the Bluetooth Adapter to Your Computer
Once buying a Bluetooth adapter, plug it to a USB port of your PC. In most cases, Windows will automatically start installing a necessary driver for the adapter. But if not, you need to access the website of your manufacturer, download and install the driver or use a professional driver update software.
Usually, the adapter or dongle you purchase comes with installation instructions and some software.
Step 3: Pair Your Devices
You have installed your Bluetooth adapter to your computer and now it is time to pair a device with it. The following is how to do this work in Windows 10.
1. Go to Settings > Devices > Bluetooth & other devices. Make sure the Bluetooth option is on.
2. Click Add Bluetooth or other device.
3. Choose Bluetooth in the Add a device window.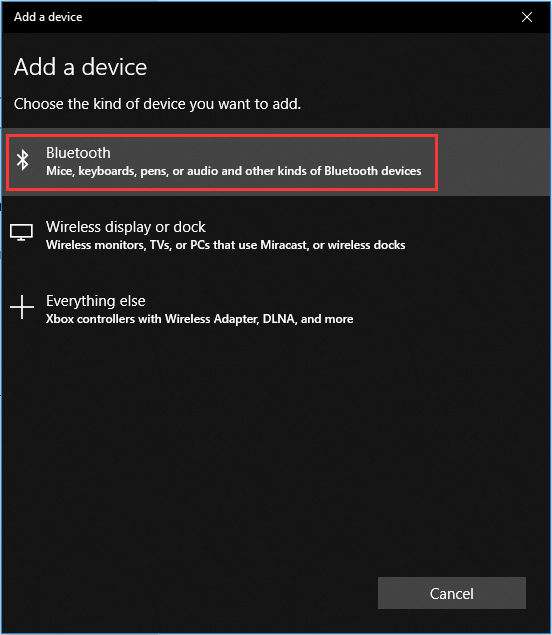 4. Wait a while and the PC will scan the Bluetooth devices. Just choose one to connect.
5. Complete the pairing process by entering a PIN code.
Now, you have successfully added Bluetooth to your PC.
Bottom Line
Want to install Bluetooth on your computer in Windows 10? Here is how to add Bluetooth to PC. Just follow these three steps to easily finish Bluetooth installation.