Summary
Setting a password for your computer is a good way to protect your privacy on your PC. But, you may think it wastes your time. Now, in this post, we will show you three guides on how to auto login Windows 10. You can choose one way based on your own situation. For more information about managing your computer, you can visit the MiniTool home page.
It is a good experience if you boot into Windows fast. But, you need to enter your password for Windows and this will increase the booting time.
To enable Windows 10 auto login will allow you to enter Windows 10 without inputting the password every time you start your PC. Before allowing your PC to skip login in Windows 10, you need to make sure that no stranger can use your computer because this change will allow any other users to use your PC without password.
Windows 10 stuck on loading screen? Top 10 solutions are here to help you out of Windows 10 black screen with loading circle and cursor.
How to auto login Windows 10? There are two different ways. In the following content, we will show you the detailed steps of these two methods.
Method 1: Use Settings App to Turn off Sign-In in Windows 10
This way is very simple. You can follow this guide:
Press Start.
Go to Settings > Accounts > Sign-in options.
Find the Require sign-in section and turn its status to Never.
After these three steps, you can bypass the sign-in option when you want to wake up your computer from sleeping.
Method 2: Change the Registry Key
If you want to use Windows 10 auto login when booting up, you need to change the related registry key in Windows 10.
Do you know how to back up individual Registry keys Windows 10? Now, this post will show you a step-by-step guidance to do this job.
You need to strictly follow these steps when modifying the registry key.
1. Right-click on Start.
2. Select Search.
3. Search for regedit and select Registry Editor from the search result.
4. In the Registry Editor, you need to navigate to the following path:
HKEY_LOCAL_MACHINE\SOFTWARE\Microsoft\Windows NT\CurrentVersion\Winlogon
5. Go to find the DefaultUserName option on the right side of the window and double-click on it. Then, you need to make sure that your own computer account name is displayed in the Value data box. Then, close this Edit string window.
6. Go to find the DefaultPassword If there is no such an option, you need to manually create a new String value that is named as DefaultPassword under the Winlogon folder. Then, double-click it and type in the password in the Value data box. At last, press OK to keep the change.
7. Find the AutoAdminLogon option and double-click on it. Then, change the value data from 0 to 1. Then, press OK to keep the change.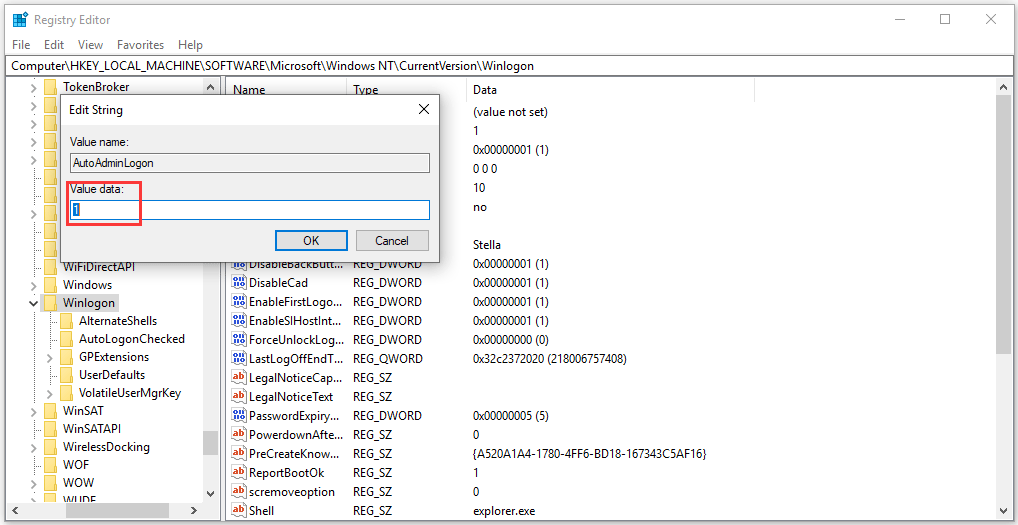 Method 3: Use Autologon
Perhaps, you don't want to change the registry key on your computer because there is sensitive information in it. You can use a Microsoft free tool instead. This tool is called Autologon.
You can follow these steps to enable Windows 10 auto login using this tool.
Go to the Microsoft Autologon docs page to download this tool on your computer.
Extract the downloaded zip file.
Run this Autologon tool and accept the license agreement.
Autologon will begin to automatically grab your username and domain field. You need to input the password for verification.
Press Enable.
After these steps, you can auto login Windows 10.
If you want to disable auto login in Windows 10, you need to run the tool, enter the password, and select Disable.
This is the end of the guide on how to auto login Windows 10.