Want to pause Windows Update on your Windows 11 computer? Want to set active hours to arrange a computer restart to complete the update process? You need to know how to change Windows Update settings in Windows 11. This MiniTool post will show you the details.
Windows Update helps you keep your Windows up-to-date by installing the latest Windows updates including the latest patches, service packs, and others. By default, the system will automatically download and install the mandatory updates and ask you to restart your computer to complete the whole process. Perhaps, you don't want Windows Update to do this and you want to change update settings as per your requirements.
Now in this post, we will show you how to change update settings in Windows 11. If you are still running Windows 10, this post is helpful: How to Change Windows 10 Update Settings to Suit Your Time?
How to Change Windows Update Settings in Windows 11?
Step 1: Go to Start > Settings > Windows Update.
Step 2: On the Windows Update page, you can see these options:
Check for updates: You can click this button to manually check if there are available updates for your system.
Pause updates: You can click the Pause for 1 week button to temporarily pause Windows 11 update. Your system will automatically get the latest updates after 7 days. You can click this button to pause the update again if you don't want to install it.
Update history: This option allows you to view all the updates you have installed on your device. When an update brings issues to the system, you can access this option and click Uninstall updates to remove the update.
Advanced options: You can get more options to modify the update settings like setting active hours to change Windows 11 update time, installing optional updates, resetting your PC, going back to a preview version, etc.
Windows Insider Program: If you want to use the Insider preview builds of Windows 11, you can join the Windows Insider Program and select a proper Insider Channel. You can also enter this option to switch Insider Channels or change your Windows Insider account. You can also use it to leave the Windows Insider Program.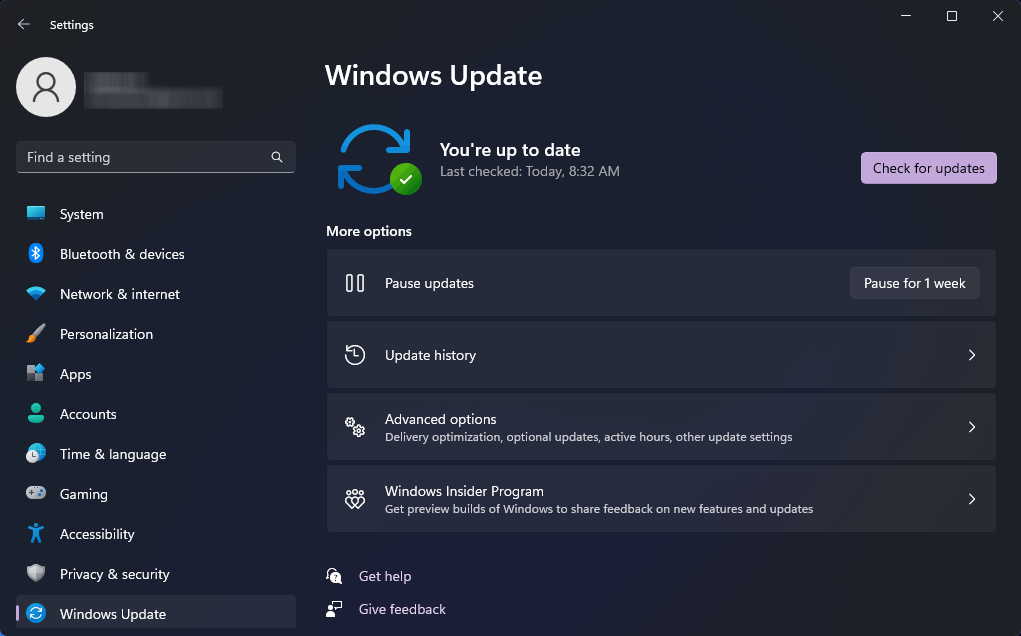 Step 3: Click Advanced options. You will see more update options:
Receive updates for other Microsoft products: Microsoft also releases updates for other Microsoft products like Microsoft Office via Windows Update. If you want to install them, you can enable this option.
Get me up to date: Your computer will restart immediately even during the active hours to finish the update installation. But you will get a prompt 15 minutes before restarting. So, you have enough time to save your work.
Download updates over metered connections: This allows you to automatically receive updates even if you are using a data-limited network.
Notify me when a restart is required to finish updating: This will show you a notification when your PC needs a restart to finish the update.
Active hours: You can set active hours according to your working time. During the active hours, your computer will not restart for an update.
Under Additional options, you can find these useful features:
Optional updates: The optional updates will not be downloaded and installed. You can click this option to manually get them.
Delivery Optimization: You can use it to set bandwidth limits for updates and downloads from other devices.
Recovery: This allows you to reset your PC, go back to the previous version, or enter the Windows Recovery Environments to fix the system issues.
Restart apps: This can automatically save your restartable apps when you sign in and restart them after you sign in.
Configured update policies: This is to view the configured update policies on your device.
These are the options in Windows Update you can apply to change update settings in Windows 11. You can modify them according to your requirements.