If you want to clean registry in Windows 10, you can clean it manually or use third-party free registry cleaner to do it. This post gives a detailed guide. To tackle other errors in your Windows 10 computer, MiniTool software provides data recovery and backup solutions, hard drive partition management, system back and restore and many other solutions for you.
This post tells how to clean registry in Windows 10 and lists some top free registry cleaners for Windows 10 for your reference.
Registry is an important component of Windows. It contains settings and databases for almost everything you operate in Windows. Deleting/cleaning registry may wrongly break things and make your computer run abnormally or crash. Therefore, generally you should not mess around with the Windows Registry.
But if you are confident that you wouldn't delete something important, you can clean the Registry from time to time to keep your computer running efficiently.
Back up Data and Back up Computer OS before Cleaning Registry
Before you cleaning Registry Windows 10, it's highly advised you make a backup of your computer system in case you need to restore system because of a wrongly registry deletion. It's also recommended you back up all your important data in your Windows computer to an external drive in case some data is lost when cleaning registry.
MiniTool ShadowMaker is a professional free PC backup software that can help you easily backup and restore computer OS, as well as back up files and folders to external hard drive, USB drive, network drive, etc. It also allows you to copy whole partition or disk content to external drive at fast speed.
Download and install MiniTool ShadowMaker on Windows 10/8/7, and follow the easy steps below to back up OS or files/folders.
Step 1. After you download and install MiniTool ShadowMaker, launch it. Click Keep Trial button.
Next you can click Connect button under This Computer to enter into its main interface.
Step 2. Click Backup module at the top, and click Source section. In the pop-up window, based on your own need, you can select Disk and Partitions if you want to back up the OS, or select Folders and Files to back up your important files.
Step 3. After that, you can return to the main UI and click Destination section to select a destination path to store the backups.
Step 4. Click Back up Now button in the main UI to start the backup process.
Back up Registry before Cleaning Registry
In case something goes awry, you can back up registry before you clean registry manually or open any registry cleaner freeware. Check how to do it below.
Open Registry Editor in Windows 10. You can press Windows + R, type regedit, and hit Enter to open it.
Click File -> Export, and enter a file name for the registry backup. Tick All box and click Save.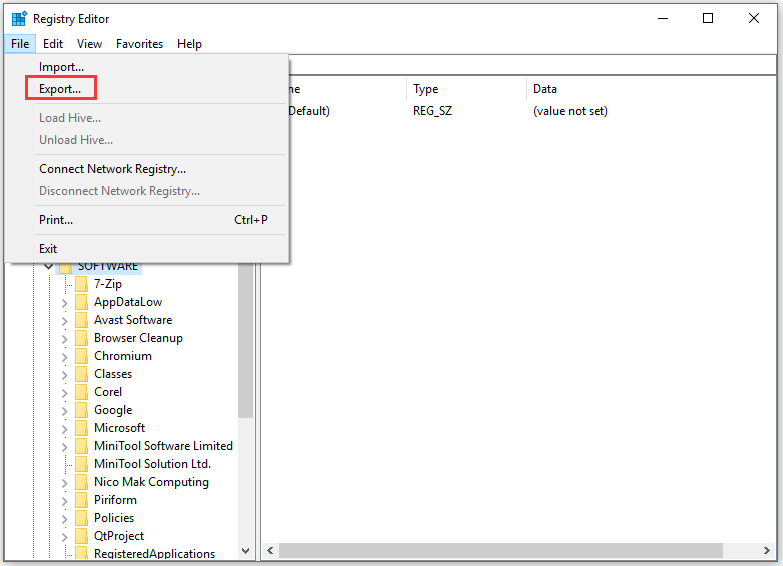 How to Clean Registry Windows 10
Step 1. Enter into Safe Mode in Windows 10. You can click Start -> Power, hold Shift and click Restart. When the blue screen Choose an option window appears, you can click Troubleshoot. In Advanced options window, you can click Startup Settings and click Restart. Select Enable Safe Mode with Networking by pressing F5 key to restart Windows into Safe Mode.
Step 2. After you enter into Safe Mode, you can press Windows + R, type regedit, and hit Enter to open Registry Editor.
Step 3. Expand HKEY_LOCAL_MACHINE -> SOFTWARE. Select any folder related to any unused software or application, right-click the folder and choose Delete to delete the registry.
Step 4. After you clean all redundant or needless registries, you can restart your computer and it will be back in regular mode.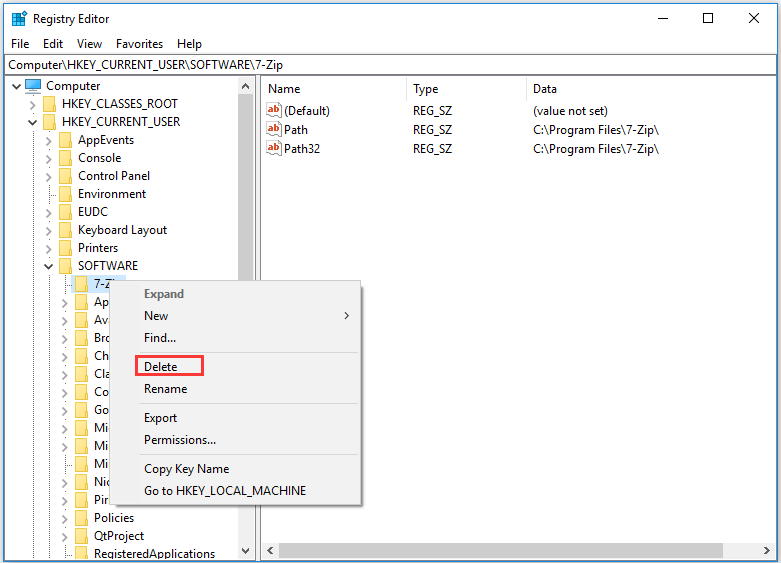 Free Registry Cleaner Windows 10
You can also use third-party Microsoft Windows registry cleaner software to clean registry in Windows 10. You may try:
Wise Registry Cleaner
Auslogics Registry Cleaner
Glarysoft Registry Repair
SlimCleaner Free 
Easy Cleaner
Argente Registry Cleaner
JetClean
Advanced System Care
CCleaner
Registry Life
Bottom Line
You can either clean registry in Windows 10 with Registry Editor or use third-party registry cleaner free software to accomplish this task.