This essay from MiniTool official site teaches you altogether five methods to delete, remove, close, or clear your PlayStation 4 (PS4) account, PSN, or user profile within 3 steps. This article also applies to PS5, PS3, PS2, etc. 
To Delete PS4 account is also to delete a PSN account, delete PlayStation Network account, delete user PS4, remove account from PS4, close PlayStation account, or delete user profile PS4. The task is very simple, and you can complete in a few clicks.
What Will Happen If You Delete PSN Account?
After deleting your PSN account, you can't access it anymore, and you will lose all contents that are purchased or got using this account, including games, applications, screenshots, video clips, services, funds in your wallet, subscriptions and their associated entitlements.
Those contents cannot be transferred to another account and funds can't be returned. The refunds are only available if it is in line with the PlayStation Store cancellation policy. Also, the online ID of the deleted account can't be used to create another account.
However, any parental control restrictions set by the deleted user profile will remain on your PlayStation (PS) console until they are changed by another Family Manager account.
Backup PlayStation User Data
Go to Settings > Application Saved Data Management > Saved Data in System Storage. Then, choose where to save the backup, Cloud or USB Storage. Finally, select the items you'd like to back up and click Copy.
How to Delete PS4 Account?
To delete PlayStation account, you should be able to access the account currently.
1. how to delete a user on ps4?
Step 1. Log into your user account. Then, navigate to Settings > Login Settings > User Management > Delete User.
Step 2. Under Delete User, there are a list of users. Just select the one you plan to delete.
Step 3. Confirm the deletion by clicking Delete. This step is only for deleting a primary account.  
2. how to delete account on ps4 (User Profile)?
Step 1. Log into your parent account. In the home screen of the PS system, navigate to Settings > Parental Controls/Family Management > Family Management.
Step 2. Under Family Members, select the username that you want to remove and then choose Delete User Profile.
Step 3. Follow the guide to finish the process of deleting sub account.
3. How to Permanently Delete A PSN Account with Sony?
To request an account closure, you have to contact PlayStation team and provide your Sign-in ID (SID) email address and online ID (username). Just go to PlayStation Help & Support page, search "close account", and select a device you are using. In the next page, you will find "call us" on the bottom of the page.
4. Factory Reset from the Primary Account
Factory reset will restore your PS4 or PS4 Pro to its factory settings; all things will be wiped out including trophies, screenshots, video clips, and so on. You can make a backup of them before reset.
Step 1. Turn on the console and log in your primary account.
Step 2. Move to Settings > Initialization > Initialize PS4 > Full.
Step 3. Follow the guidance and allow the instructions.
The full factory reset may take a few hours to complete. Be patient and do not turn off your machine while it is operating. Otherwise, serious damage may be caused by you.
5. Manually Factory Reset to Delete PS4 Account
Please make a backup of your important data before starting below operations.
Step 1. Power off the PS4 console.
Step 2. Power on the device. press down on the power button and hold until you hear the second beep.
Step 3. Then, you will be in the Safe Mode of the system. Select "4. Restore Default Settings", "6. Initialise PS4", or "7. Initialise PS4 (Reinstall System Software)".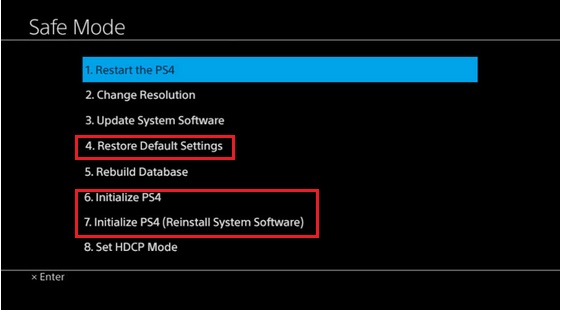 Then, just follow the instructions to finish factory reset.
Tip: Under safe mode, you need to connect the controller to the main console via an USB cable.
How to Check Whether PS4 Delete User Successfully or Not?
To check whether you have successfully deleted PS account or not, you can log out of your account. Then, log back. If the user account is invisible on the options screen, congratulations, you have completely deleted it from the system.
Also read: Does PS5 support 8K and What's the First 8K PS5 Game?