Try to close an unresponsive program on Windows 10 PC by clicking the X Close icon, but it doesn't work? Check the 3 ways in this tutorial to force quit an app on PC. If you are looking for solutions for data recovery, system back and restore, hard drive partition management. MiniTool software provides all related tools.
How do you force quit a program on a PC?
How do I force quit a frozen program in Windows?
How do I force close a program in Windows 10?
Sometimes you may encounter applications freeze and become unresponsive on your Windows 10 computer, and this also makes your computer crash and unworkable.
How to force quit on PC? This post provides 3 ways to help you force problematic applications to shut down on Windows 10.
How to Force Quit on PC – 3 Ways
Way 1. Force Quit Windows via Task Manager
The first way you can use to force close PC frozen programs is to use Windows Task Manager.
Step 1. You can press Ctrl + Shift + Esc keyboard shortcut to open Task Manager on Windows 10. You may need to click More details to check the whole list of running processes on PC.
Step 2. Find the unresponsive program in Task Manager window by hitting Process tab. Right-click it and select End Task to force close it.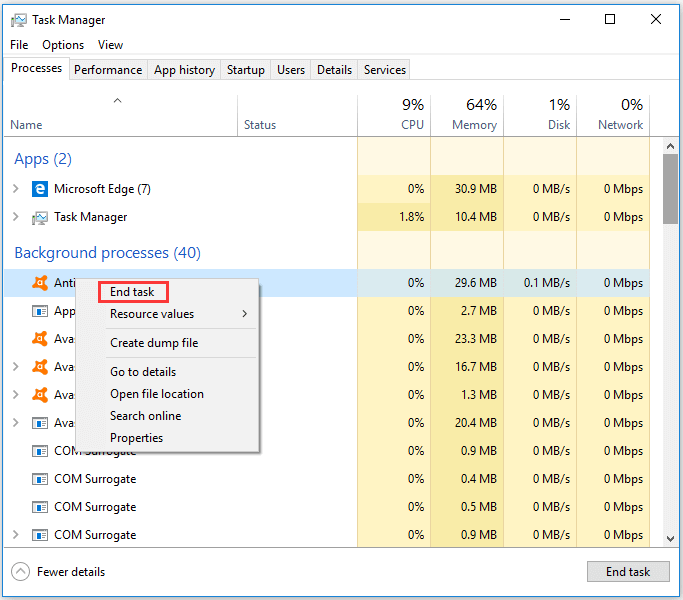 Way 2. Force Quit Windows 10 Shortcut (Alt + F4)
Another easy trick to force quit an unresponsive program in Windows 10 PC is the Alt + F4 keyboard shortcut.
Step 1. You can click and select the program you want to force quit to make it the current active window.
Step 2. Then you can press Alt + F4 on keyboard at the same time to force quit the application on PC.
Sometimes Alt + F4 might not help. If it doesn't work, you can try other ways to force quit Windows.
Way 3. Force Quit Windows 10 Frozen Programs with Taskkill
The last way to help you force quit PC unresponsive applications like Microsoft Word is via Taskkill command.
Step 1. You need to open Command Prompt Windows 10 at first. You can press Windows + R to open Windows Run dialog. Type cmd in Run, and hit Enter key to open Command Prompt window.
Step 2. Then you can type tasklist in Command Prompt window, and hit Enter to list all currently running applications and tasks on your Windows 10 computer.
Step 3. Check the name of the unresponsive program in the list. Type taskkill /im program_name.exe, and hit Enter to force any PC application. For instance, to force quit Word in Windows 10, you can type taskkill /im word.exe, and hit Enter to close it.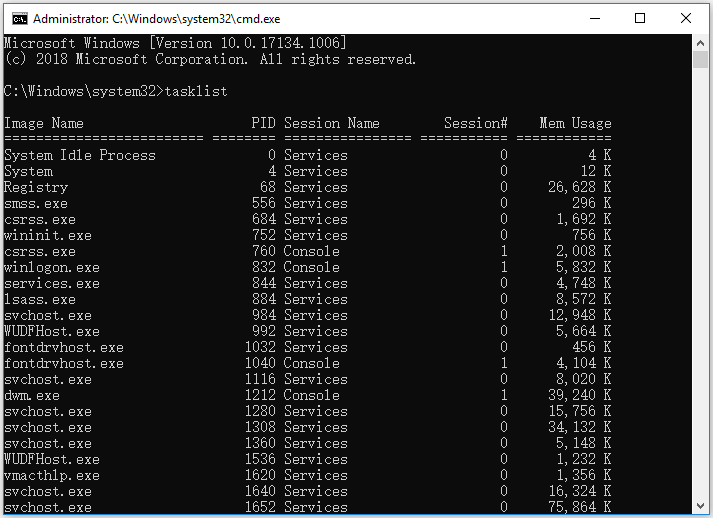 Verdict
If some applications don't respond on your Windows 10 PC, you can try the 3 ways above to force quit Windows 10 PC frozen programs. However, please be aware that force-quitting PC programs may lose the unsaved changes, so be careful.
To recover lost or permanently deleted files on Widows 10 PC, you can try MiniTool Power Data Recovery – a professional free data recovery software enables you to recover data from computer hard drive, external hard drive, SSD, USB (pen drive data recovery), SD card, etc. in 3 simple steps. 100% clean freeware.