When you use your browser to search for something, you may find that your browser is redirected to Yahoo Search. What does this issue happen? Do you know how to get rid of Yahoo Search? In this post, MiniTool Software will show you the reasons for this issue and how to remove Yahoo Search using different methods.
Why Your Browser Is Redirected to Yahoo Search?
Yahoo Search is a search engine. It is legitimate. But some browser hijackers can redirect your search queries to search.yahoo.com. This is abnormal because it usually means that a malicious program or browser extension is installed on your computer.
This issue can happen on different web browsers like Chrome, Firefox, Microsoft Edge, and more. You will say you don't download any strange software on your computer. Where the malware comes from?
When you click an advertisement on the browser by mistake or install software that contains bundled a program, this issue can easily happen. So you should not click any advertisement on the web browser. When you install a program, you should check carefully to exclude the bundled software that you don't want to use.
However, if your browser has already been redirected to Yahoo Search, you need to take measures to get rid of it. How to remove Yahoo Search? In this post, we will show you some guides on how to remove Yahoo Search from Chrome. If you are using another web browser, these methods can also work.
Tip: If You Lose Your Data by Mistake
If your data gets lost due to malware, you can use professional data recovery software to get them back. You can try MiniTool Power Data Recovery. This software can recover your lost and deleted files in different situations like mistaken deletion, virus attack, hard drive failure, and more.
How to Get Rid of Yahoo Search?
First, let's see the common symptoms of this issue:
Your search query is always redirected to https://search.yahoo.com.
A malicious browser extension is installed on your web browser.
Malware is installed on your computer.
If you want to get rid of Yahoo Search, you need to remove the malware from your computer and uninstall the browser extension from your web browser.
How Do I Remove Yahoo Redirect Virus from Chrome?
Remove the malicious programs from your computer.
Use anti-malware software to remove Yahoo Search redirect.
Uninstall the malicious extension from your web browser.
#1:Remove the Malicious Programs from Your Computer
This solution is just to uninstall the malicious software from your PC. You can just use the universal software uninstallation process to do this job.
Click Start.
Go to Settings > Apps > App & features.
Scroll down in the programs' list to find the malicious program. Then, you need to click it and select Uninstall.
Follow the on-screen guide to finish the uninstallation process.
#2: Use Anti-Malware Software
At times, it is difficult to use the above method to remove the malware. In this case, you can try anti-malware software. We will show you some choices. You can select the one you want to use to remove malware from your computer.
Malwarebytes
Malwarebytes is free software that can be used to scan your computer for viruses and malware. It is a very popular tool that has many users. You can first try it to see whether it can find the malware and help you get rid of Yahoo Search.
HitmanPro
If you still doubt there is malware on your computer after using Malwarebytes, you can try HitmanPro to scan your PC again to see whether it can find malicious software and then remove it if there is.
AdwCleaner
If both Malwarebytes and HitmanPro don't work for you, you can try AdwCleaner. It is also a famous anti-malware that can help you find the malicious software you want to remove.
#3: Reset Your Browser's Settings
As mentioned above, the Yahoo hijacking issue also can be caused by a browser extension. Thus, you can reset your browser's settings to remove Yahoo Search.
Open Chrome.
Click the three-dot menu and then go to Settings.
Click Advanced from the left list and then select Reset and clean up.
Click Restore settings to their original defaults.
Click Reset settings from the pop-up interface.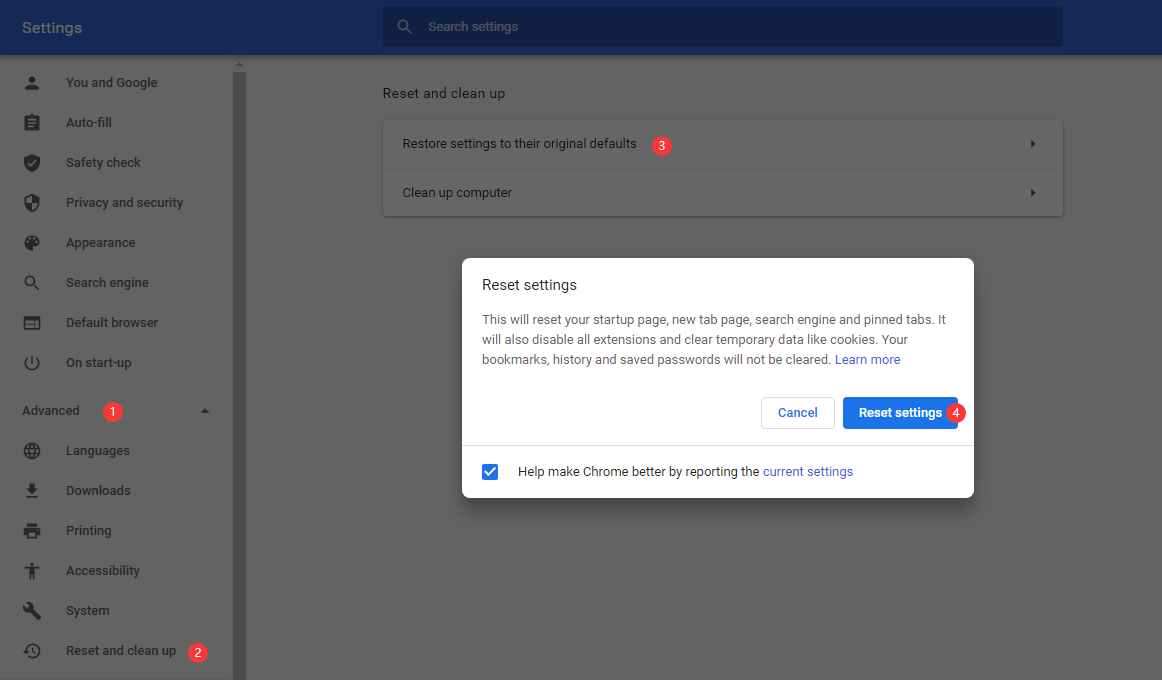 Those are the three methods to get rid of Yahoo Search. You can try them to help you out. Should you have any related issues, you can let us know in the comment.