Word documents are used frequently in life and work to keep useful information for people. A normal document can be accessed and edited by anyone. Therefore, users need want to password protect Word document sometimes when critical or private data are involved. How to protect a Word doc? MiniTool Solution shows you several ways.
Microsoft is a practical word processor used and loved by a lot of people throughout the world. They can keep personal data or learning/meeting materials in Word documents. In general, a Word document can be accessed and edited by anyone. But this is very dangerous if private/important business data are involved. Because of this, some people would like to lock Word document so that other people can't edit or even access the sensitive data without your permission.
But the question is how to lock a Word document (as well as how to unlock a Word document). Luckily, Microsoft Word (2016, 2013, and 2010) provides several features to help users encrypt Word document or password protect a Word document.
How to Lock a Word Document: Password Encryption
Yes, you can add a password to the Word document that contains data you want to protect. After that, people will be prompted with a message asking for a password each time when they try to access the document.
How to Password Protect a Word document
How to password protect a file? Please enable the Encrypt with Password feature.
Locate the Word document on your PC.
Double click on it to open.
Select File menu in the upper left corner.
Look at the left sidebar and make sure Info is selected.
Navigate to the Protect Document section in the right pane and click on the Protect Document button.
Choose Encrypt with Password from the drop-down menu.
Type a password into the textbox under Password and keep it in a safe place. The password can't be recovered if you lose or forget it.
Click on the OK button in the Encrypt Document window to confirm.
Please type the password again and click OK in the Confirm Password window.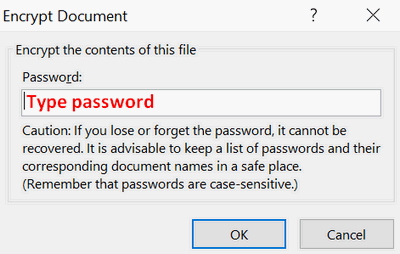 What if you want to unlock Word document later? Please repeat the step 1 ~ 6 mentioned above. Then remove everything from the Password field and click OK.
How to Lock a Document in Word: Specified Sections & Content Protection
If you only want to lock part of the Word document, please make use of Restrict Editing.
How to Lock Parts of Word Document
Step 1: add section breaks.
Locate and open your Word document.
Move the cursor in front of the content you want to lock.
Select Layout tab at the top.
Click Breaks and then choose Continuous from the drop-down menu.
Move the cursor at the end of the content and repeat the same process to add a continuous break.
Step 2: enable Restrict Editing.
Select the Review tab at the top.
Click Restrict Editing under it.
Look for the Editing restrictions section.
Check Allow only this type of editing in the document.
Specify the Filling in forms from the drop-down list.
Click Select sections and check the sections you want to protect.
Click OK.
Click Yes, Start Enforcing Protection under the Start enforcement section.
Enter password and click OK.
You can also add a content control and then enable Restrict Editing under Developer tab.
How to add the content control:
Open the Word document and select the content you want to protect.
Select the Developer tab and click on the Rich Text Content Control button represented by Aa.
Click Properties and enter a Title and Tag that you like.
Go to the Locking section and check Content control cannot be deleted & Contents cannot be edited.
Click OK to confirm.
How to enable editing in Word:
Click Restrict Editing under the Developer tab.
Check Limit formatting to a selection of styles and uncheck Allow only this type of editing in the document.
Click Yes, Start Enforcing Protection and enter a password.
Click OK to save the changes.
How to unlock Word document? You should undo the changes mentioned above to release the locked Word documents.
How to encrypt a Word document in other ways?
You may try these features in Word: Mark as Final, Always Open Read-Only, and Add a Digital Signature.
You can also encrypt your Word files by checking the Read-only option in document Properties or using third-party encrypting software.
[SOLVED] How To Recover BitLocker Drive Encryption Easily, Today!