A flyer is an expanded page that usually contains an advertisement for a product, company or institution. Some users need to make flyer on Google Docs. How to make flyer on Google Docs? This post from MiniTool tells you how to do that.
This post explains how to create flyer on Google Docs. These steps are suitable for Google Docs in your browser. These options are not available in the Google Docs iOS or Android app, and limited functionality in Google Docs for iPad.
How to Make Flyer on Google Docs
How to make flyer on Google Docs? Follow the guide below:
Step 1: Go to Google Docs on your browsers.
Step 2: Click the Template gallery option to expand the list of template options.
Step 3: Choose a template based on your needs.
Step 4: Enter a title for the document to save it.
Step 5: The flyer template is now open and saved in your Google Docs account.
Related posts:
How to Share Flyer on Google Docs
How to share flyer on Google Docs? Here are the detailed steps:
Step 1: Click File > Share. Then, there are two options – Share with others and Publish to web.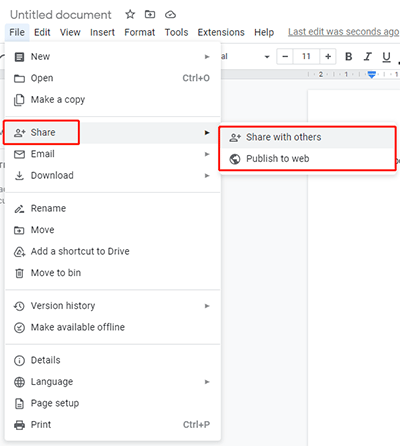 Step 2: If you want to share with others, you need to name before sharing. Then, add people and groups. Next, type some messages and click Send.
Step 3: If you prefer to publish to the web, you can link to or embed your document.
Pros and Cons of Making Flyer on Google Docs
This part is about the pros and cons of making flyer on Google Docs. Google Docs has become the overall writing tool to help college students study online. There are some great advantages to making a flyer or leaflet on Google Docs, such as:
With Google Docs, you can import all your high-definition images and resize them as needed.
Since Google Docs works entirely online, it's easy to collaborate remotely.
All flyer designs are saved in your personal Google Drive and you can access them on almost any device you're signed in to.
While Google Docs has several great features, it doesn't have certain limitations. Here are some of the disadvantages of creating flyers on Google Docs:
Flyers require a lot of customization, graphics and other chart elements. If you're using Google Docs, you must install a third-party plug-in to access this functionality.
Unfortunately, Google Docs does not allow users to track flyer designs regarding audience engagement.
Google Docs doesn't offer a rich media option.
Few free flyer templates.
Final Words
How to make flyer on Google Docs? I believe that you have found the answers.