In Task Manager, you can check all the running tasks, end any task, etc. Thus, it is essential to learn how to open this tool on your computer. In this post on the MiniTool website, you will know some Task Manager shortcuts and some other methods to bring up Task Manager. Now, let's see them.
Task Manager is one of the most used tools no matter which Windows operating system you are running on your PC. It is a powerful tool designed to monitor the performance and activity of your system, end some programs, start new tasks, get details of running processes and so forth.
Before you use it, you need to open it. Then, how to open Task Manager? Now, we offer you some shortcuts of Task Manager and other ways. Some of them come in handy if you can't open the app in the way that you are used to choosing.
How to Open Task Manager on Windows 10
Quick Ways: Windows Task Manager Shortcut
The keyboard shortcut is a common way to open some Windows tools and Task Manager is not an exception. And here we will show you the shortcut to open Task Manager.
1. Ctrl + Shift + Esc
This shortcut for Task Manager is the fastest way. If your keyboard is working, press the Task Manager hotkey – Ctrl + Shift + Esc when you need to end certain tasks.
2. Ctrl + Alt + Del
Another shortcut to open Task Manager is Ctrl + Alt + Del. It can bring you to a screen with several options and you should click Task Manager to open it.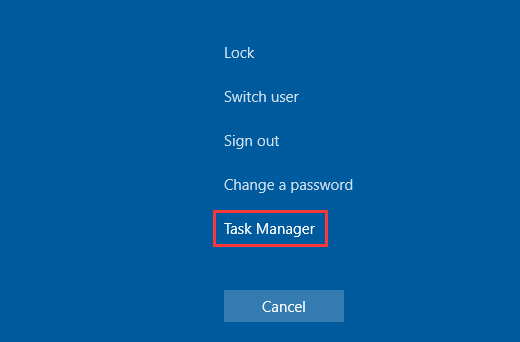 3. Win + X
Windows 10 offers a Power User menu that is filled with several kinds of utilities including Task Manager. To access this menu, you can press Win and X on your keyboard. Then, choose Task Manager to open this tool for task management.
Now, these three Task Manager shortcuts are for you and you can choose one to bring up Task Manager. In the following paragraphs, let's see some other ways to open Task Manager on Windows 10.
Bring up Task Manager via Taskbar
If you like using a mouse, one of the fastest methods to open this app is using the taskbar. You can right-click the taskbar and choose Task Manager.
Use the Search Box to Run This Tool
In Windows 10, you can click the search field and type task manager. Windows will show you some results and Task Manager will be the best match. Then, click Open from the right side to open this app.
Run Task Manager via Control Panel
How to open Task Manager on Windows 10 via Control Panel? These steps are here.
Step 1: Open Control Panel.
Step 2: Input task manager to the search box and Click Task Manager from the result.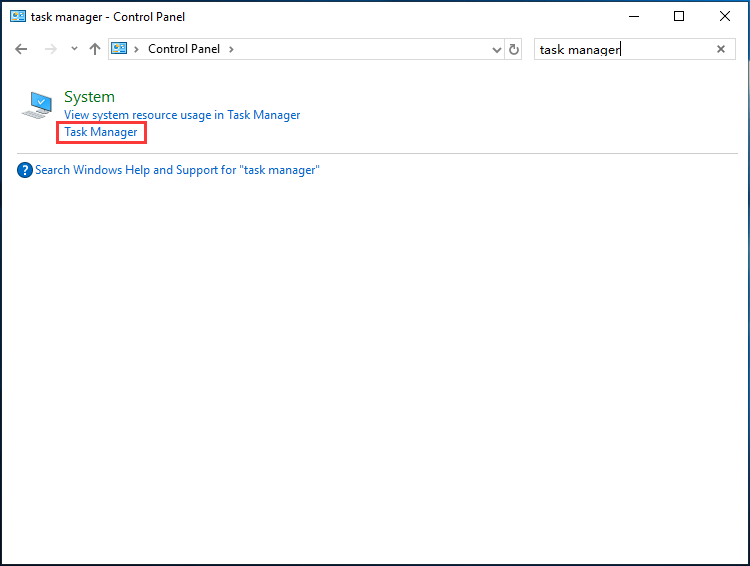 Run taskmgr.exe in File Explorer
Task Manager is shipped as a separate program that integrates with Windows 10. To open it, you can go to File Explorer by Win + E. Then, input %SystemDrive%\Windows\System32 to the address bar, scroll down to find Taskmgr.exe and double-click it to open this utility.
Use the Run Tool
Follow the guide of how to bring up Task Manager via Run:
Step 1: Press Win + R to get the Run window.
Step 2: Type taskmgr to the text box and press Enter or click OK.
Run Command Prompt
Step 1: Run Command Prompt with admin privileges.
Step 2: Type taskmgr and press Enter to open Task Manager.
Create a Desktop Shortcut for Task Manager
You can create a desktop shortcut for this tool. The ways to do this work are multiple and this post – How to Create a Desktop Shortcut on Windows 10? (3 Categories) is helpful for you.
Right now, we have shown you 10 ways to bring up Task Manager. If you are looking for how to open Task Manager, refer to this post and choose one way.