This essay summarized by MiniTool Software Limited displays seven ways to open Win11 Event Viewer. They are relying on different tools and services such as Windows Search, Quick Link menu, command prompt, Computer Management, System Configuration, and so on.
What Is Windows 11 Event Viewer?
Event Viewer is a component of Microsoft's Windows NT operating system (OS) that enables administrators and advanced users to view the event logs on a local or remote computer. Apps and operating-system components can use this centralized log service to report events that have taken place, usually failed events.
Windows 11 Event Viewer refers to the Event Viewer program integrated into the latest Windows 11 system. Next, let's see how to open Windows 11 Event Viewer with various methods.
Method 1. Open Windows 11 Event Viewer Relying on Windows Search
First of all, you can use the Windows Search function to search out and launch the Event Viewer app in Win11. The process is clicking on the magnifier icon on the taskbar and inputting "event viewer". When the best-matched result shows up, click on it to open.
Method 2. Start Windows 11 Event Viewer by Quick Link Menu
Secondly, you can get the Event Viewer tool from the Windows Quick Link menu. Press Windows + X or right-click on the Windows Start menu to trigger the Quick Link menu. In the pop-up menu, click Event Viewer to launch it.
Method 3. Launch Windows 11 Event Viewer Through Command
Thirdly, you can make use of system's built-in command function to access Windows 11 Event Viewer. Open Windows Run, or PowerShell, or CMD, type "eventvwr.msc" or "eventvwr.exe" or just "eventvwr", and press Enter.
Method 4. Open Windows 11 Event Viewer with Windows Tools
Also, you can trigger Windows Event Viewer from its Administrator Tools section in Control Panel. Open Windows 11 Control Panel, view its items by icons (large or small), find and select Windows Tools. On the Windows Tools page, find and open the Event Viewer utility.
Method 5. Start Windows 11 Event Viewer in Computer Management
Next, you are able to arrive at the Event Viewer application from Computer Management. Search and open Computer Management from Windows Search. Then, in the Computer Management software, click the Event Viewer option in the left menu.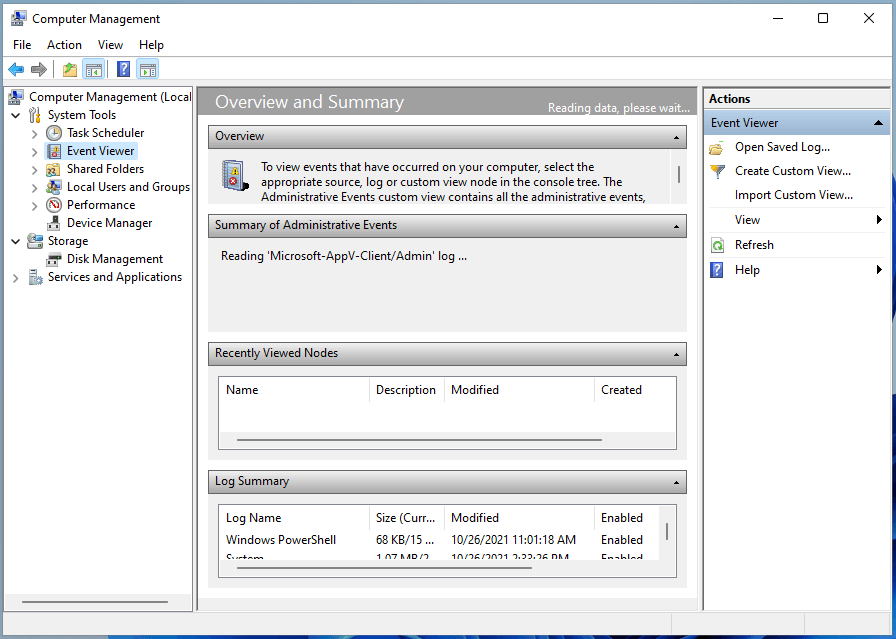 Method 6. Launch Windows 11 Event Viewer from Windows Explorer
Besides, you can launch Win11 Event Viewer through File Explorer. Just search "eventvwr" in the address bar in Windows File Explorer or directly find eventvwr.exe or eventvwr.msc in C:\Windows\System32.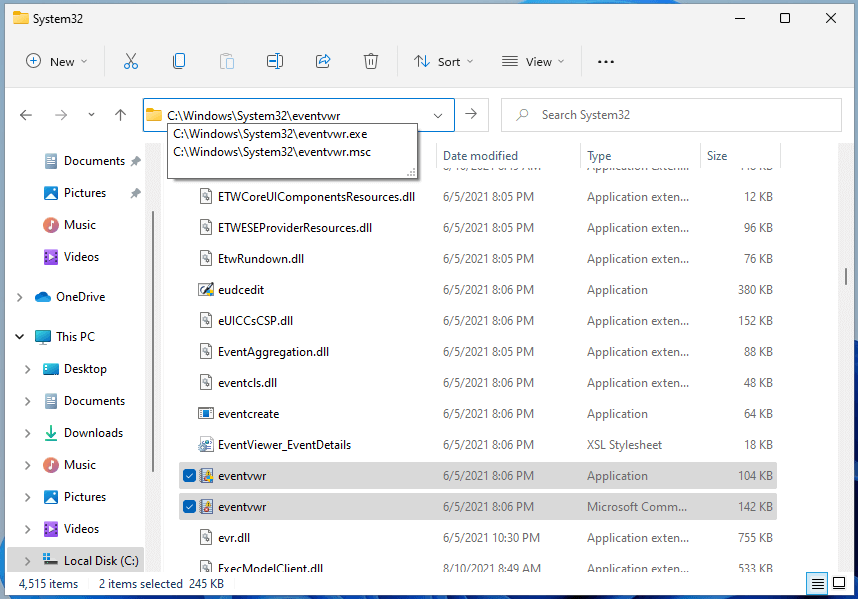 Method 7. Open Windows 11 Event Viewer Using System Configuration
Moreover, you can receive Windows 11 Event Viewer from the System Configuration utility. Just search and launch the System Configuration app, move to its Tools tab, click on the Event Viewer item to activate it, and click the Launch button to open it.
Windows 11 Assistant Software Recommended
The new and powerful Windows 11 will bring you many benefits. At the same time, it will also bring you some unexpected damages such as data loss. Thus, it is strongly recommended that you back up your crucial files before or after upgrading to Win11 with a robust and reliable program like MiniTool ShadowMaker, which will assist you to protect your increasing data automatically on schedules!
MiniTool ShadowMaker TrialClick to Download100%Clean & Safe
Read more