What Is Overclocking?
Generally your computer graphics card is running at a fixed clock speed which is set by the GPU manufacturer. However you can overclock your CPU for faster rendering for multimedia files and faster game running performance.
In computing, overclocking increases the clock rate of a computer to exceed that set by the GPU manufacturer. Overclocking a GPU often yields improvement in computer performance, usually reflected in game performance.
Note: Improper GPU overclocking may completely destroy your computer, so it's not advised you do this if you are not a professional.
Related: GPU vs Graphics Card vs Video Card: What's the Difference?
How to Overclock GPU?
Step 1. Get a reliable GPU overclocking software. You need two pieces of software. One is a software that can set new speeds for your GPU, another is a stress test software that can test your system to verify the used settings are stable. Optionally you can also download a program that can monitor your GPU temperature.
Overclocking software: MSI Afterburner.
Stress test software: Unigine Heaven Benchmark, 3DMark, or Furmark.
GPU temperature monitoring software: GPU temp, HWMonitor, or RealTemp.
Step 2. Benchmark your computer current settings. You can run the installed stress test software to check your computer current performance incl. clock speeds, temperature, FPS, etc.
Step 3. Run the GPU overclocking software MSI Afterburner to overclock the GPU. The settings you set should ensure that you get the highest possible clock speed while keeping in a safe temperature range of your computer. After each setting, you can run the stress test software again to check the stability issues and performance improvements.
For the detailed instructions for how to safely overclock GPU NVIDIA/AMD, you can refer: How to Safely Overclock Your GPU to Gain FPS.
Best Hard Drive Partition Manager and Disk Benchmark Software
MiniTool Partition Wizard, a professional hard drive partition manager for Windows 10/8/7, allows you to create/resize/extend/format/wipe partition, convert disk between MBR and GPT, FAT and NTFS, check and fix file system errors, detect disk bad sectors, analyze hard drive space, test hard drive speed, etc.
Below is how to use MiniTool Partition Wizard to test your hard drive read and write speed for free.
Step 1. After you download and install MiniTool Partition Wizard, launch it. In the main UI, you can click Disk Benchmark module at the top.
Step 2. In the Disk Benchmark window, you can select the drive and set the disk test parameters.
Step 3. Click Start to test the read and write speed of the hard drive.
How to Recover Lost Data after a System Crash
If you encounter a system crash while overclocking GPU and lose some important data, you can use MiniTool Power Data Recovery to easily recover lost data.
MiniTool Power Data Recovery is a professional free data recovery program allowing you to recover any deleted/lost files from computer, external hard drive, SSD, USB flash drive, SD card, and more with ease.
This best data recovery software can help you recover data after a mistaken file deletion, system crash, hard drive failure, malware/virus infection, etc.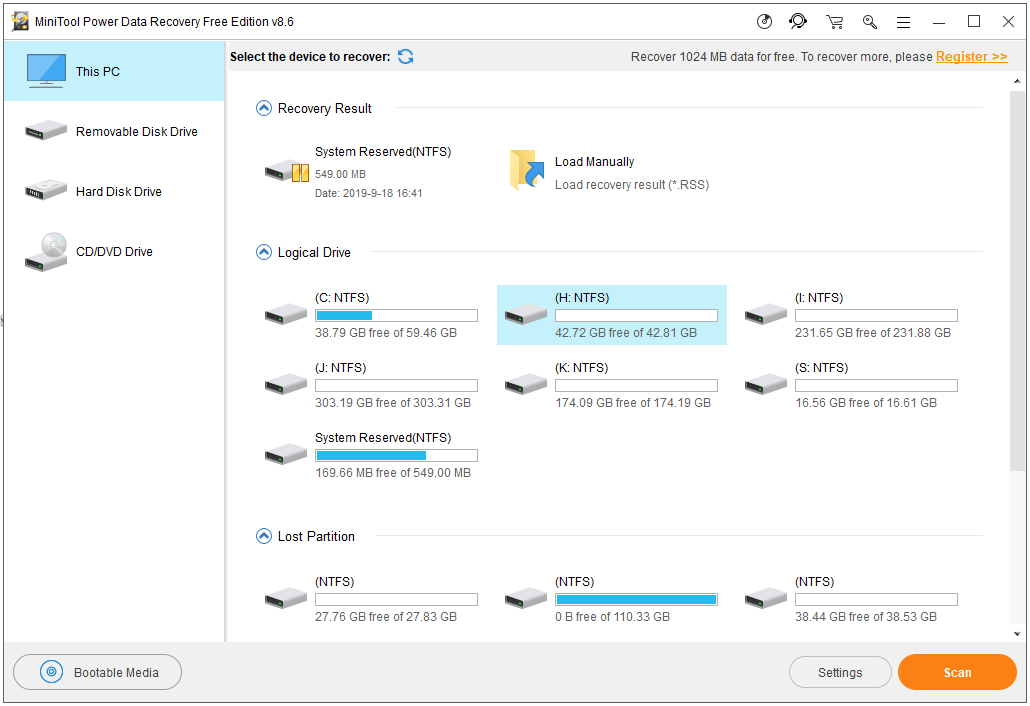 Related: How to recover data when PC won't boot.