Wonder how to paste into Command Prompt in Windows 10? This post teaches you how to enable copy and paste in CMD (Command Prompt) in Windows 10. If you want a free data recovery program, disk partition manager, system backup and restore tool, screen recorder, video converter, etc. you can visit MiniTool Software official website.
How to paste into Command Prompt? You can use your mouse to select the text in Command Prompt and right-click your mouse to paste command.
The newer version of Command Prompt also lets you use the familiar keyboard shortcut Ctrl + C and Ctrl + V to copy and paste text in CMD.
If you are facing the issue that you can't copy and paste inside Command Prompt in Windows 10 by using the Ctrl C and Ctrl V, check how to enable copy and paste command in CMD prompt below.
How to Enable Copy and Paste in Command Prompt
Step 1. Press Windows + R, type cmd, and press Enter to open Command Prompt app in Windows 10.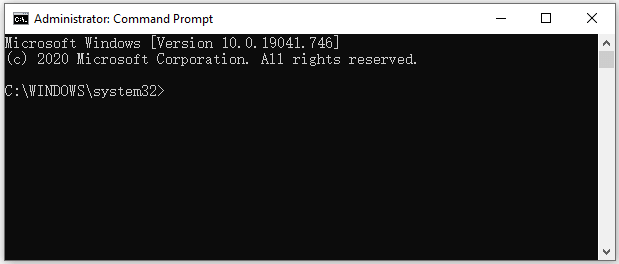 Step 2. Next, right-click the title bar of Command Prompt, and select Properties from the menu list.
Step 3. Make sure the Enable Ctrl key shortcuts option is checked. You can also check the Use Ctrl+Shift+C/V as Copy/Paste option. Click OK to save the setting.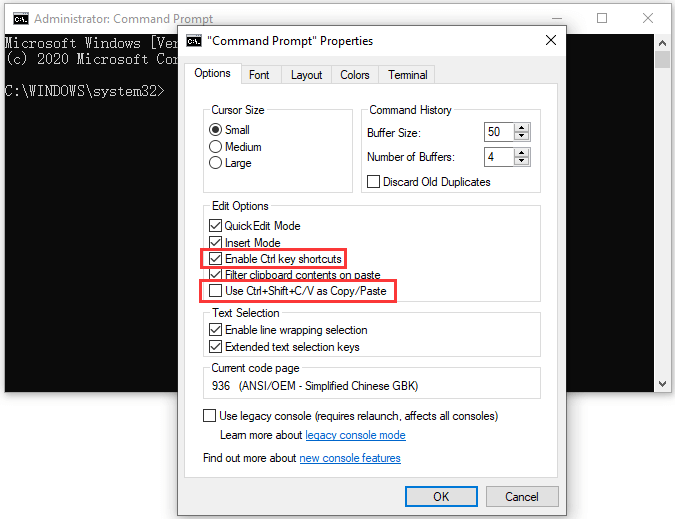 Then you should be able to use the keyboard shortcut Ctrl + C and Ctrl + V to copy and paste in Command Prompt window. You can also copy the text from another program or browser and paste the text into Windows 10 Command Prompt with the same shortcut.
If you have any issues with pasting command in CMD, you can use Ctrl + Shift + C/V to copy and paste in CMD prompt in Windows 10.
Two Useful Text-editing Tips in Command Prompt
Esc key
If you type a wrong command line and want to delete it in Command Prompt window, you can press Esc key on the keyboard to delete the wrong command line at once. This is much easier than erasing the long command line with Backspace key.
CLS command
If you want to clear Command Prompt screen to wipe all command lines, you can type cls command in CMD and press Enter to easily do it.
Related: How to Copy and Paste on Windows 10 – 5 Ways
Best Free File Recovery Software for Windows
To recover deleted or lost files from storage media, you can use MiniTool Power Data Recovery.
MiniTool Power Data Recovery is a professional data recovery software for Windows. You can use this program to recover deleted or lost data from Windows PC or laptop, USB flash drive, memory card, external hard drive, SSD, etc.
It supports various data loss situations incl. mistaken file deletion, accidental formatting, disk corruption, virus infection, system crash, and more.
MiniTool Power Data Recovery FreeClick to Download100%Clean & Safe
You can download and install the 100% clean MiniTool Power Data Recovery on your Windows computer. Launch it.
Select the target device or drive, and click Scan button to start the scan.
When the scan finishes, find and check needed files and click Save button to choose a new place to store the recovered files.