What is the Ping? How to ping an IP address Windows 10? What is the ping IP cmd? This post from MiniTool will show you how to ping an IP address? In addition, you can visit MiniTool to find more Windows tips and solutions.
What Is Ping?
The ping utility is a basic but integral feature in network management. The ping utility monitors device availability, network latency, and packet loss within a network. The ping utility is able to ensure all devices with an IP address on the network are online. Pinging indicates that all devices are live, available, and performing networking operations at speed.
In addition, an administrator can send a single ping to verify the status of an IP address, or they can execute a ping sweep, contacting a breadth of addresses to get a holistic view of network device availability.
How to Ping an IP Address Windows 10
To ping an IP address allows you to test the connection speed between you and another network. Pinging an IP address is also able to test whether your computer can reach another device, such as the router or network or whether it can reach a device on the Internet. In this way, Pinging an IP address can help you determine whether there is a problem on your local network or somewhere beyond. The time it takes packets to return to you can help you identify a slow connection or if you are experiencing packet loss.
So, in the following section, we will show you how to ping an IP address Windows 10.
Type Command Prompt in the search box of Windows 10 and then select the best-matched one.
Then right-click to choose Run as administrator. (You can read the post Command Prompt Windows 10: Tell Your Windows to Take to learn more ways to open Command Prompt as administrator.)
Then type the ping IP cmd ping hostname or ping IP address and hit Enter to continue.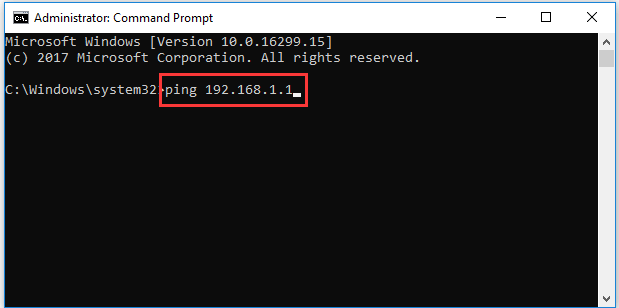 After typing the command, you will see the reply from each individual packet and time for response and the time-to-live of the packet. If you don't see the replies after entering the command, it means that the ping an IP address does not work.
From above information, you may have known how to ping an IP address. If you want to ping an IP address through the command, try this way.
However, if you don't want to use the ping IP cmd, you can also use the IP ping tools. In the following section, we will briefly show you some IP ping tools.
5 Best IP Ping Tools in 2020
1. Engineer's Toolset
The first IP ping tool we want to mention is the Engineer's Toolset, which is an incomparable software embedded with over 60 network management tools. With its powerful features, it makes it possible to collect, correlate, and analyze both nuanced and extensive network data.
2. IP Address Manager
The second IP ping tool is the IP Address Manager. It is a time-saving and error-preventing software to track device availability and perform ping sweeps, catering more to network admins than general system engineers.
3. Angry IP Scanner
The third IP ping tool would be the Angry IP Scanner. It is a free ping tool and has the functionality of an IP address scanner coming with a command-line interface, deploying across OS types.
4. Paessler PRTG Network Monitor
Paessler PRTG Network Monitor is a complete network monitoring solution, capable of tracking network bandwidth, database activity, application health, cloud computing services, server reliability network and more.
5. PingPlotter Pro
PingPlotter Pro is a commendable ping trace tool. It is compatible with Windows, Mac OS and IOS. It has a web interface, so it can perform remote network monitoring from a single console via agents on hundreds of devices.
Final Words
To sum up, this post has shown how to ping an IP address. You can take this way to have a try. If you have any idea about pinging an IP address, please share it in the comment zone.