The biggest reason why users choose a PS4 is to play games. PS4 provides wonderful game experience, so there are many people who like it. Meanwhile, the PS4 can also be used to play music, but the question is how to do that.
MiniTool Solution provides methods for you to backup & recover data when needed.
PS4 refers to PlayStation 4, which is the eight generation home video game console released by Sony Interactive Entertainment. The PS4 was launched first in February 2013 and it appeals to a lot of people these years. Why? The best answer is its high-end gaming experience. Now, one of its biggest competitors is Xbox One.
Currently, the PS4 is more than just a gaming console; it becomes an all-in-one media system. By getting a PS4, you can also watch movies & videos on YouTube or through other social media apps. What's more exciting is that a new feature has been added to PS4 currently: play music on PS4. But how? Please keep reading the following content.
How To Recover Data From PS4 Hard Drive In Different Ways?
How to Play Music on PS4
Can You Play Music While Playing Games on PS4
By using the Media Player with a USB disk, users can play the PS4 USB music. What's more fascinating is that users are allowed to play Google music on PS4 while they are doing anything else. The music playing will be working in the background, so it won't have any impact on the things they do.
Can you play music while streaming on ps4?
Sorry, you can't. In contrast, you can only play music on a PC or external music player.
Playing Music on PS4 through Spotify
Start your PS4 and you'll see the home screen. If the device is working now, you should click on the PlayStation button in the middle of the controller to go back to home screen.
Scroll to find the PlayStation Music application and then select it.
Log in to with your Spotify account (if you don't have that, please create a new one).
Follow the instructions to set up your Spotify account properly.
Access Spotify and go to manage the music playback yourself.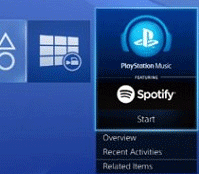 Playing Music on PS4 by Using Media Player & USB
How to add music to PS4 and play it?
Open your PS4 and go to download Media Player from the PlayStation Store.
Connect a USB flash drive to a computer and make sure it shows up.
Create a folder on your USB drive and name it as Music.
Copy the music files you want to play to the Music folder. (The supported file formats are: MP3, MP4, M4A, 3GP, and AAC files.)
Remove the USB device from computer and connect it to your PS4.
Open Media Player application to find the Music folder.
Then, select the music you want to play.
How to fix when the USB drive is not recognized by computer?
Warning:
You have to make sure the USB drive is formatted as FAT and
exFAT
. If it's not, please use the
Format Partition
function of MiniTool Partition Wizard to change the
file system
.
How to play music on PS4 from USB?
You may also repeat step 1 to step 5, and select Library and USB Music Player one by one in the content area -> choose the files you want to play on PS4.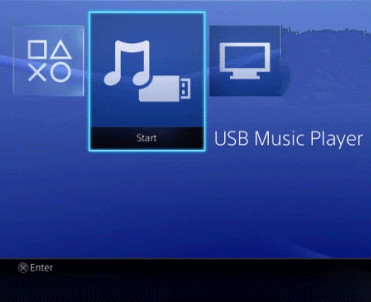 Can You Play Google Music on PS4
Many people ask whether they can access Google play music on PS4. Unfortunately, it is not allowed till now.
However, if you have a headphone that allows the simultaneous connection of two devices, you can play Google music on one device while hearing gameplay from the other – the PS4 console.
Besides, if you have an Android device using DLNA, you can play music on PS4 in the background while you're gaming.
How to play music on PS4 while you game? While you are playing your favorite game, you are reluctant to exit and play music. Here's a way to help:
Hold down the PS button to bring up the Quick Menu.
Navigate to the Music option.
Choose the featured or recommended playlist. (Also, you can select a playlist from your library.)
Choose a track to start playing.
Now, you can enjoy the music while you're playing a game.