After Windows 7, Microsoft keeps releasing new versions of its operating system including Windows 8/8.1, Windows 10, and Windows 11… Although now Windows 7 has ended its life, some of you still use this reliable operating system rather than upgrading to Windows 11.
When Windows 7 runs with some issues, you may want to reinstall the OS, which can restore the PC to a normal state in most situations. In addition, reinstalling Windows 7 from scratch can make sure that your PC runs on a standard and bloatware-free system.
If you don't have a disc at hand or your laptop doesn't have an inbuilt CD/DVD drive to run the disc, can you clean install Windows 7 without CD? How to run Windows 7 setup without disk? Find what you should do from this guide below.
How to Reinstall Windows 7 Without Disk
Create a Backup for Your Important Files in Advance
As is well known, reinstallation can erase the data on your hard drive. So, before reinstalling Windows 7 without disc, you had better create a backup for your crucial important files, especially files saved on the C drive since everything saved in it is removed during the process.
To back up files or folders in advance, you can run the professional PC backup software – MiniTool ShadowMaker. It can run properly in Windows 7/8/8.1/10/11 to create a file/folder/disk/partition backup & recovery to an external hard drive, USB flash drive, NAS, etc.
windows-11-backup-to-external-drive
Now, get the trial edition (30-day free trial) of this program by clicking the button below and then installing it on the PC.
MiniTool ShadowMaker TrialClick to Download100%Clean & Safe
Step 1: Run MiniTool ShadowMaker Trial Edition on your PC.
Step 2: Under the Backup page, click SOURCE > Folders and Files, choose the files you want to back up, and click OK.
Step 3: Click DESTINATION to select a path to save the backed-up data.
Step 4: Click Back Up Now to begin the file backup.
After completing the file backup, follow the steps on how to install Windows 7 without the disc.
Reinstall Windows 7 Without CD
If you don't have a CD but have a USB flash drive, you can create a bootable USB drive to install Windows 7 from scratch. The operation is not hard and let's get started.
Move 1: Download a Windows 7 ISO Files
Currently, Microsoft removes its download page of Windows 7 from the website. To get a Windows 7 ISO, just search for "Windows 7 ISO download" online and some third-party pages give you the download link.
Related post: Windows 7 ISO File Safe Download: All Editions (32 & 64 Bit)
Move 2: Create a Bootable USB Drive
After getting the ISO file, download Rufus and open it, connect your USB drive to the PC, then choose the Windows 7 ISO, and click START to create a bootable Windows 7 USB drive.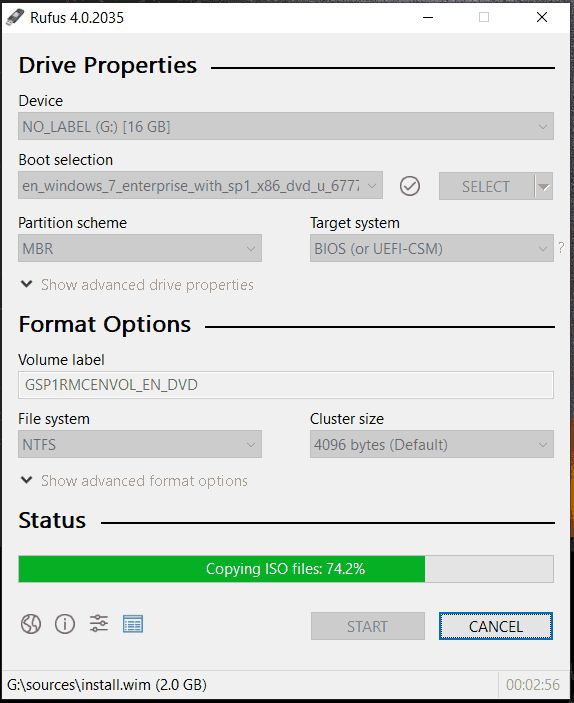 Move 3: Clean Install Windows 7 Without CD But Use USB
How to refresh Windows 7 or how to run Windows 7 setup without disk?
After everything is ready, connect the created bootable USB drive to your Windows 7 PC, and press a specific key (Del, F1, F2, etc. It is different based on manufacturers) during the restart process to enter the BIOS menu. Then, begin the reinstallation.
1. Configure your language and other preferences on the Install Windows page.
2. Click the Install now button to continue.
3. Accept the license terms and choose Custom (Advanced) to install a new copy of the Windows operating system.
4. Decide where you want to install Windows. You can choose to delete the original system partition and then reinstall Windows 7 to it.
5. Then, the setup starts.
Final Words
How to reinstall Windows 7 without disk or how to do a clean install of Windows 7 without disc? From this post, you know the detailed steps – back up data beforehand, download Windows 7 ISO, create a bootable USB drive, and run the setup for installation. If you have other ideas on how to refresh Windows 7 without CD, share them with us. Thanks.