This tutorial from
MiniTool
will give you three solutions on
how to transfer data from PS4 to PS4 Pro
. Generally, they are directly transferring from PS4 controller to PS4 Pro console, via PlayStation Plus cloud storage and relying on external USB hard drive. The methods in the following content also apply to PS5 and other PlayStation consoles.
Why Need to Transfer PS4 to PS4 Pro?
In some situations, you have to transfer data (games, user settings, screenshots, video clips, etc.) from your PlayStation 4 to PlayStation 4 Pro edition. When you get a new PS4 Pro and plan to upgrade to PS4 Pro from your current PS4 or PS4 Slimmer.
PS4 Pro adopts the most advanced technology among the already existing PlayStation versions. It gets more processing power to display games in ultra-sharp 4K resolution with high-dynamic range (HDR) on newer TV sets that supports those features.
Even if you are still with a regular 1080p TV monitor, with the extra horsepower of PS4 Professional, your games can still look much better as well as performance. Yet, that is true only for the upcoming high-resolution (HD) games instead of the old ones.
How to Transfer Data from PS4 to PS4 Pro?
Transfer Data from PS4 to PS4 Pro via PlayStation System Software
PS4 to PS4 Pro Data Transfer Through Cloud
Transfer Data from PS4 to PS4 Pro by External Hard Drive
How to Transfer Data from PS4 to PS4 Pro?
In order to transfer from PS4 to PS4 Pro console, you need both controllers, of course, at least one LAN (Local Area Network) cable and broadband network access (broad bandwidth).
Step 1. Upload Data to Cloud
In case there is something wrong (power out, malfunction, etc.) and your data get corrupt during the transfer process, it is recommended that you upload your data to the cloud through PlayStation Plus.
Tip: To guard against data loss due to power loss, the power button is disabled during the data transfer process.
Step 2. Sync Trophies
Launch the Trophies application on your system on the old PS4 and allow it sync to the PlayStation Network (PSN). Those trophies are likely to be lost for good if you do not sync it to PSN before data transferring. Also, it will inform you that you haven't synced your trophy information and recommend you to synchronize your trophies with PSN by selecting Trophies from the home screen on the new PS4.
Step 3. Ensure Version 4.0 or Higher System Software.
Check the system software of both your current PlayStation 4 and the new professional PlayStation 4, and make sure both programs are updated to the newest version, at least version 4.0. As for your existing PS4, its system software should be upgraded to the latest version automatically last time when you are online. To confirm it, go to the software Settings and check it in System Software Update.
Step 4. Enable Broad Bandwidth & Sign in to PSN (PlayStation Network)
Connect both PS4 controllers to your home broad bandwidth, through LAN cables or via WiFi. Then, you are able to sign in the PSN. Connect your PS4 Pro to the TV and sign in your PSN account with the PS4 Pro.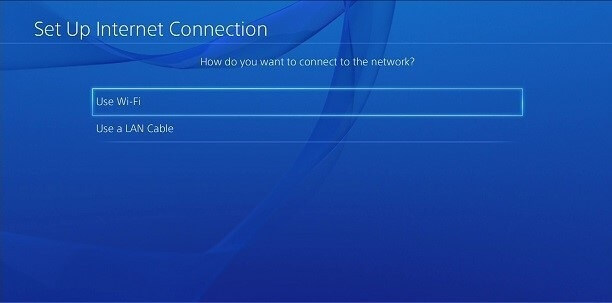 Step 5. Prepare to Transfer Data
When you sign in to your PSN account on the new PlayStation, the account will find that you are using a new machine and it will ask you whether you'd like to transfer ps4 data to ps4 pro or not. Just confirm it by clicking Transfer Data from Another PS4.
Tip: Data will not be erased from the original PS4, even after data transmission is complete.
Next, press the power button on your old console and hold it until it beeps. Usually, this will only last one second. Thus, you have prepared to transfer data from PS4 to PS4 Pro.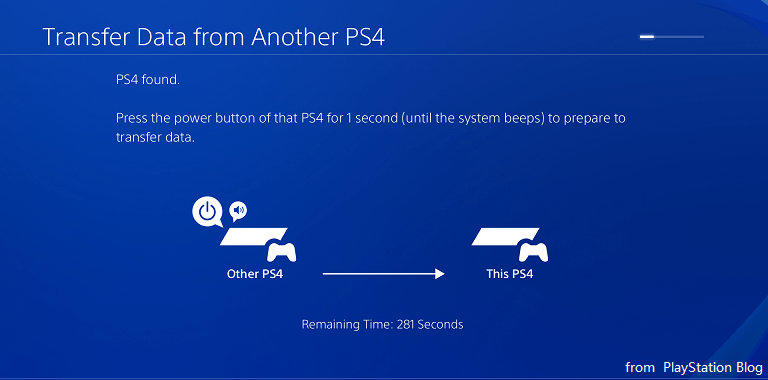 Then, connect the two PlayStations with a LAN cable inserted into their respective LAN ports on the back of the devices. Or, you can just connect both controllers to your router with 2 LAN cables.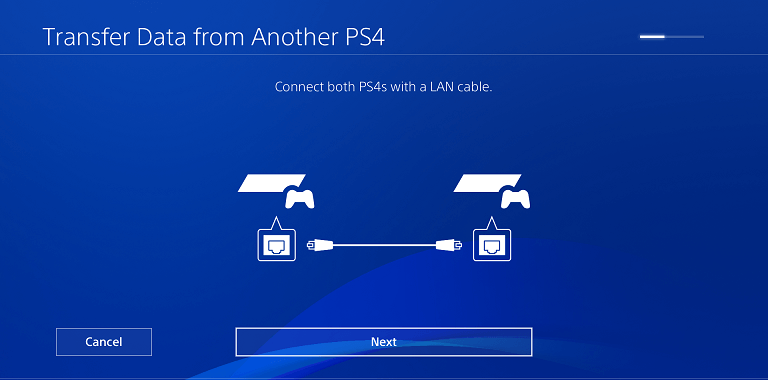 Related article: [Complete Guide] How to Fix PS4 Corrupted Data/Database Error
Step 6. Select Data to Transfer
Choose which kind of data you'd like to transfer from PS4 to PS4 Pro, applications, saved data, captures, themes, settings or all of them. Once you've selected, it will show you how much free space is left after transferring those items. Also, it will estimate how much time the process will cost you depending on the total size of the pending data.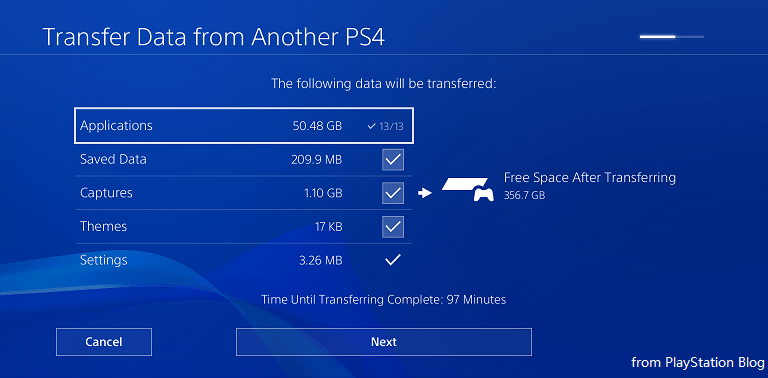 Step 7. Activate Your Primary PS4
Next, it will ask you whether you want to activate the new PS4 Pro as your primary console. Form the primary machine, you can automatically download updates, upload saved game data to your PS Plus cloud storage and share them with your friends, families, and so on.
Step 8. PS4 Data Transfer Warning
After you select Start Transfer, this PS4 will automatically restart, be initialized and then data will be transferred to it. If you cancel while transferring, this PS4 will still be initialized and it won't return to its current state.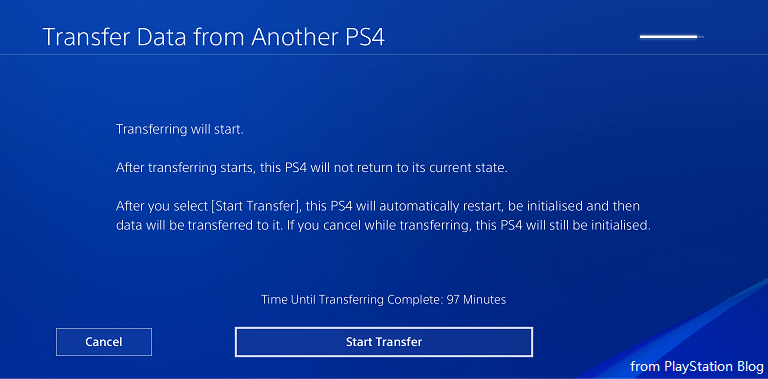 Step 9. Start Transferring Data from PS4 to PS4 Pro
Finally, click Start Transfer and it will start to copy the chosen data from the source console to destination PS4. During the moving process, do not turn off any PS4 or disconnect any cables. After the transfer completes, the PS4 will automatically restart.
How to Transfer Data from PS4 to PS4 Pro Through Cloud Storage?
You can also transfer data from PS4 to PS4 Pro with the help of cloud storage. First of all, sign in to your PSN on your old PS4 controller, go the Settings of the system software, and search for Application Data in Storage System. Then, find Saved Data in System Storage, choose all data you want to upload, and select Upload to Online Storage.
Then, sign out your PSN account and sign in it with your new PS4 Pro console. Once signed in, similarly, go to Settings > Application Data in Storage System. Then, reach Saved Data in Online Storage, select all data you want on your new device, and download them from the cloud.  
Data to Be or Not to Be Transferred
Data to Be transferred:
All games, downloaded from PS Store, PS Plus and installed from discs, and all saved game data.
All saved videos and screenshots.
All set up folders.
All messages in PSN were both sent and received.
All profile data of PSN accounts that once signed into the console.
All synced trophy data.
Data Not to Be Transferred
All passwords of the accounts including PSN, Amazon and Netflix.
All un-synched trophy data.
How to Transfer Data from PS4 to PS4 Pro with External Hard Drive?
If you are not a member of PS Plus or you are going to give current PS4 to its buyer while your new PS4 Pro is on the way, there is a traditional "stupid" way for you to transfer PS4 data to PS4 Pro. You can firstly backup your data from old PS4 to an external hard drive (e.g. USB flash drive), and then when your new PS4 Pro arrives, restore the data to it from the external storage device.
How to Back up Your PS4?
Insert your USB stick into one USB port on the PS4.
Go to Settings > System > Back Up and Restore.
choose the data you want to backup and select Back up.
When the backup finishes, unplug your USB.
Tip: You are also recommended to sync your trophies here through the system software like mentioned above. BTW, there is a professional and reliable Windows PC backup & restore software called MiniTool ShadowMaker, which can also sync files for you.

How to Restore Your PS4?
Connect your USB drive into the new PS4 Pro.
Move to Settings > System > Back Up and Restore.
Select Restore and choose the image files in the USB disk. Then, click Yes.
When the recovery process completes, close the program and disconnect your USB.
Tip: All above methods are also applied for how to transfer data from one PS4 to another.
Finally, when all data you need are transferred to your new PS4 Pro and you work fine with the Pro console. You may keep the old PS4 as you like for it still what it used to be. Or, you may consider selling it to others. Then, you have to fully initialize it in the system software settings before trading.
Related Articles