Are you looking for ways to completely uninstall DS4Windows and its related drivers? This is a perfect place for you since MiniTool will show you a step-by-step guide on how to uninstall DS4Windows & drivers. Let's see what you should do to remove this program.
DS4Windows, a portable program, enables you to connect PlayStation controllers to your PC. It allows you to get the best DualShock 4 experience on the PC. By emulating the Xbox 360 controller, you can play many games specifically made for Xbox. To know more details about this program, refer to our previous post - Get the DS4Windows Download on 32 and 64 Bit Windows PCs.
This program runs well on many devices and Windows systems. However, according to users, some security patches and some unwanted updates are released in Windows 10. As a result, they messed up all the things. Controllers work strangely and even crash.
In this case, uninstalling DS4Windows and its drivers is chosen by many users. Well then, how can you uninstall DS4Windows from Windows 11/10 if you are also one of these users? Move to the next part to see how to do it.
How to Uninstall DS4Windows 11/10
DS4Windows is a portable program, so this means it isn't really installed and you can't delete DS4Windows via a simple uninstall in Control Panel. To remove it, you need to delete files and associated drivers. See the step-by-step instructions.
Uninstall ViGEm, HidHide, and FakerInput Drivers
When installing DS4Windows on your PC, ViGEmBus driver is necessary to install to make sure this program can work well. Besides, HidHide and FakerInput are optional drivers. If you install these three drivers, go to uninstall them from your PC.
See how to uninstall DS4Windows drivers:
Step 1: In Windows 11/10, open Control Panel by typing control panel to the search box and clicking the result.
Step 2: In the new window, go to the Programs section and click Uninstall a program.
Step 3: In the Programs and Features page, find HidHide, ViGEm Bus Driver, and FakerInput, select them one by one and click Uninstall to remove DS4Windows related drivers.
Change Settings of the DS4Windows App
After uninstalling DS4Windows drivers from your Windows 11/10 PC, do this operation:
Step 1: Open the DS4Windows app.
Step 2: Go to the Settings tab, uncheck the box of Run At Startup.
Step 3: Exit the app.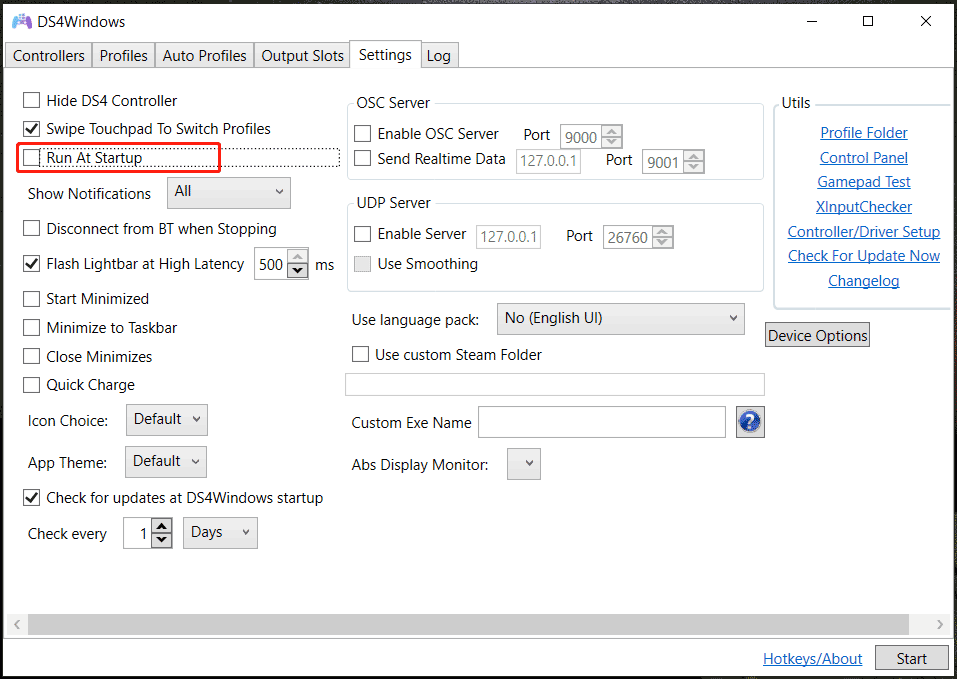 Delete DS4Windows Related Files
Step 1: Press Win + R to open the Run dialog, type %appdata% into the box and click OK.
Step 2: In the Roaming folder, locate the DS4Windows folder and delete it.
Besides, if you create a shortcut, delete it from your PC.
That is how to uninstall DS4Windows and its related drivers from your Windows 10/11 PC manually. In addition, someone chooses to use a third-party app called ScpToolkit to uninstall DS4Windows and its related content. It is a free Windows Driver and XInput Wrapper for Sony DualShock 3/4 Controllers. Just get this tool for the uninstallation.
Final Words
How to completely uninstall DS4Windows from Windows 11/10? It is not difficult if you follow the given guide here. Just delete this app easily using the way. If you figure out other methods to uninstall DS4Windows, leave a comment below to let us know. Thanks a lot.