Valorant Uninstall: Necessary
As a free-to-play first-person shooter (FPS) game from Riot Games, Valorant has taken the world by storm. But when playing this game, some issues can happen, for example, error code VAN 135, Valorant Vanguard anti-cheat error, VAL 43, etc. In this case, one of the solutions is to uninstall Valorant and reinstall it.
Besides, Valorant is definitely not for everyone. If you play this game and don't like it, you may choose to uninstall it. Sometimes this game takes up much disk space and you want to free up some space. Then, uninstalling it is a good option.
Well then, how to uninstall Valorant on Riot Client on Windows 11/10? See the guide below now.
How to Completely Uninstall Valorant
It is a bit different from simply going to uninstall the application. According to users, sometimes Valorant won't uninstall and the primary reason is Valorant's anti-cheat software Riot Vanguard. To successfully remove Valorant, you need to first uninstall Riot Vanguard and then uninstall Valorant.
Remember, you need to close these two programs before the uninstallation. Completely exit Valorant, then go to the system tray from Taskbar, right-click on the Riot Vanguard icon and choose Exit Vanguard. Next, start to uninstall Valorant by following the ways below.
How to Uninstall Valorant via Control Panel
Step 1: Press Win + S to open the search bar, type control panel into it, and press Enter.
Step 2: View items by Category and go to click Uninstall a program under Programs.
Step 3: In the Programs and Features window, locate Riot Vanguard and choose Uninstall.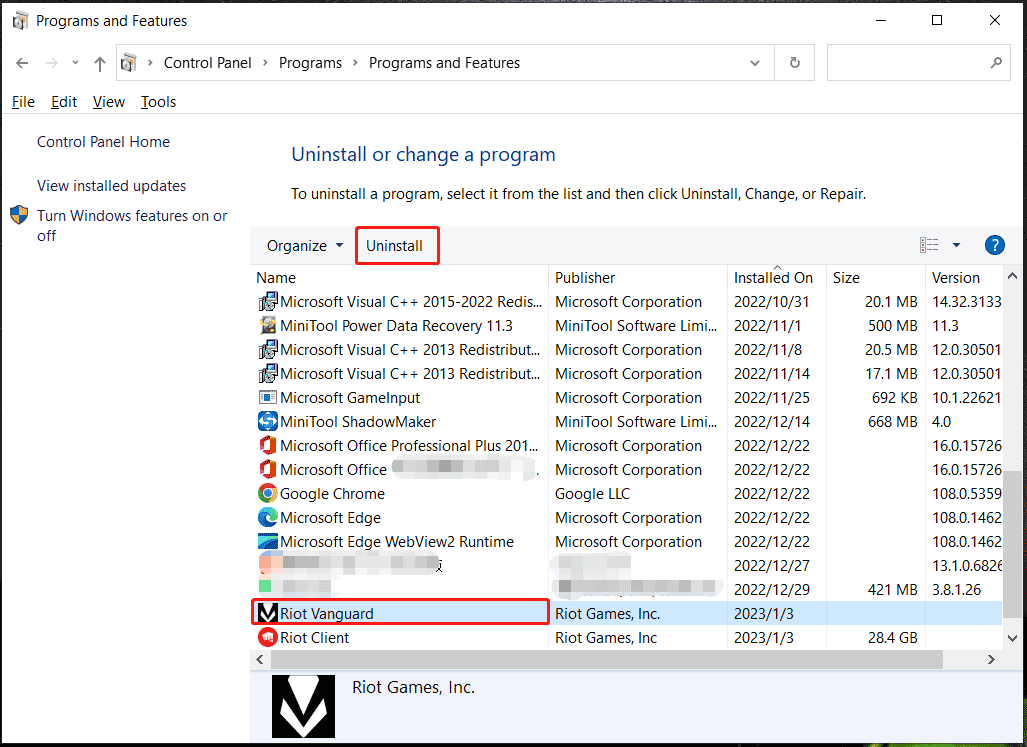 Step 4: Locate Valorant and then uninstall this app. After that, restart your PC.
Alternatively, you can go to Settings > Apps > Apps & features. Find Riot Vanguard and click Uninstall in Windows 10. If you are using Windows 11, you need to click three vertical dots next to Riot Vanguard and click Uninstall. Then, repeat the same process to uninstall Valorant.
How to Uninstall Valorant via CMD
In addition to Control Panel, you can completely uninstall Valorant via Command Prompt (CMD) and this is a simple way. See how to do this task in Windows 11/10.
Step 1: Type cmd to the search box, right-click on Command Prompt and choose Run as administrator.
Step 2: Type sc delete vgc into the CMD window and press Enter.
Step 3: Type sc delete vgk and press Enter.
Step 4: Restart your PC.
Step 5: Go to C:\Program Files, find the Riot Vanguard folder, and delete it.
In addition to these two ways, you can choose to use a professional app uninstaller to completely uninstall Valorant, for example, IObit Uninstaller, Revo Uninstaller, Geek Uninstaller, etc. Just get one to do this thing.
Sometimes you want to reinstall Valorant on your Windows 11/10. Just go to the official website to download the latest version of Valorant and then install it on the machine. If you want to know more details, refer to this post - How to Download and Install Valorant on PC [A Complete Guide].
Final Words
That's the information about how to uninstall Valorant on Riot Client from Windows 11/10. If you need, follow the given two methods to completely remove Valorant from your PC. If you have any other ideas, tell us in the comment below.