If you only use Windows Defender Antivirus as your antivirus software, you'd better keep it up-to-date to make sure it can detect the latest threats. However, do you know how to update Windows Defender Antivirus on your Windows 10/11 computer? You can find some methods in this post.
What Is Windows Defender Antivirus?
Windows Defender Antivirus is a Windows built-in antivirus app, which can help you protect your computer from viruses, malware, spyware, etc. Windows Defender Antivirus is enough to protect your PC. So it is OK if you don't want to install third-party antivirus software.
To supply better protection for your Windows 10/11 computer, Microsoft keeps releasing updates for Windows Defender to cover the latest threats and to tweak detection logic, enhancing the ability of Microsoft Defender Antivirus. So, you'd better make sure you are using the latest version of Windows Defender Antivirus. Normally, your system can automatically get the updates for Windows Defender. However, you can also perform a Windows Defender manual update.
In this post, MiniTool Software will show you the methods you can use to perform a security intelligence update for Microsoft Defender Antivirus.
How to Update Windows Defender Antivirus?
Way 1: Automatic Windows Defender Update
Microsoft releases updates for Windows Defender via Windows Update. You can go to Windows Update and click Check for updates to see if there is an available Windows Defender update. Usually, the update is titled Security Intelligence Update for Microsoft Defender Antivirus.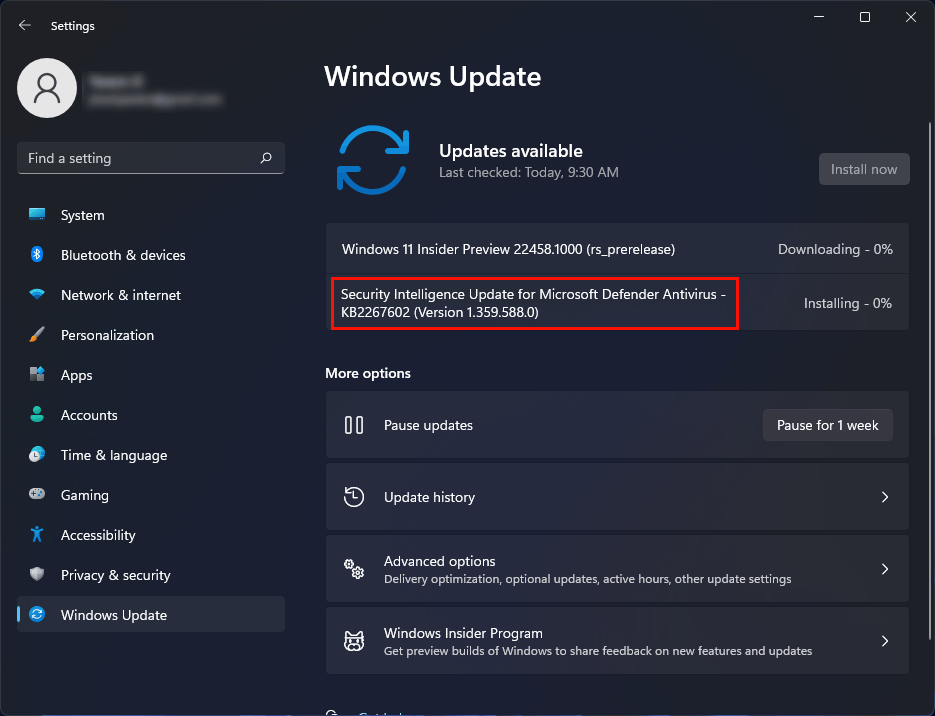 If Windows Update doesn't work, you can run Windows Update troubleshooter to fix it. To make Windows Defender Antivirus work, you need to make sure you have enabled it on your device.
Way 2: Trigger an Update for Windows Defender via CMD
You can also manually trigger an update to download and apply the latest security intelligence. This method can also be your choice if there are problems with the automatic update via Windows Update.
To manually update Windows Defender, you need to first clear the current cache and then trigger an update. Well then, how to do this?
Step 1: Run Command Prompt as administrator.
Step 2: Run the following commands and click Enter after each.
cd %ProgramFiles%\Windows Defender
exe -removedefinitions -dynamicsignatures
exe -SignatureUpdate
Tip: The enterprise administrators can push Windows Defender updates to devices in their network.
Way 3: Manually Download the Update for Windows Defender
Microsoft offers Windows Defender Antivirus download sources for Windows 10. The security intelligence update packages for Windows Defender are SHA2 signed. So, you need to make sure that you have the necessary update installed to support SHA2 signing, see 2019 SHA-2 Code Signing Support requirement for Windows and WSUS.
Here are the download links from Microsoft. You can feel to download one according to the Windows edition you are using:
Microsoft Defender Antivirus for Windows 10 (and Windows 8.1) 32-bit | 64-bit | ARM
In addition, Microsoft rolls out Windows Defender Preview in Microsoft Store. If you want to experience it, you can download it via Microsoft Store.
How to Update Windows Security Signatures?
Step 1: Click the search icon from the taskbar and search for Windows Security.
Step 2: Select Windows Security to open it.
Step 3: Click Virus & threat protection.
Step 4: Click Protection updates under Virus & threat protection updates.
Step 5: Click the Check for updates button.
These are the methods to update Windows Defender on your Windows 10/11 computer. You can just select a suitable method based on your situation.