What is HP Battery Check? How to download HP Battery Check? How to check battery health on HP laptop in Windows 11/10? To find answers to these questions, go on reading and you can find much information given by MiniTool.
A battery on a laptop is very important. Over time, the battery may wear down, affecting its life. So it is necessary to check the battery health to decide whether to replace it with a new one. If you are using an HP laptop, it is easy to check HP battery health with the official professional tool – HP Battery Check.
Overview of HP Battery Check Utility
HP Battery Check is a tool designed by HP that is easy to use. It enables you to run a simple but accurate test of the battery for your laptops.
If your device is equipped with a second battery, this tool can test both the primary and secondary battery. After the check, the information on the state of the battery and battery details will be displayed. Besides, if you run into faulty battery performance, you can use this tool to diagnose the problem.
In terms of the battery health status in HP Battery Check, you may see:
OK: the battery is working properly
Calibrate: the battery can function correctly but needs to be calibrated
Replace: the battery no longer accepts a charge and needs to be replaced
No Battery: your primary or secondary battery isn't detected
Error: when accessing the battery, an error appears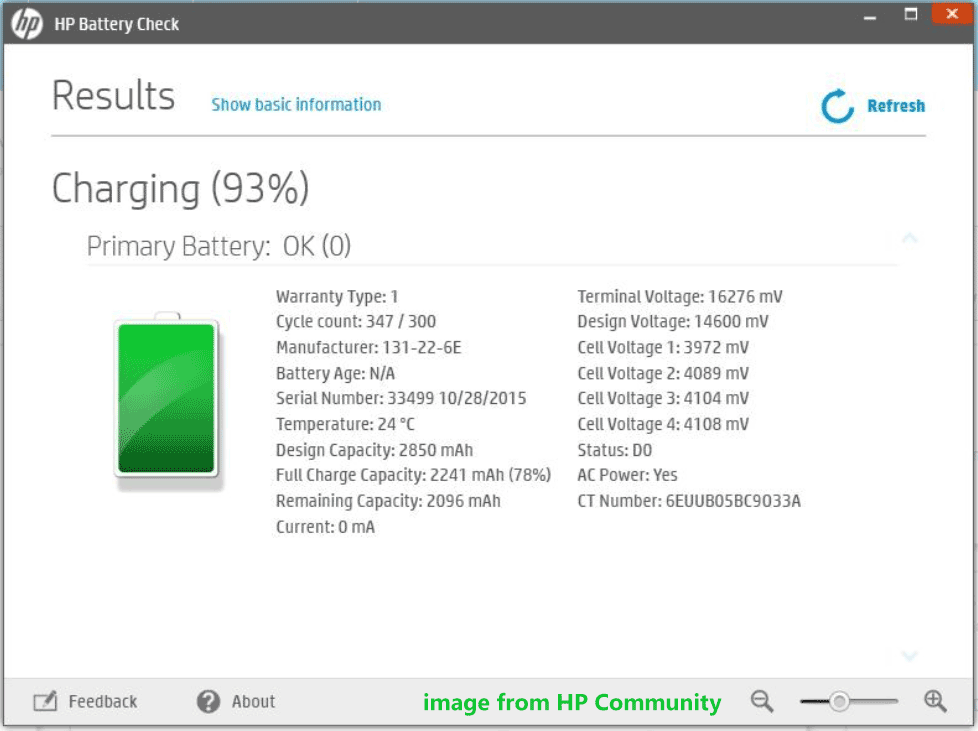 To run HP Battery Check, you should make sure your AC adapter is connected to the laptop and make sure the charge is more than 3%. Besides, you had better charge the laptop using the AC adapter for at least 30 minutes with the laptop turned off before a test. This is to make sure the test result is valid.
HP Battery Check Download
To run an HP battery health check with this utility, you can go to HP's official website and click the Launch now button from the BATTERY CHECK section. Then after HP Battery Check opens, follow the instructions provided by this application to analyze and optimize your PC.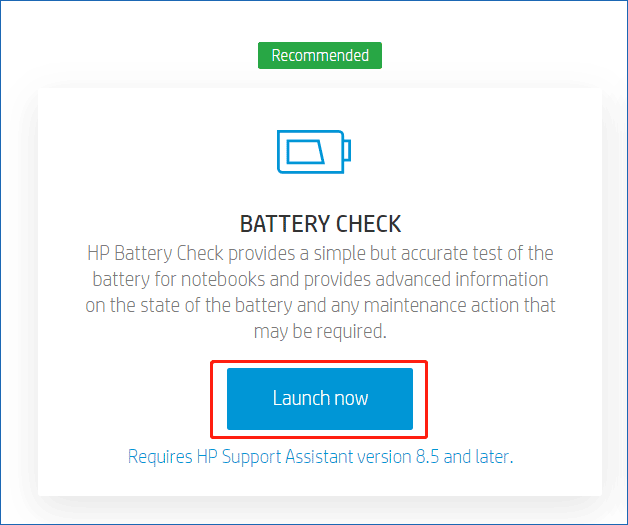 In addition to this way, there is another option. Currently, HP Battery Check is a utility in HP Support Assistant and you can get this app. To run the HP laptop battery check, make sure the version of HP Support Assistant is 8.5 and later.
Step 1: Go to download HP Support Assistant and install it on your HP laptop.
Step 2: Launch it and go to choose the device.
Step 3: Click Troubleshooting and fixes > Battery Check. After a while, HP Battery Check will display the result.
Besides, you can download separately HP Battery Check to check battery health on an HP laptop. When searching for "HP Battery Check download" in Google Chrome, many third-party websites give you a download link to get this tool. If you need it, get it and install it on your HP laptop for use.
In addition to using HP Battery Check, how to check battery health on HP laptop without a tool? In our previous post - How To Check The Battery Health Of Your Laptop, you can find a way - generate a battery report in Windows 10/11 and view the report.
Final Words
How to check battery healthy in HP laptop in Windows 10/11? HP Battery Check is a good utility to help you easily check HP battery health. You can download it separately or get HP Support Assistant to run it. Just follow the given guide if you need it.