Summary :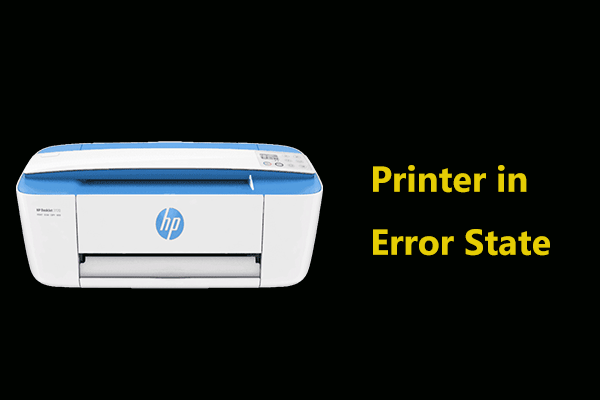 Printer in error state is a common problem in Windows 10. It can occur on an HP, Canon, Epson, Brother, Ricoh, etc. printer. How can you fix this printer problem so that you can print documents successfully? Read this tutorial and you can find many useful solutions given by MiniTool Solution to easily solve your issue.
Printer in Error State HP, Canon, Epson, or more
When printing a document in Windows 10, the print process may fail along with an error "Printer in an error state". It appears on the computer screen. This printer problem is not only limited to one brand. According to reports, it can occur on HP, Canon, Epson, Ricoh, Brother, Rollo, etc. printers.
Why is your printer not printing with such an error? The problem results from various aspects, including:
The printer is low on ink
The printer is not connected properly
Drivers are corrupt
There are connection problems
The printer doesn't have system permission settings
Software change like a Windows update interferes with communication between your system and the printer
To find the exact reason and eliminate it, you can try some solutions below.
How to Fix Canon/Brother/HP Printer in Error State
Check the Printer Connection
The first thing you should do is to check the connection if you see printer is in an error state. Make sure the printer is connected to your computer correctly. The physical connection should be firm and the printer cable isn't damaged.
Verify that You Have Loaded Paper into the Printer
A simple but overlooked problem is that there is no paper on the tray of your printer. So, have a check if Ricoh/Brother/Canon/HP printer in error state happens. Just turn off the device, load paper, and wait a few minutes. Then, check if the error is removed.
Run Printer Troubleshooter
To remove printer in error state from Windows 10, you can try the printer troubleshooter. This utility is built into the operating system and can help to solve many printer problems.
1. Go to Settings > Update & Security > Troubleshoot.
2. Click Printer and choose Run the troubleshooter.
3. Apply the fix by following the instructions on the screen.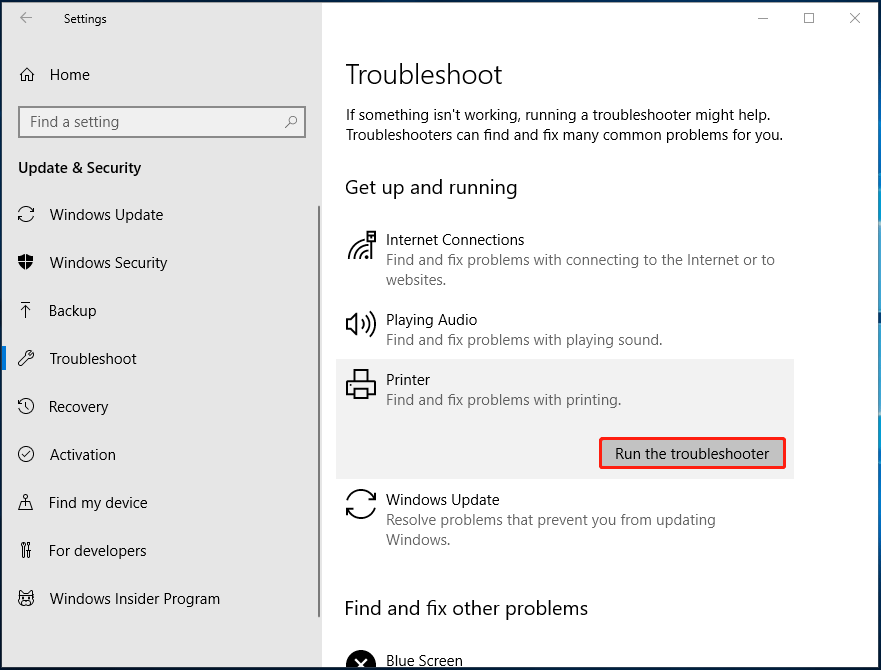 Make Changes in Port Settings
When running into Ricoh/Brother/Canon/HP printer in error state, you can change port settings to fix it.
1. Open Device Manager in Windows 10.
2. Go to View > Show hidden devices.
3. Right-click Ports (COM & LPT) and choose Properties.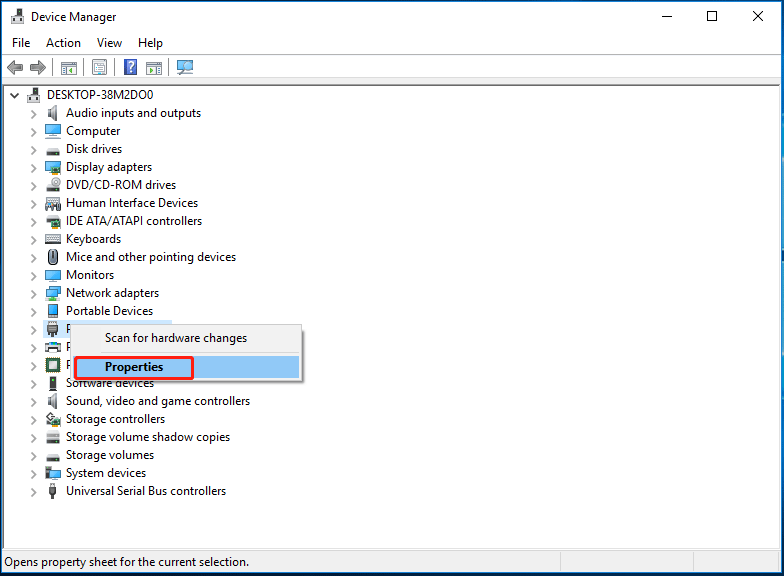 4. Under the Port Settings tab, make sure you check Use any interrupt assigned to the port and Enable legacy Plug and Play detection.
5. Save the changes and see if the error is removed from your computer.
Make Sure the Printer is Online
If your Brother, Canon, Epson, Ricoh, or HP printer is offline, the message "printer is in an error state" may appear on your Windows 10 computer. So, confirm that it is online.
Run Control Panel and view all the items by Large icons.
Click Devices and Printers.
Select the target printer and you can see its status. If it is Offline, right-click it and choose Use Printer Online.
If you are looking for methods to deal with the "Devices and Printers not loading" issue on Windows 10, then you can read this post to find several fixes.
Tip: In addition, you can set your printer in the default printer mode. Right-click it and choose Set as default printer from the context menu.
Set Printer Spooler Service to Automatic
This is another solution to fix printer in error state on your Brother, Canon, Epson, Ricoh, HP printer. See how to set printer spooler service to automatic.
Type services to the Windows 10 search box and click the result.
Scroll down to find Printer Spooler. Right-click it and choose Properties.
Set its Startup type to Automatic and then click Apply.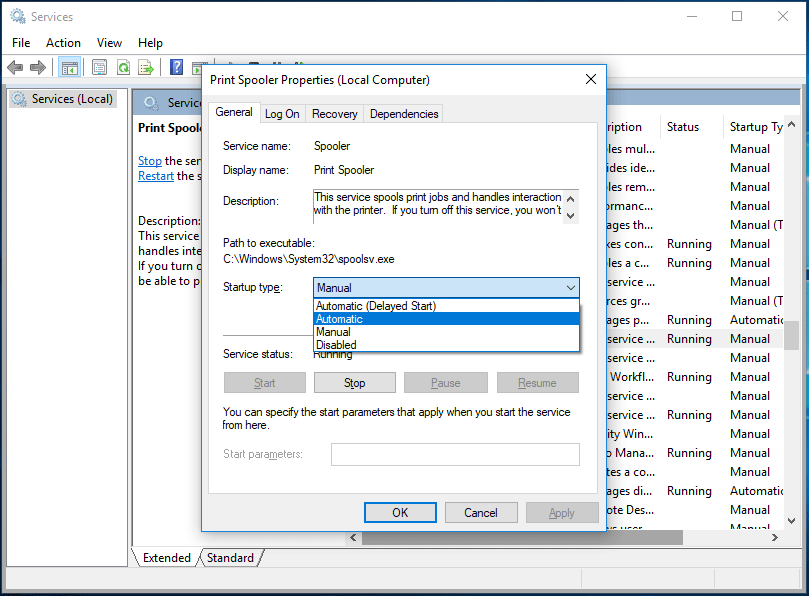 Clear Print Spooler Files
This is helpful to fix many printer problems including HP printer in error state.
In File Explorer, go to C:\Windows\System32\spool\PRINTERS and delete all the files in the folder.
Also, go to C:\Windows\System32\spool\drivers\W32X86 and delete all the files in the folder.
Go to Services, right-click Print Spooler and restart this service.
Reinstall the Printer Drivers
As stated above, corrupt printer drivers can lead to printer in error state. To remove this error from your Windows 10 computer, you can reinstall the printer drivers.
To reinstall the HP printer driver, go to the HP support website and search for drivers based on your printer model. Then, download a proper one to your computer. Then, install it by following prompts.
Final Words
Does Canon/Brother/Epson/Ricoh/HP printer in error state occur on your Windows 10 computer? Take it easy and you can easily remove this error message by trying these solutions mentioned above. Just have a try.