You may see the HPWuSchd application on your HP computer. Do you know what it is? Is it a virus? Should you remove it from your PC? Now, you can read this post from MiniTool to find the answers. Keep on your reading.
What Is HPWuSchd Application
What is the HPWuSchd application? It is the software component of HP printers and scanners developed by Hewlett-Packard Company. This application is associated with files responsible for updating the software and drivers of installed scanners and printers.
Also see: HP Printer Not Printing? Here's HP Printers Troubleshooting Guide
Is HPWuSchd Application Safe
Is the HPWuSchd application safe? Generally, it's safe. You can determine whether it is safe by the location of the HPWuSchd application. HPWuSchd application is usually located in C:\Program Files\HP\HP Software Update\hpwucli.exe. If it is in another location, it may be a virus.
Should You Remove HPWuSchd Application
Should you remove the HPWuSchd application? In general, it's not recommended to remove it from your PC. However, if you find that it causes your computer slow or high CPU issue, you can consider removing it.
How to Remove HPWuSchd Application
Next, let's see how to remove the HPWuSchd application from your HP application. Following are the detailed steps.
You can try to use Control Panel to remove the HPWuSchd application.
Step 1: Search for Control Panel in the Search box to open it.
Step 2: Navigate to the Programs and Features section and click it.
Step 3: Find HP Update in the list and right-click it to choose Uninstall/Change.
Step 4: Follow the on-screen instructions to uninstall the HPWuSchd application.
You can try to use the Settings application to remove the HPWuSchd application.
Step 1: Type Settings in the Search box to open the Settings application. Then go to the Apps part.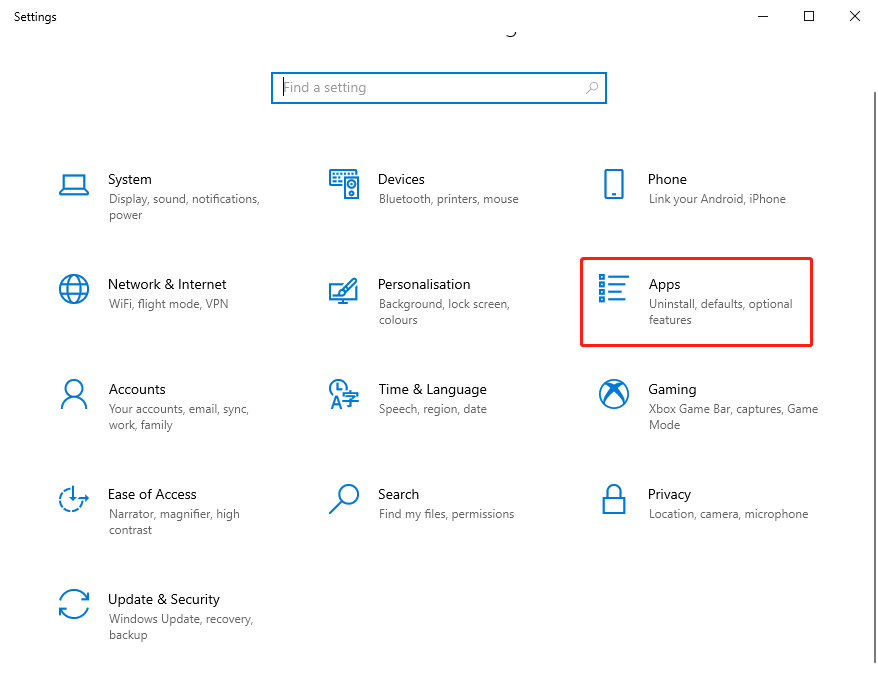 Step 2: Navigate to the Apps & features part, find HP Update. Click it and click Uninstall.
How to Fix HPWuSchd Application Issues
Sometimes, the HPWuSchd application also has some errors, such as "hpwuSchd.exe failed", "hpwuSchd.exe is not a valid Win32 application.", etc. If you encounter the HPWuSchd application error, you can use SFC and DISM to fix the error.
Step 1:  Input command prompt in the Search box. Then right-click Command Prompt and select Run as administrator to open the command window.
Step 2: Type the command sfc /scannow and then press Enter.
Wait patiently until the verification process 100% complete. Then reboot the computer to see whether the HPWuSchd application issue still exists.
If sfc /scannow command is unable to fix HPWuSchd application issues, you can run DISM to fix the Windows system image. So, to solve this DISM error code, please type the correct command.
Dism /Online /Cleanup-Image /CheckHealth
Dism /Online /Cleanup-Image /ScanHealth
Dism /Online /Cleanup-Image /RestoreHealth
Final Words
After you read this post, you may know the information on the HPWuSchd application. Hope this post will be very helpful for you. If you have any related issues, you can comment on our post to let us know.