While you run games in Windows 10/8/7, you may experience the input not support issue that usually occurs in an Acer monitor. If you are looking for solutions to fix this issue, you have come to the right place and you can try four effective methods offered by MiniTool Solution to let your monitor run properly again.
Acer Monitor Input Not Supported
Sometimes when booting your PC, the Windows logo appears with a loading icon and then the screen turns black, saying "Input Not Supported" on the monitor. Sometimes the same error occurs when you are playing games on Windows or through a third-party client like Steam.
Usually, this error means the resolution of your computer has been set to one that is not supported on the monitor. The monitor input not supported issue is caused mainly by connection issues, incorrect resolution setup, outdated or corrupted display driver, faulty VGA cable, etc.
So, how to fix input not supported on games in Windows 10/8/7? Details are introduced below.
How to Remove Input Not Supported in Monitor
Method 1: Check the Monitor Connection
If the monitor connection goes wrong, the error may happen. So the first thing you should do is checking your monitor cable and make sure it can work properly. You can do this check via another monitor. In addition, it is also useful to check your connection ports. Make sure they are working correctly.
Method 2: Change the Resolution Setting via Safe Mode
Since you cannot go to the normal display and the screen is black with the error, you need to run the Windows system to its safe mode. Then, you can change the screen resolution.
When the PC boots into safe mode, follow these steps to change resolution. Take Windows 10 as an example:
1. Locate an empty area on the PC desktop and right-click it to choose Display settings.
2. Go to the Resolution section, choose a low resolution and work your way up to decide which one is best for you.
3. Click Advanced display settings, locate the monitor that has the input not supported issue and click Display adapter properties for Display.
4. Go to the Monitor tab, choose the recommended value from the Screen refresh rate menu.
5. Click OK to save the changes.
6. Restart your PC and check if you have fixed your issue.
Method 3: Update Drivers
Old or corrupted drivers can cause the input not supported issue on the Acer monitor. So, you should ensure your drivers are up-to-date and keep them in perfect condition. This time you should boot into safe mode with networking since you need to download the drivers from the Internet.
1. Press Win + R in Windows 10/8/7, input devmgmt.msc to the text box and click OK.
2. In the Device Manager's main interface, expand Display adapters and right-click on the graphics card to choose Update driver.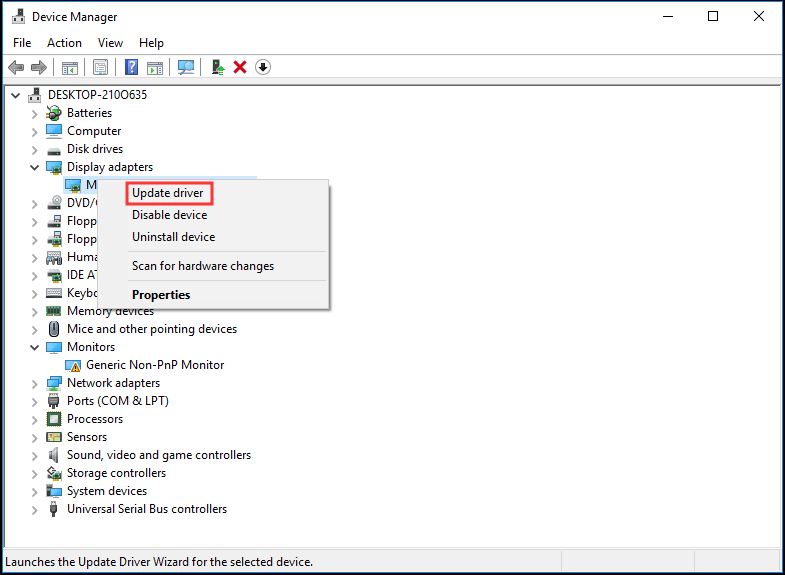 3. Then, let Windows search for the latest driver.
4. Do the same operations for your monitor driver.
5. Restart your PC. Your drivers will work correctly and the issue should be fixed.
Method 4: Change to Windowed Mode (for Games)
If input not supported happens when running games, perhaps the game settings are set to a much higher resolution that your monitor doesn't support. To fix this issue, you can launch your game in Windowed mode and drag the ends to adjust the screen resolution.
Just click Alt + Enter to enter the mode directly and perform the fix.
The End
Does your Acer monitor say input not supported in Windows 10/8/7? After reading this post, now you clearly know how to get rid of this issue. Just try these methods above based on your actual cases.