If there is no driver for the network adapter, how can you get the Internet running? Installing a network adapter driver is necessary. Well then, how to install a network adapter driver without Internet on Windows 7? This is the topic we will discuss today and MiniTool will show you two simple ways.
Many users may perform a clean install of Windows 7/10 due to some reasons. In most cases, this can solve many issues. But it can bring some new problems for some users, for instance, the Windows system fails to connect to the Internet because of the lack of Ethernet controller driver/network adapter driver. Perhaps you are also plagued by this situation.
In this case, you cannot use this computer to search and download a network adapter driver. So, how to install network drivers without Internet? Let's move to the next part and you can find some useful ways for this task.
How to Install Network Adapter Driver Windows 7/10 Without Internet
Copy a Network Adapter Driver from Another Computer
You cannot install the network driver mainly because there is no Internet connection. So, the first thing you can do is to get a workable network driver. You can get it from another computer that has the Internet.
Step 1: Learn the detailed information including the PC model, the network card model, and the system version.
Step 2: On a computer with a workable Internet connection, go to the website of your manufacturer, find out and download an appropriate network driver. You can save the driver installation package to a USB flash drive.
Step 3: Connect this USB drive to your computer without the Internet and copy the installation file to this computer.
Step 4: Install the network adapter driver on your computer by clicking the setup file and following the on-screen prompts.
This is the simplest way for network installation. In addition, you can try another method – using a third-party driver installer. Now, let's go to see it.
Use a Driver Installer
In the market, many third-party driver installers can be used to install your needed drivers for your computer. Driver Easy is a good choice since it is easy to use and has some powerful features.
It allows you to scan the computer to detect all drivers that need to update or install in a few seconds and quickly finish the driver installation. With the offline mode, you can easily install drivers without the Internet.
Now, let's see how to install network adapter driver without Internet Windows 7/10 with Driver Easy.
Step 1: Launch this software, go to Tools.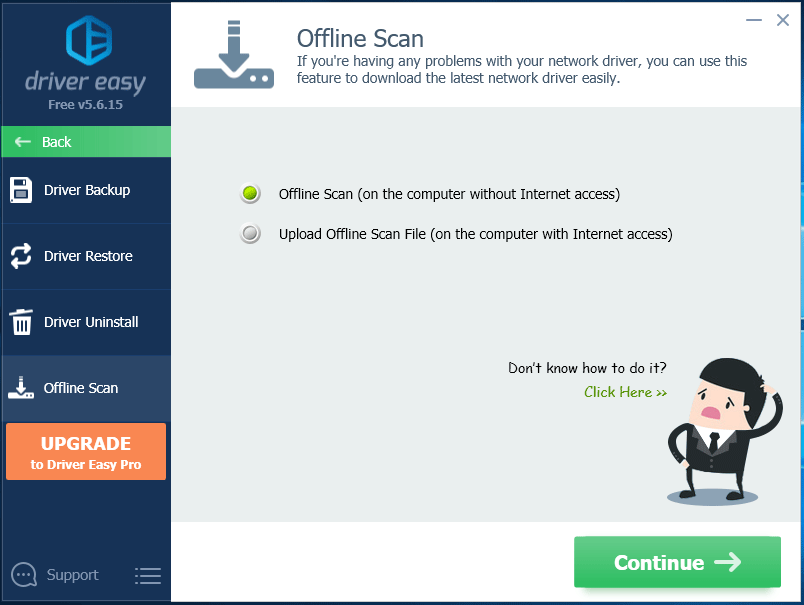 Step 2: Under the Offline Scan interface, choose the first option for your computer without Internet access. Then, click Continue.
Step 3: Click Browse to select a location to save the offline scan file and then click Offline Scan. Then, click OK.
After that, go to a computer that has Internet, upload the offline scan file and then download the network driver. Next, transfer the driver file to your computer to install.
Tips:
The drawback is you must install Driver Easy on both offline and online computers.
Final Words
This post shows you how to install network adapter driver Windows 7 without Internet. Of course, if you wonder how to install network adpater driver Windows 10 without Internet, these ways are available. Just choose a proper way based on your actual situation. If you have any ideas about how to install network drivers without Internet, let us know.