As a new version of Windows, Windows 11 is popular now. Many users want to install Windows 11 on their computers to experience it. There are many ways to get Windows 11. You can directly upgrade to Windows 11 via Windows Update, or perform a Windows 11 in-place upgrade, or install Windows 11 from USB. If you have a Windows 11 ISO file, you can also install Windows 11 using an ISO file. Here, we will mainly talk about how to install Windows 11 using ISO.
How to Install Windows 11 Using an ISO File?
Step 1: Check Whether Your Computer Can Run Windows 11
Windows 11 has new hardware and system requirements. This means that not all computers can get Windows 11 especially the old computers. If you want to install or upgrade to Windows 11 from an ISO file, you need to make sure that your computer support running Windows 11.
An eligible computer for Windows 11 should meet the following requirements:
A 1GHz or faster with 2 or more cores on a compatible 64-bit processor.
A minimum of 4GB RAM.
64 GB or larger storage device.
TPM 2.0 enabled.
DirectX 12 compatible graphics / WDDM 2.x.
>9" with HD Resolution (720p) display.
Fortunately, you can use the updated PC Health Check app for Windows 11 Compatibility to check whether your device can run Windows 11. With this tool, you don't need to manually check your computer. You just need to click the Check now button on the software to let it quickly work to make a confirmation.
If the result shows This PC meets Windows 11 requirements, it means that you can install or upgrade to Windows 11 on your device with an ISO file.
Step 2: Download Windows 11 ISO File
Now, you need to download a Windows 11 ISO file.
There are two reliable ways to get a Windows 11 ISO file on the internet. Next, you can start a Windows 11 ISO setup.
Step 3: Install Windows 11 Using the ISO File
1. Right-click the downloaded Windows 11 ISO file and select Mount. You can also directly double-click it to mount it.
2. Double-click the setup file.
3. Windows 11 setup is preparing. You need to wait patiently until it ends.
4. By default, this Windows 11 setup will get updates, drivers, and optional features. If you don't want to do this, you can click Change how Setup downloads updates and select Not right now.
5. Click Next.
6. Click Accept to accept the applicable notices and license terms.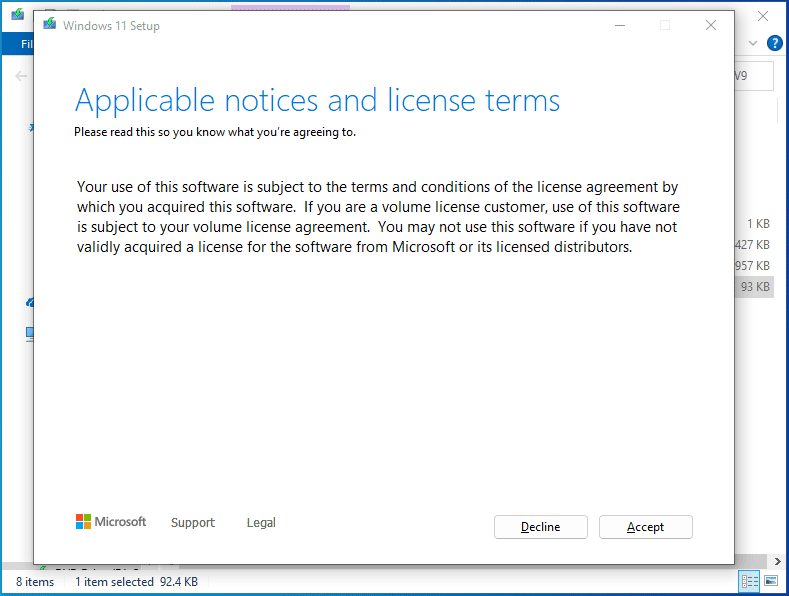 7. Windows 11 setup is checking for updates. When the checking process ends, click Next to continue.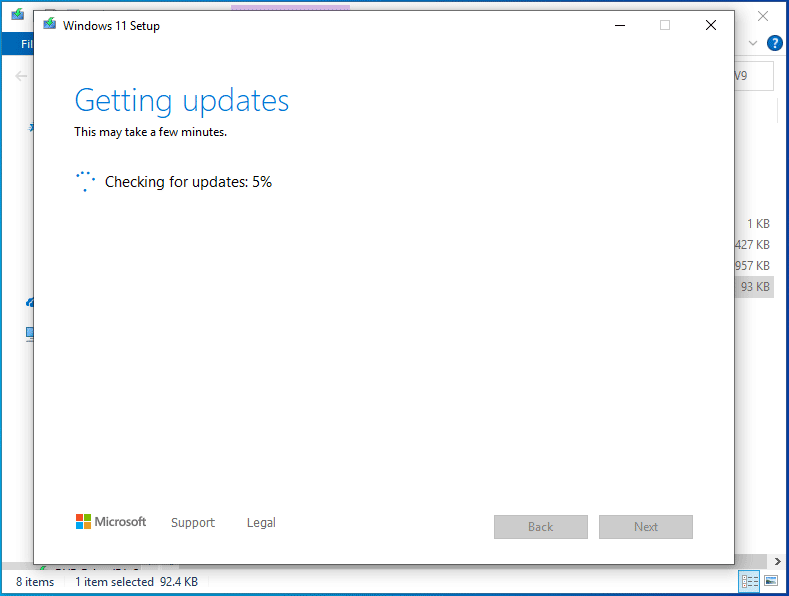 8. By default, the installation keeps personal files and apps on your device.
If you want to make some changes, you can click Change what to keep and select another option. If you decide to choose Nothing, you need to back up your data in advance. Otherwise, you will lose all your files after the installation.
9. Click Next to continue.
10. Windows 11 installing process starts. This might take some minutes or even hours. Wait patiently.
11. When the installing process, the system begins to get updates. Follow the on-screen instructions to complete the process. Then, you can see the desktop.
Wrapping Things up
It is not difficult to install or upgrade to Windows 11 from an ISO file on your computer. The guide in this post can help you understand the risks to do this. To protect your data, you can use MiniTool ShadowMaker, Windows data backup software, to back up your files.
MiniTool ShadowMaker TrialClick to Download100%Clean & Safe
However, if your files get lost unexpectedly, you can use the professional data recovery software, MiniTool Power Data Recovery, to get them back.
MiniTool Power Data Recovery TrialClick to Download100%Clean & Safe
If you are facing some other related issues, you can let us know in the comments.