This essay depicted by MiniTool Software mainly discusses the legality and safety of CDKeys.com. It gives an impartial review of CDKeys' website and its services. Besides, you can find some alternatives to cdkeys.com.
Saving money is attractive for all, no matter you are poor or rich. For game players, it is better to get the games they are playing at a cheaper price. For the mainstream game stores like Steam, Epic Game Store, and Microsoft Store, the game prices are expensive and unavailable for many gamers. So, not a few people need a place to buy their favorite games at a lower price. Thus, here comes CDKeys.
What Is CDKeys?
CDKeys refers to cdkeys.com, which is a website that sells games, top-up cards, and membership codes at a discount. There, you can find video games for different platforms including PC, PSN (PS Plus and PS Now), Xbox, Nintendo (Wii U and 3DS), etc. Almost all common games can be found on CDKeys like Sims 4, Fortnite, Cyberpunk 2077, Minecraft, Cold War, and so on. Yet, some customers are worried about purchasing within this site.
Is CDKeys Legit?
With the popularity of cdkeys.com, many users wonder is CDKeys safe and legal. There are different voices about this topic. Now, let's see what people think about CDKeys.
CDKeys Is Legal and Safe
CDKeys is a website in the "gray market". That is to say, all games and services on it are sold legally but do not necessarily have the respective brand's permission. When performing a deal via the website, CDKeys will send you a legal game code via email.
A lot of users think some of the discounts and prices are too good to be true. Then, why games codes through CDKeys are so cheap? CDKeys buys digital codes from countries all over the world which results in greater savings for the customer and the company since it does not worry about shipping costs, said by FAQ on CDKeys.com.
Besides, CDKeys has a 4.7 score out of 5-star rating on more than 83 thousand reviews through Trustpilot, which is a website that enables customers to review their experiences with a particular organization.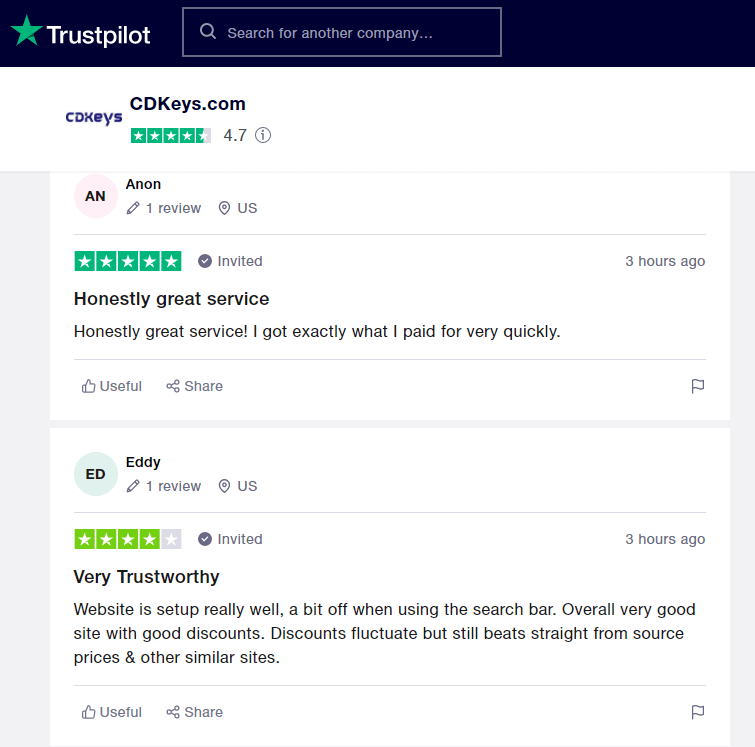 On Trustpilot, over 90% of comments are positive. Most people have a good experience with CDKeys. They think cdkeys.com is legit and safe without malware or viruses.
CDKeys Isn't Safe
However, some customers claim that CDKeys is not safe to guarantee your deal. We summarize some cases and list them below.
Get fake keys.
Get keys that have been used.
Get keys that don't work.
Experience very slow support.
Get personal information stolen.
CDKeys doesn't verity and even remove negative comments on Trustpilot.
CDKeys scam people.
Conclusion
All in all, generally, most customers think CDKeys is legal and safe to use and they have already purchased on it many times (cost much). They will continue to buy games on CDKeys although they may encounter some little problems once in a while.
How Does CDKeys Work?
Being similar to other websites that sell digital codes, you need to create an account (sign up) on CDKeys, choose the game you prefer, add a bank card or your PayPal to pay, provide a phone number for verification, and wait for your game code.
Usually, within 10 minutes, you will receive an email sent by CDKeys containing a download link or button. By clicking the download link, you will get your product key. Finally, enter the key into Steam and the target game will be available for you to play.
Websites Like CDKeys
You may also wonder about other sites like CDKeys to seek good discounts for your games. They are as below!
com
net
com
com
com
Instant-gaming.com
com
gamesplanet.com
Protect Your Computer from Potential Damage Brought by CDKeys
If you are still worried about the potential risk of using CDKeys, like data damage or loss, you can rely on a professional and reliable data protection program called MiniTool ShadowMaker to create a backup of your crucial files before purchasing on CDKeys. Then, you can feel free to buy games. If unfortunately, you are infected by the viruses invited by CDKeys, you can restore your data as soon as you like.