This post discoursed by MiniTool Software Ltd mainly discusses how and where to download the Killer Wi-Fi driver 1535 to make the wireless Internet available on Windows 11 and working smoothly. If you have this problem, just follow the guide below to handle it!
If you are using Dell Alienware computers with Intel Killer Network adapters, you may encounter some problems like being unable to connect to WiFi after upgrading from Windows 10 to Windows 11. Microsoft has acknowledged the issue affects UDP (User Datagram Protocol) packets and drops in performance in games, videos, VPNs, as well as websites based on UDP. They may load slowly due to the slow network speed.
Fix Windows 11 Killer WiFi Not Working
I updated to the latest driver for killer wifi and BT after my win 11 install gave me an error. The updated driver from 7-23-2021 hasn't helped…
This is a user case complaining about Windows 11 Killer Wi-Fi problem. If you have the same problem, you need to install Qualcomm Killer wireless 1535 driver Windows 11 to deal with this issue.
1. Open Windows 11 Device Manager.
2. In Device Manager, expand the Network adapters.
3. Under Network adapters, right-click on the Killer Wireless-n/a/ac 1535 Wireless Network Adapter and select Update driver.
4. Then, a new window will pop up. On its first screen, keep the default Search automatically for drivers.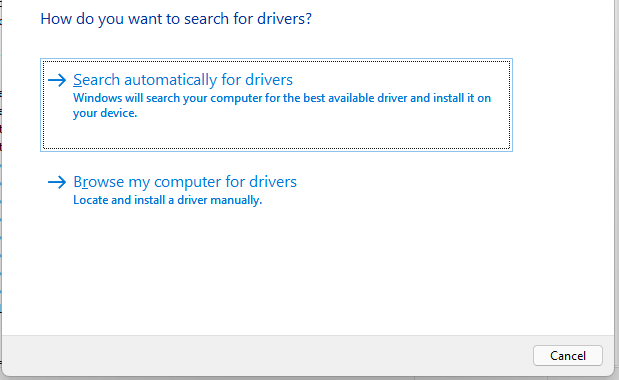 5. If you fail to handle your problem, you need to choose Browse my computer for drivers.
6. Next, browse for drivers on your computer. Just keep the default location and click Next.
7. If you fail, you may change the location to an address where contains the Windows 11 Killer wireless 1535 driver and try again.
8. If you fail again, click Let me pick from a list of available drivers on my computer.
9. Next, select the device driver you want to install for this hardware. Here, Killer Wireless-n/a/ac Wireless Network Adapter (Qualcomm Atheros Communications) should be selected.
10. If you can't find the Killer WiFi 1535 driver for Windows 11 whose manufacturer is Qualcomm, you may need to uncheck Show compatible hardware.
11. Or, if you save the target driver on another removable hard drive, you need to connect it to this computer and click the Have Disk…
If it still fails, you may need to manually download the target driver and install it on your machine.
Tip: You can choose Uninstall device after right-clicking on the target driver in Device Manager. Then, restart the PC to let Windows reinstall Killer WiFi 1535 driver Win11 automatically.
Where to Download Killer wireless 1535 driver Windows 11?
It mentions manually downloading the Killer wireless 1535 driver Windows 11. Here, it provides several sources to download this driver. Just pick one as you like.
Note: Some of the below download links are from official websites of brand computers while the others are not. Make your own judgment and choice!
Other Solutions for Fixing Slow Killer Network Service Windows 11
In addition to the above method, you can also try the following ways to deal with the problem.
Update Windows 11 (Microsoft has addressed the issues in its Cumulative update KB5006674 – build 22000.258).
Disable Prioritization in Killer Wireless Control Center.
Disable Killer Wireless Control Center from Task Manager.
Update WIFI driver with the help of driver downloading tools.
Force removing all Killer drivers, reset CMOS battery, and reinstall Killer wireless network adapter drivers.
Switch to wired network
Windows 11 Assistant Software Recommended
The new and powerful Windows 11 will bring you many benefits. At the same time, it will also bring you some unexpected damages such as data loss. Thus, it is strongly recommended that you back up your crucial files before or after upgrading to Win11 with a robust and reliable program like MiniTool ShadowMaker, which will assist you to protect your increasing data automatically on schedules!