Windows 10 is a gaming-friendly operating system that brings many powerful features for gamers. But many League of Legends players encounter a strange issue in this system - black screen. But fortunately, it can be easy to fix as long as you follow these solutions in this post from MiniTool.
League Client Black Screen
League of Legends, known as LOL, is one of the popular multiplayer online battle arena (MOBA) games and it is compatible with Windows & macOS. Although this game has great performance, some issues can occur on Windows 10 in some cases, for example, error code 004, an unknown Direct X error, League Client not opening, etc.
Besides, many gamers have reported a bug that happens to almost everyone. When starting the game, it allows logging in successfully but a black screen appears when the client starts. The reasons for LOL black screen are various, and there are two main factors:
When pressing Alt + Tab to see another program while logging in, the black screen occurs.
An antivirus program may be blocking some features of LOL.
What if you are encountering League client black screen? In this post, some methods are given to you to resolve this issue.
How to Fix League of Legends Black Screen
Disable Display Scaling
The display scaling feature helps to adjust the size of icons, text and navigation elements, which lets you easy to see and use your computer.
However, if the feature is enabled, it may interfere with the way LOL runs. Thus, you should disable it to eliminate the possibility of this feature causing the League of Legends client black screen.
Step 1: Right-click on the League of Legends launcher.
Step 2: Choose Properties and go to Compatibility.
Step 3: In the Settings section, ensure the box of Disable display scaling on high DPI settings is checked.
Step 4: Also, check Run this program as an administrator.
Step 5: Click OK to save the change.
Disable the Third-Party Antivirus Software
The third-party antivirus program may block some features of the system and create a problem like the black issue. So you can add LOL as an exception to the antivirus software or turn off it to fix this issue. Then, check if this method works.
Perform a Clean Boot
A clean boot refers to starting Windows with the very minimum set of drivers and programs. This can help you to check if the League client black screen is triggered by a conflict with another process or software.
Step 1: Press Win + R to get the Run window, type msconfig and click OK.
Step 2: In the System Configuration window, check Hide all Microsoft services and choose Disable all.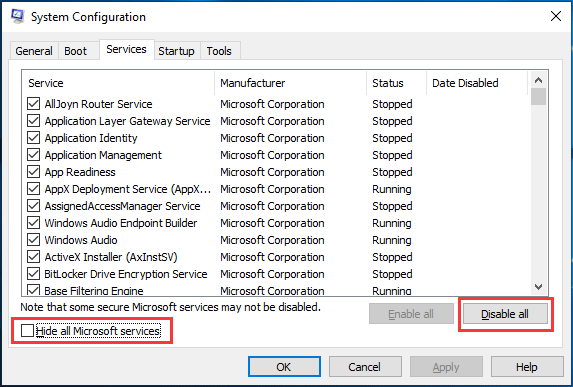 Step 3: Go to Startup to open Task Manager and then choose each startup item to disable it.
Step 4: Restart your system and launch League of Legends to see if the black screen is resolved.
Upgrade Your Graphics Card Driver
Updating the graphics card driver is a good solution to fix the League of Legends black screen. To do this work, you can go to Device Manager. Or download the latest GPU driver based on your graphics card from the manufactures' website and install it on your computer.
Update Windows
Microsoft added a series of useful features to optimize the game in Windows 10 and according to many gamers, the latest update can reduce the occurrence of technical issues and improve the FPS rate. Thus, you should ensure your PC is running the latest Windows 10 version.
Step 1: Go to Start > Settings > Update & Security.
Step 2: Click Check for updates for the update.
Switch to an Ethernet Connection
A wireless Internet connection is less stable than the Ethernet connection. If your Wi-Fi connection is not strong, you may encounter game issues including server errors and LOL client black screen. Thus, you can try using a wired Ethernet connection to see if the black screen is removed.
Tip: If you still get the LOL black screen after trying these solutions, you can check out the troubleshooting guides listed below. They focus on fixes for Windows 10 black screens and some ways may help you to fix the League f Legends client black screen.
The End
Are you encountering League client black screen in game? Take it easy and you can easily get rid of it by following these solutions mentioned above.