When setting up Windows 10 for the first time, you need to make a choice – which account type to use – local account or Microsoft account. What's the difference between these two types of account? Let's go to see some information on Windows 10 local account vs Microsoft account from this news of MiniTool and you also know which one to use for your PC.
What Is a Local Account on Windows 10
If you used a Windows 7 before and signed in the computer with a username and password combination, then you used a local account. This account allows you to access your computer as a default administrator and it can only be used on a single system. Suppose you have multiple machines, you are required to use a different account for each one.
Now, let's see some features of the Windows 10 local account.
Private: Since settings are saved on your PC only, they couldn't be transmitted to others remotely.
Secure: On your computer, you can set up a complex password so that the person without any permission cannot access your account.
Offline: The local account doesn't require internet connection since settings of your account have been saved on your device.
Custom Login: The email address won't be shown on the Windows 10 login screen since it cannot be used as a login name.
If you want to enjoy the user experience that is the same as the previous Windows versions, a local account is necessary.
How to Create a Local Account on Windows 10
Step 1: Press Win and I keys to call Windows Settings.
Step 2: Go to Accounts > Family & other users > Add someone else to this PC.
Step 3: Click the I don't have this person's sign-in information link.
Step 4: Select Add a user without a Microsoft account.
Step 5: Input your user name and password.
Step 6: Go back to the Family & other users interface, find the account you have created and change the local account type to Administrator.
For the topic of Windows 10 local account vs Microsoft account, you have known some information on the local account and now let's go to see the Microsoft account.
What Is Microsoft Account
With a Microsoft account, you can access many Microsoft services and devices. That is, you can sign in to OneDrive, Windows Phone, Xbox Live, Outlook.com, Skype and Hotmail with the account that is a combination of an email address and password.
In addition to accessing these services, Microsoft account offers some extra features that are not supported in a local account.
Windows Store: You can access Windows Store with Microsoft account to download some apps to your computer. Importantly, the Windows Store app can be used as a regular desktop app.
Cloud Storage: If you set up a Microsoft account, you will be given 5GB of storage space in the cloud. This service is OneDrive that helps you to store file online so you are able to access them on different devices.
Account Settings Sync: Microsoft account can help save the account settings in the cloud. If you log in your account on another computer, the account settings will be automatically moved to the new machine. Besides, the account allows you to sync network profiles, passwords, and Windows Store apps. Even it is possible to share Wi-Fi password.
Of course, Microsoft account has some disadvantages, for example, hackable, Internet needed, shared password and less privacy.
How to Create Microsoft Account on Windows 10
Step 1: Go to Microsoft account, click Sign in and choose Create one if you don't have such an account.
Step 2: Input your email address or phone number to continue.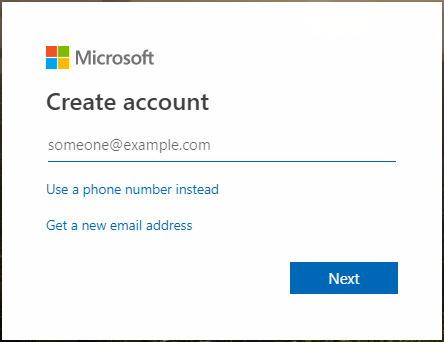 Step 3: Type your account password and verify the email. Then follow the instructions to finish the operation.
Windows 10 Microsoft Account VS Local Account: Which One to Use?
After knowing so much information on a local account and Microsoft account, so which account type should you choose?
Microsoft account has many features that are not available in a local account, but it doesn't mean it is suitable for every person.
By comparison, it is fine to use a local account if you only have one computer and don't access your data anywhere except your home. If you need to access all the features offered by Windows 10, you can create a Microsoft account.