The Windows or Mac debate is always one of the most controversial topics when it comes to computer operating system. If you don't know which to choose, you must read this post carefully in order to figure out which one is better based on your actual needs.
When you are working or studying on the computer, it seems like the operating system doesn't matter. What really matters are performance, security, speed, and many other factors. Yet, indeed, the operating system has an obvious impact on these aspects. Thus, I feel it's necessary to discuss the two industry-leading operating system manufacturers: Mac or Windows, which is better.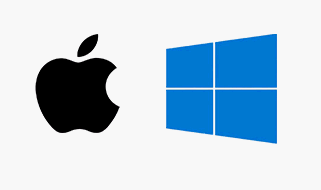 I will list the comparison of different aspects of Windows and Mac OS (operating system). Please read them carefully before reaching out to an operating system.
Tip:
If you run into
operating system not found
error, please consider data security first. That is to say, you are advised to rescue your data from that problematic OS as fast as you can, by adopting a reliable tool.
How to Choose Between Windows and Mac OS
Sometimes, it really does matter which OS you use. Taking this into consideration, I compare Windows and Mac in the following ways.
Setup
The clear and polished setup processes can be found in both Mac and Windows operating systems. Besides, either Mac or Windows is able to recognize and install drivers for standard hardware peripherals (such as keyboard, storage drive, voice controller, and mice); this process is automatic.
Though you are allowed to use both OS without signing in to an Apple or Microsoft account, I advise you to do such thing since you'll get richer experience after signing, including:
Voice assistant
Application roaming
Syncing machine
…
Difference:
Windows: You are able to install OS by using your voice via Cortana.
On Mac: Apple only allows you to install the updates through the System Preferences, not the Mac App Store.
Log in
You can find the login options in both Mac and Windows and they are beyond the traditional way of signing in on your desktop.
Mac: if you are using the MacBook Pro with a Touch Bar, you are allowed to sign into your Mac by just using your finger. Besides, it is possible to log in with your iPhone or Apple Watch when they are near your MacBook Pro.
In Windows: several biometric login options can be found in Hello. Face login is one of the most amazing ways and it is available on many high-end PCs. Fingerprint recognition is another wonderful way to login through Windows Hello and it is available on many laptops. If your computer doesn't include hardware that gives support to those features, you can also login with PIN.
Security
It is no doubt that both operating systems provide several functions to ensure security. Yet, they are doing this in different ways.
Mac: in general, Mac works harder than Windows to deal with the security vulnerabilities. According to statistics, Macs receive fewer viruses than Windows PCs. Yet, this may leave people with a wrong impression since the market share of Mac only account for less than 10%. This actually indicates that Windows PCs are the easy target.
Windows: the user number of Windows is much more than that of Mac computers, which makes the former a smarter target for the attackers.
Besides, Mac adopts more aggressive approach to user privacy, which makes Mac a better choice for you to save personal and confidential data.
All in all, it's not that hard to choose between Windows and Mac OS. In fact, you should choose a Mac or Windows according to your actual needs after reading the comparison.
Whether you have deleted files from Windows or Mac, you can read this post to know how to get the deleted files back easily.