This post from MiniTool Software mainly introduces Mail.com, a top free email service provider. You can check the Mail.com sign-up, login, and app download guide below.
About Mail.com | Is Mail.com Free?
Mail.com is a free webmail provider developed by 1&1 Mail & Media Inc., first launched in 1995, 27 years ago. Mail.com offers a free and ad-supported email service, as well as subscription-based premium email and cloud storage plans.
Mail.com is available in English, Spanish, and French. This free email service is mainly aimed at private users and small & medium-sized businesses.
On the home page of www.mail.com, you can see sponsored news, blog posts, and browser games. It also includes a search engine that is enhanced by Google.
The email service of Mail.com offers 65 GB of storage for emails, over 100 email domains, and cloud storage.
If you create a free email account at Mail.com, you can choose from more than 100 email domains like email.com, mail.com, usa.com, etc. Besides, it doesn't require a personal phone number to set up an inbox. As for the attachment size limit, it lets you send large attachment files, up to 30 MB. Premium users can send attachments up to 100 MB.
You can access www.mail.com in your browser to use this free email service. Still, Mail.com also offers a free mobile email app for Android and iOS. It also lets you use non-mail.com email accounts.
Mail.com Login or Sign Up
Sign up for Mail.com:
You can follow the steps below to sign up for a free email account with mail.com. You can choose from 100+ domain names to create a unique email id.
You can go to https://www.mail.com/ in your browser.
Click Sign up at the upper-right to access the https://signup.mail.com/
Now you should be on the Mail.com Registration page, you can create your email account and select an email suffix. Click Check to check if the email account is available.
Enter your personal details like gender, name, country/region/state, and birthday.
Set a password for your email account and repeat the password.
Choose a password recovery method, by SMS with a phone number or by email.
Click "I agree. Create an email account now" to sign up for a free email account on Mail.com.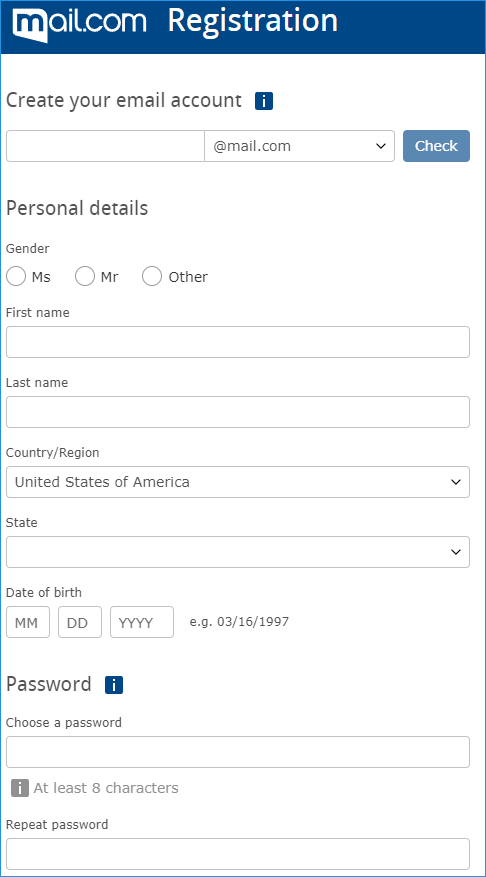 Log into Mail.com:
After you create a free Mail.com email account, you can go to https://myaccount.mail.com/.
On the Mail.com login page, you can enter your email address and password.
Click the Log In button to sign into Mail.com.
Tip: You can create up to 10 alias email addresses and manage everything with a single mail.com login.
Mail.com App Download for Android or iOS
You can download Mail.com app for your Android or iOS devices to manage your emails everywhere you go.
On Android devices, you can go to Google Play Store, enter "mail.com" in the search box, and you will see the Mail.com app in the search results. Simply tap the Install button to start downloading the free Mail.com app for your Android phone or tablet.
On iPhone or iPad, you can open App Store to search and download Mail.com app to your device.
Can You Download Mail.com App for Windows 10/11 PC?
Mail.com doesn't offer a desktop app for Windows or Mac. To get the Mail.com app for PC, you may use a free Android emulator for Windows. You may try tools like Bluestacks, LDPlayer, etc. After you install the Android emulator, you can open Google Play Store from it. Then you can search for the Mail.com app in Google Play Store to download it for PC.