Microsoft Word is a world-famous word processor contained in the Microsoft Office suite. You can create a document in Microsoft Word easily to save important information. Sometimes, you may want to change Word text to speech for different reasons like multitasking and time saving. How to get Word to read to you? 3 different ways will be introduced.
Can Microsoft Word Read out Loud
Microsoft Word, included in the Microsoft Office suite, is a great tool for word process and information storage. It's pretty easy and safe to create a Word document and share it with others. However, people sometimes need to hear the information directly instead of reading it; they are asking can Word read to me. Sure, some features are built in it to make Microsoft Word read aloud possible. What are they? How to get Word to read to you? These questions will be answered later.
Tip:
To protect the valuable information saved in a Word document, you need to enable the auto-save feature and start a regular backup plan. If a
Word document is lost
unexpectedly, you should get the following
MiniTool software
to help you recover it.
Possible Reasons for Getting Word Read Aloud
You need to proofread some content.
You want to improve your understanding and your ability to learn.
You have a lot of things to do, so you don't have time to read a Word document.
You want to share the content of a document with people who can't see.
Etc.
How to make Word read to you? You should just use the following tools built in Microsoft Word to read information out loud. Let's take Windows 10 read text as an example.
#1. Read Aloud
The Read Aloud feature is able to read all or part of your document. But you should know that it's only available for Office 2019 and Microsoft 365 users.
Read Microsoft Word with Read Aloud
How to make Microsoft Word read to you by using Read Aloud:
Locate the Word document you want to read on your computer.
Open it as you usually do.
Put your cursor to the place where you want the reading aloud to begin.
Shift to the Review tab in the opening Word.
Click Read Aloud. The content will be read out loud.
Microsoft Word Won't Open On Windows & Mac: How To Fix It.
A small control panel will appear in the top right corner to help you control the reading. The buttons from left to right are:
Previous: go back to the start of the current/previous paragraph.
Pause/Play: pause or continue the reading.
Next: go forward a paragraph.
Settings: modify the Reading speed and Voice Selection directly.
Stop: exit Read Aloud.
#2. Speak
You can find the Speak feature in not only Word, but also Outlook, PowerPoint, and OneNote. It will only read the selected text for you. In contrast, the Read Aloud feature helps to read the entire document starting from your cursor location.
Read Word Using the Speak Button
How to have Microsoft Word read to you:
Open the target Word document.
Select the words or paragraphs you want the system to read.
Click on the Speak selected text icon in the Quick Access Toolbar.
Click on this icon again if you want to stop reading.
How to lock & protect a Word document?
Add the Speak Icon to Quick Access Toolbar
What if you can't find the Speak selected text icon? You should add it to the Quick Access Toolbar manually.
Click on the Customize down arrow on the right side of the Quick Access Toolbar.
Select More Commands from the drop-down menu.
Choose Quick Access Toolbar in the left pane of the Word Options window.
Look for the Choose commands from box.
Scroll down to find and select Speak.
Click Add and then click OK to confirm the action.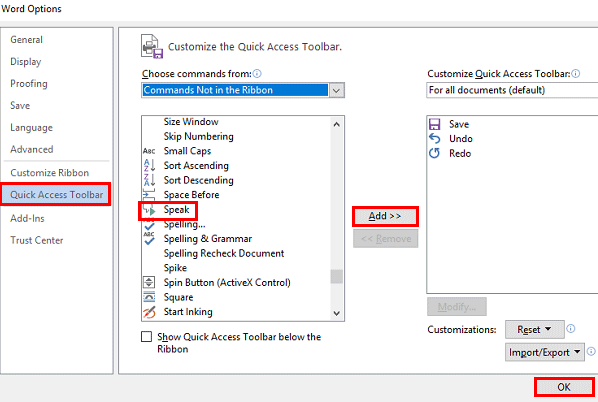 You can open Control Panel -> Ease of Access -> Speech Recognition -> Text to Speech to change the Speak preferences.
#3. Narrator
This is a Windows Screen reader app that can read everything on your screen (text and user interfaces). It is not restricted to Microsoft Word.
Use Narrator in Windows 10 to Read
Press Windows + Ctrl + Enter.
Put your cursor onto the text you want the computer to read.
Press Narrator key + Down arrow to start reading.
Press Narrator to stop.
Press Narrator key + Down arrow again to continue reading.
How to modify your Narrator:
Press Windows + I -> select Ease of Access -> choose Narrator from the left sidebar.
That's all about how to make your computer read to you.
Please read this page if you'd like to recover lost Word files on Mac.