Summary
On April 8, 2019, Microsoft Edge Windows 10 was launched officially. Now, you can read this post to get some related information about it. If you want to use it, this post also offers you a guide to download and install it on your Windows 10 machines.
Microsoft Edge Windows 10 Is Available for Download
In 2018, Microsoft has said that it will replace the EdgeHTML in Microsoft Edge browser with Chromium contribute to the open source community and add more features in a short period of time.
Microsoft's new Edge VS. Google Chrome: new Microsoft has improved the new Edge with many new features which are not owned by Chrome.
On April 8, 2019, Microsoft Edge Windows 10 was officially available for download. Now, you even don't need an Insider computer to run this browser.
Currently, the company is maintaining two channels for Microsoft Chromium Edge: Canary and Dev, with a total of four channels planned for the year's end. Among them, Dev Channel will be updated weekly and Canary Channel will receive the updates regularly.
Besides, two other channels are coming and they are Beta Channel and Production Channel.
Microsoft Edge Windows 10 is a new web browser and it is equipped with several improvements like support for Chrome extensions, picture in picture mode, and more. Additionally, it has a new interface, a new & faster web rendering engine, better accessibility options, improved privacy features, etc. And of course, it will supply you with a whole new experience.
Like other web browser, this Microsoft Chromium Edge also has a large address bar with home page shortcut, a Chrome-like profile icon and a menu to access other features.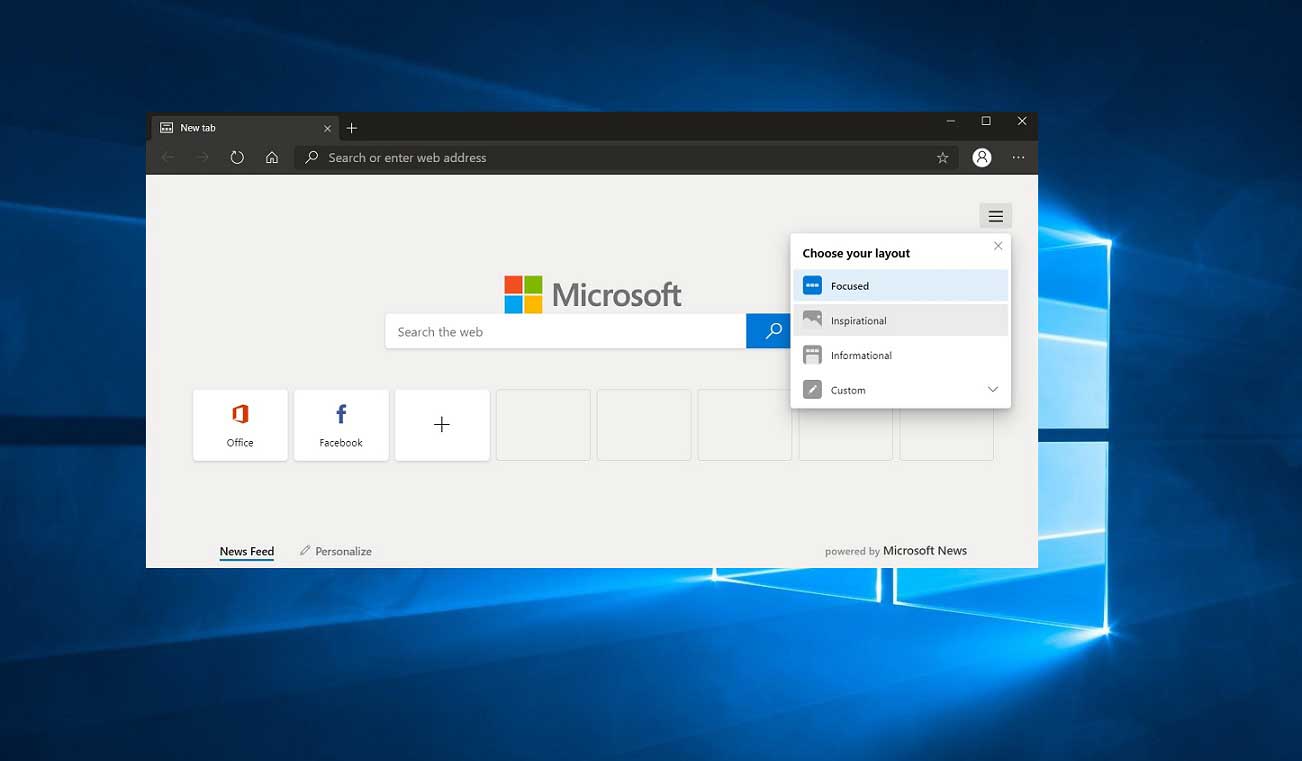 Compared with the previous Microsoft Edge, it also has a news feed on the start screen when you choose Informational or Inspirational homepage layout.
The start page also contains the frequently visited sites and you are allowed to edit the list. The inspirational layout still shows a screen image which is related to the Microsoft's Bing service.
Besides, there is a resigned settings page and you are able to install the Chrome extension in Edge. However, you should know that this new Microsoft Edge Windows 10 is in preview and it is quite possible that you may encounter some bugs unexpectedly.
More information about new Windows 10 Edge is released to the public, and now in this post, we will show you a closer look at Microsoft's new edge Windows 10.
Compatible Machines
Currently, you are allowed to use Microsoft Chromium Edge only on Windows 10 device. besides, you are able to run this browser in any latest Windows 10 version without downloading the Windows 10 Insider builds.
In addition, the company also confirmed that Chromium Edge will be launched for Window 7/8/8.1 and MacOS in the near future.
How to Download and Install the Microsoft Chromium Edge Windows 10
If you want to use this new Microsoft Edge Windows 10 now, you can follow these steps to download and install it on your computer:
Step 1: Go to the Microsoft Edge Insider Preview webpage and then click on the Download for Windows 10 option under the Dev or Canary section. Here, you can just choose the channel you would like to use.
Step 2: Read and then agree to the terms and condition you see. After that, the Microsoft Edge installer download process will begin.
Step 3: When the download process ends, you need to open Microsoft Edge Setup and follow the wizard to install the browser. Then, the browser will be open automatically when the installation finishes.
Now, this new browser will not replace the old version of Microsoft Edge. However, in the future, the Chromium Edge will do that.