Microsoft has developed a new tool to help you boost your PC's performance by cleaning up disk space, managing large files and apps, disabling startup apps, or doing other related things to protect and speed up your PC. In this post, you can learn more information about this official PC optimizer from Microsoft.
When PC manager is mentioned, you probably think of CCleaner, AVG PC TuneUp, Iolo System Mechanic, or other similar tools you have used or heard of. The good news is that Microsoft is working its own PC optimizer for several months and this tool is called PC Manager. In this post, MiniTool Software will introduce this tool, including how to download and install Microsoft PC Manager on your PC.
>> See how to clean up your computer.
>> See how to protect your computer.
About Microsoft PC Manager
PC Manager is an upcoming small tool from Microsoft that can help you protect and speed up your Windows 10/11 computer. This Microsoft PC optimizer is a collection of multiple functions on Windows. For example, it gives you a quick access to quickly disable or enable startup apps and end unused processes. It also gives you an option to manage the disk storage by cleaning disk space, managing large files, and more. PC Manager is free for users.
Cleanup and Security Features in PC Manager
From the following image, you can see this tool has these five major functions for cleanup:
Boost
Health check
Storage management
Process management
Startup apps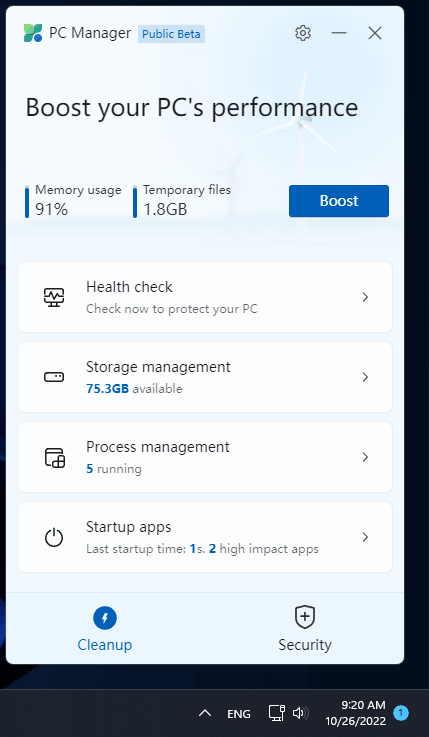 You can access these features to free up more space and speed up your device.
From the following image, you can see this Microsoft PC optimizer has these four major functions for security:
Scan your PC for threats
Windows Update
Browser Protection
Pop-up Management
Under the Security section, you can keep your system up-to-date, protect your visits when using browsers, scan your device for threats, and enable pop-up block. These measures can effectively protect your computer from illegal infringement.
On Windows 10 and Windows 11, the features to clean up your PC and protect your device are in different places. Advanced users can easily find them. For ordinary users, it will be more friendly if there is a tool that can collect these useful functions. You can see PC Manage is such a tool.
Download and Install Microsoft PC Manager
Microsoft has submitted this Microsoft PC optimizer to Microsoft Store. But you can't find it currently because it is still hidden. Are there other ways to perform a Microsoft PC Manager download?
PC Manager Public Beta version (Chinese) is available now. If you don't mind, you can download and install it to have a try. Microsoft PC Manager is free for downloading.
Note:
PC Manager can run Windows 10 (1809) and the above versions, including Windows 11.
How to Free Download PC Manager?
It is very easy to download Microsoft PC Manager on your device. You can go to https://pcmanager.microsoft.com/ and click the 免费下载 (Free download) button to download the installer for this Microsoft PC optimizer on your device.
As to the software language, the tool is downloaded from a Chinese page. But you can install it with an English version. So, you should not worry about it.
How to Install PC Manager?
After you get the installer for PC Manager, you can directly open it and follow the on-screen instructions to install it on your PC.
After opening this tool, it locates on the lower-right side of the screen and it keeps on the top. You can click the minimize button to hide it.