In MiniTool's previous posts, we talked about lots of OneDrive or Outlook errors, such as the OneDrive download slow issue, the "Outlook data file has reached the maximum size" error message, and so on. In this article, you can see how to fix OneDrive error something went wrong 1200 and something went wrong 1200 Outlook.
Many users have ever encountered the Microsoft something went wrong 1200 error. Here is a true example:
Hi

Please advise how we can fix the problem on our Outlook accounts. My laptop motherboard was replaced with a new motherboard, and after the installation, I was not able to open all my emails installed using the Outlook application. Error Something error 1200 or something went wrong.

answers.microsoft.com
Why Does the Microsoft Sign-In Error 1200 Occur
Various reasons can lead to the Microsoft sign-in error 1200, and here we list the most common causes for this error.
The browsing data file has been corrupted. Corrupted browser cache and cookies cause the OneDrive error 1200 Windows 11/10.
The Microsoft credentials file has been corrupted.
Some other third-party applications are interfering with the Office program.
How to Fix Microsoft Something Went Wrong 1200
Fix 1. Clear Browsing Data
As mentioned before, when your browser browsing data get corrupted, the Microsoft something went wrong 1200 appears. In this case, you need to clear browsing data to deal with this issue.
Here are the steps to clear the cookies and cache data of your browser. We take Google Chrome for example.
Step 1. In Google Chrome, click the three-dot icon located in the upper right corner and select Settings.
Step 2. In the top search bar, type cache, and press Enter (Here you may be interested in this post: How to Fix Keyboard Is Not Working In Chrome Windows 10/11).
Step 3. In the pop-up window, click Clear browsing data. Then check all the options under the Basic tab and click the Clear data button.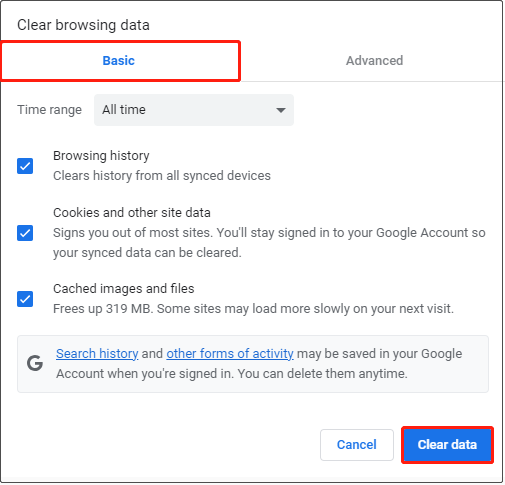 Step 4. Wait for the cleanup process to complete and then re-sign into your Microsoft account to check if the 1200 error has gone.
Fix 2. Clear Cached Credentials File
When Microsoft something went wrong 1200 error is caused by credentials, the best way to fix it is to clear or remove the cached credentials file. Here are the major steps.
Step 1. Press Windows + R key combinations to open the run command line window.
Step 2. In the text box, type %localappdata% and press Enter.
Step 3. In File Explorer, find and double-click the Microsoft folder, then right-click the Credentials folder to select Delete.
Step 4. Restart your computer and check whether you can log in to your Microsoft account successfully.
Or you can remove the credentials from the Control Panel.
Step 1. Open Control Panel and then click Credential Manager.
Step 2. Move on to the Windows Credentials section and check if there are any credentials of OneDrive, Outlook, or other Microsoft programs that you cannot sign in to. If so, you need to expand the credentials and click the Remove button to delete them.
Fix 3. Perform a Clean Boot
Third-party applications sometimes prevent your program from working or logging in. A clean boot allows Windows to boot with a minimal set of drivers and startup programs so that you can check if there is a background program that interferes with the normal login or running of Microsoft programs.
After finding the third-party program, you can disable it or uninstall it.
Fix 4. Tweak the Windows Registry
According to the Internet, deleting the Identity registry key by using Windows Registry Editor is also an effective way to address the Microsoft something went wrong 1200 issue.
Step 1. Press Windows + R keyboard shortcuts. Input regedit and press Enter.
Step 2. Click Yes in the UAC window.
Step 3. Navigate to the following location:
Computer\HKEY_CURRENT_USER\Software\Microsoft\Office\16.0\Common\Identity
Step 4. In the left panel, right-click the Identity key and click the Delete option from the context menu.
Step 5. Exit Registry Editor and reboot your computer to check if the issue has been resolved.
Further Reading
Data loss happens everywhere. When you want to recover deleted files, you can use MiniTool Power Data Recovery. This data restore tool not only can help to recover the missing Windows Pictures folder and restore the missing Users folder but is also effective in recovering data from an unbootable computer.
Click the button below to download MiniTool Power Data Recovery to recover up to 1 GB of file for free.
MiniTool Power Data Recovery FreeClick to Download100%Clean & Safe
Wrapping Things Up
This article introduces how to deal with Microsoft something went wrong 1200 error when trying to log in to OneDrive, Outlook, and other Microsoft programs.
If you have come across any other good solutions to this issue, welcome to share them with us in the comment zone below. Thank you.