What is Microsoft Sway? How to sign into Microsoft Sway? How to download Microsoft Sway? How to use Microsoft Sway? If you are looking for the answers to the above questions, this post from MiniTool is what you need.
What Is Microsoft Sway?
What is Microsoft Sway? It is a new app for Microsoft Office that lets you easily create and share interactive reports, personal stories, presentations, etc. It is similar to PowerPoint. PowerPoint is centered around the slideshow format, but Sway's apps are more diverse.
The following are the main features of Microsoft Sway:
Embed documents, video, audio, and more
Use the built-in design engine or customize your own layout
Change your Sway however you want
Provides accessibility view, closed captions, and autoplay
Choose your audience and choose their permissions
Share via URL, embed or social media
Export to PDF or Word
Password protect Sway
What Can You Do with Microsoft Sway?
You can use this application to create and share interactive reports, presentations, and more. After you add text and images, and search and import relevant material from other sources, Sway takes care of the rest.
You can share your Microsoft Sway with your family, friends, classmates, and colleagues. They can view your creations on the web without registering, logging in, or downloading anything. And, you can change any of Sway's privacy settings at any time to have more control over what you share. Anyone with a Microsoft account (Hotmail, Live, or Outlook.com) can use Sway for free.
How to Login or Download Microsoft Sway?
Then, we will introduce how to log in or download Microsoft Sway.
Microsoft Sway Login on Browsers
Step 1: Open your browser and go to the Microsoft Sway login page.
Step 2: Click the Get started button on the page.
Step 3: Type your Microsoft account and password. Then, you have logged into Microsoft Sway.
Microsoft Sway Download via Microsoft Store
In addition to using Microsoft Sway in a web browser, you can free download this tool and install it on your PC. Follow the steps below to download it.
Step 1: Launch Microsoft Store on your computer via the search bar.
Step 2: Type Microsoft Sway to the search box of Store and press Enter.
Step 3: To download Microsoft Sway, click the Get button.
Then, the downloading and installing processes begin. After a while, the installation is completed and you can launch Microsoft Sway. You are required to login into the Microsoft Sway for app creation.
How to Use Microsoft Sway
After logging in to Microsoft Sway, you can click Create New to start creating your first Sway.
Sway's interface has two main components: the Storyline tab and the Design tab. Storylines are the dashboards where you organize the content of your presentation, while Design is where you can see what your presentation actually looks like.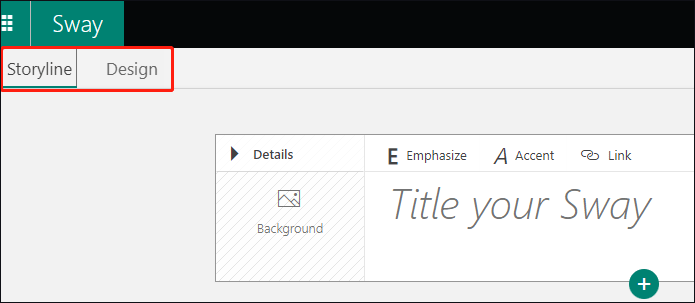 Final Words
How Sway meaning? How to get the Microsoft Sway download? You can find the answers in the content above. I hope that this post can be helpful to you.