What is Microsoft Whiteboard? How to download this app on your Windows 10/11 PC, iOS, & Android device? Take it easy and refer to this post focusing on Microsoft Whiteboard download & installation, you can find much information given by MiniTool.
Overview of Microsoft Whiteboard for Windows 10/11
Microsoft Whiteboard is a free multi-platform app based on the cloud that allows drawing on a virtual whiteboard and enables real-time collaboration between users.
This app offers a freeform and intelligent canvas and you can use various input methods including touch-screen pens, touch, or keyboard to write or draw as smoothly as you would with ink. It is available to add an image, type in text, sticky notes, or note grids.
Any team members can share the same virtual canvas at the same time and any change can appear in real-time on the screen, which enhances teamwork. All the work on the canvas can be automatically saved to the cloud.
Microsoft Whiteboard is available to download on Windows 11/10, Android & iOS, and it comes with Surface Hub devices. Besides, Whiteboard has a web version. Anyone who has a Microsoft account can free use Whiteboard. To sign in to Microsoft Whiteboard online, visit https://whiteboard.office.com/.
Besides, Microsoft Whiteboard is also available as part of Microsoft 365 subscriptions. It is integrated into Microsoft Teams meetings and as a feature of Teams.
If you want to free use the app on your PC or mobile, how to download it? Refer to the following part to find details.
Microsoft Whiteboard Download for Windows 11/10
Microsoft Whiteboard Download via Store
In Windows 10/11, you can easily download Microsoft Whiteboard and install it on your PC via Microsoft Store. See how to do this task:
Step 1: Press Win + S to open the search bar and type store, then click Microsoft Store to open it.
Step 2: Search for Microsoft Whiteboard in Store and click the Get button. Then, Windows is downloading and installing Whiteboard on your Windows 11/10 PC.
After a while, the installation process finishes and you can click the Open button to open this app for use. Then, use your account to sign into this app and click Mew Whiteboard to get started.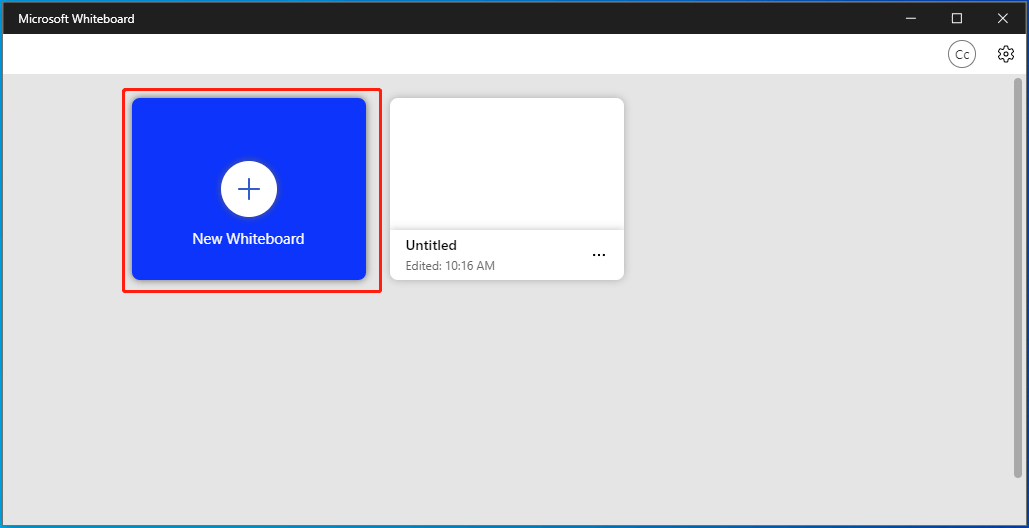 Microsoft Whiteboard Download Without Store
When searching for "Microsoft Whiteboard download" in Google Chrome, you can find someone ask: how to download and install Microsoft Whiteboard without Store? It is available to download Microsoft Whiteboard app without Store - via some third-party websites.
Here, we recommend using the site - https://www.filehorse.com/download-microsoft-whiteboard/. Here you can get some Microsoft Whiteboard old versions and the latest one. After getting the AppxBundle file, double-click on that file and click Install to start the installation.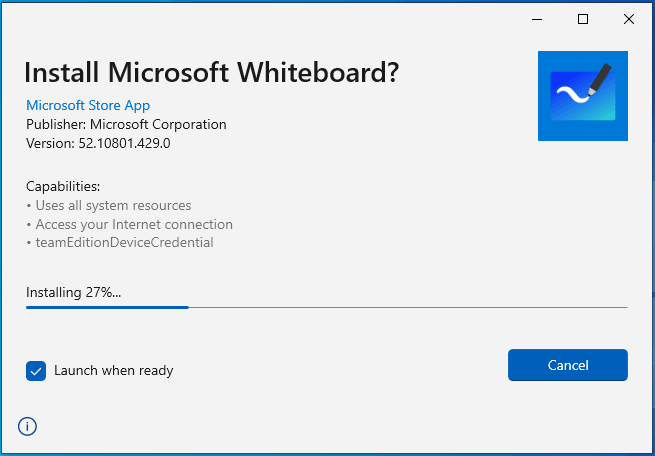 Microsoft Whiteboard Download for Android & iOS
The Microsoft Whiteboard app is available to download on your iOS and Android devices. You need to visit Google Play (Android) or Apple App Store (iOS), search for this app, and download & install it on the device.
Some of you may be curious about Microsoft Whiteboard download Mac. There is no available download for macOS. If you want to use Whiteboard on your Mac, using the web version is an option.
Final Words
That's all the information on Microsoft Whiteboard download for Windows 10/11, iOS, and Android. Just get this app by following the given instructions to draw on the canvas for collaboration.