Sometimes, when you try to play Minecraft, you may encounter the "can't connect to Minecraft outdated server" issue. You may feel annoyed, however, this post from MiniTool provides some methods for you to fix the issue.
Minecraft is a sandbox video game developed by Mojang. In Minecraft, you can explore a procedurally generated blocky 3D world and you can discover and extract raw materials, craft tools, building structures, or earthwork.
However, when you play it, you may encounter some issues, such as Minecraft connection timed out error, Minecraft LAN not working, can't connect to Minecraft server, etc. Today, we are talking about another issue – can't connect to Minecraft outdated server. 
When you have an outdated Minecraft version or use the Beta version to connect to a server/environment with a higher version, server outdated errors usually occur. Now, let's see how to fix the Minecraft outdated server issue.
Solution 1: Check Network and Restart Your Router
As the "outdated server Minecraft" error is related to your network, you should check the network cables and routers at first. You need to make sure that the cables are in the right place. If you are using Wi-Fi, you can restart your router. If this doesn't work, move to the next solutions.
Solution 2: Update Minecraft
You can try updating Minecraft via Microsoft Store with the steps below to fix the "Minecraft outdated server" issue.
Step 1: Click on the Windows icon on the desktop to find and click on Microsoft Store.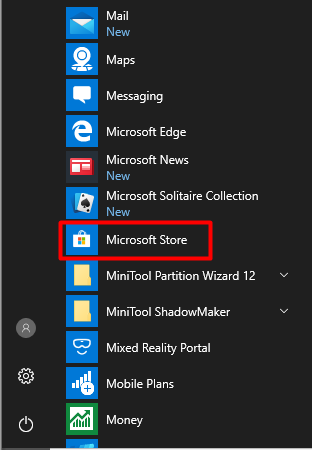 Step 2: Click on the three dots at the upper right corner of the Microsoft Store and click the Downloads and updates option from the pop-up menu.
Step 3: Then, click Get updates. After that, Microsoft Store will check for updates and install the latest updates for applications you installed on the Windows 10 system.
Solution 3: Change the Minecraft Version
Sometimes the current Minecraft version is not compatible with your Server. At this time, you need to change its version manually. Here's how to do that.
Step 1: Open the Minecraft launcher and click on the Launch Options.

Step 2: In the pop-up screen, click on Add new.
Step 3: Then you can select a different Minecraft version from the drop-down menu.
Step 4: Now, navigate to the News tab, and then click on the arrow next to the PLAY button and select the profile containing the Minecraft version that you have changed.
After changing the Minecraft version, you can check if the "Minecraft could not connect outdated server" issue is resolved or not.
Solution 4: Disable All Antivirus Applications
Misconfiguration and conflict with antivirus software installed on your computer are one of the reasons for the WaasMedic.exe high CPU issue. Your PC is constantly monitored by all antivirus software and the antivirus software tries to block any suspicious activity.
As one of the antivirus applications, Avast was reported that it had a lot of false positives and disrupted access to your profile.
You can disable or uninstall your antivirus, read this post to get the methods - Multiple Ways to Disable Avast for PC and Mac Temporarily/Completely. Then restart your computer after disabling and see if you access your profile without any problems.
Final Words
That is all information on methods to fix the Minecraft outdated server issue. If you want to fix the issue, but don't know how to do it, you can try the above solutions one by one. I believe that one of them can help you fix your issue.