How do you stop your monitor from going to sleep on Windows 10? Monitor going to sleep is a frustrating problem but fortunately, it can be easily fixed. Try these troubleshooting tips listed below by MiniTool and easily get out of the sleep mode.
Monitor Keeps Going to Sleep
When you use a computer, software or hardware issues may occur and cause the machine to behave strangely like the monitor problem. To be specific, your computer is turned on but Windows isn't loading and there is no input signal on the monitor screen or a message shows the monitor is going to sleep mode. Or you use a computer normally but the screen becomes black accidentally.
This could be caused by a connectivity fault, system file glitch, power plan setting, outdated driver, and so on. How to stop monitor from going to sleep in Windows 10? You can fix this issue with the following troubleshooting tips.
Fixes for Monitor Going to Sleep
Check the Monitor Connection
Firstly go to check if there is a connection issue between your monitor and computer. If the connecting cable is loose or damaged, your monitor goes to sleep when plugged in. Just go to power off the system, and then check the video cable & ports. Besides, unplug any external devices to your computer since they may conflict with the machine.
Run Hardware and Devices Troubleshooter
Perhaps the monitor keeps going to sleep due to any minor hardware glitch. Running Windows built-in troubleshooting software may be helpful to fix some issues.
In Windows 10, press Win+ I to open Settings and go to Update & Security.
Under the Troubleshoot tab, click Hardware and Devices and choose Run the troubleshooter. Windows is scanning for hardware changes. Finish the operation by following the on-screen instructions.
Disable Screen Saver
In Windows, there is a built-in feature called screen saver that can be automatically activated if there isn't Windows activity after a period of time. The monitor screen seems to go to sleep mode. So, you can choose to disable this feature.
Go to type lock screen settings and click the result in Windows 10.
Click Screen saver settings and set it to None. Make sure to uncheck the option – On resume, display logon screen.
Save the change by clicking OK.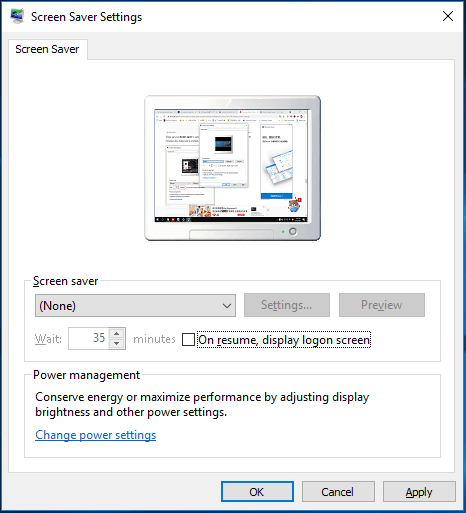 Update Monitor Driver
If your monitor keeps going to sleep, you can also try to update the driver. To do this, you can go to Device Manager, right-click the display driver and choose Update driver.
Then, finish the operations by following the on-screen guide. Or, you can use a professional driver update tool to do this work. 
Change Power Plan Settings
Power settings can be the chief culprit of the issue – monitor going to sleep. Often, your monitor goes to sleep when plugged in. To get rid of this situation, go to change the settings in Windows 10.
Press the Win + X keys and choose Power Options from the menu.
Click the link of Additional power settings to open a new window.
Click Change plan settings and set the On battery and Plugged in options to Never for both Turn off the display and Put the computer to sleep.
Increase System Unattended Sleep Timeout
If you have tried these ways above but your monitor keeps going to sleep mode, you can try to set System unattended sleep timeout to a longer time. By default, it is invisible and you need to let it visible via changing Windows Registry.
Press Win + R, type regedit, and click OK.
Go to Computer\HKEY_LOCAL_MACHINE\SYSTEM\CurrentControlSet\Control\Power\PowerSettings and find the directory, shown in the figure.
Then, double-click Attributes and set Value data to 2.
Then, go to increase System unattended sleep timeout.
Right-click the Windows icon and choose Power Options, then click Additional power settings.
After clicking Change plan settings, choose Change advanced power settings.
Expand Sleep, click System unattended sleep timeout, and change it to a long time like 30 minutes.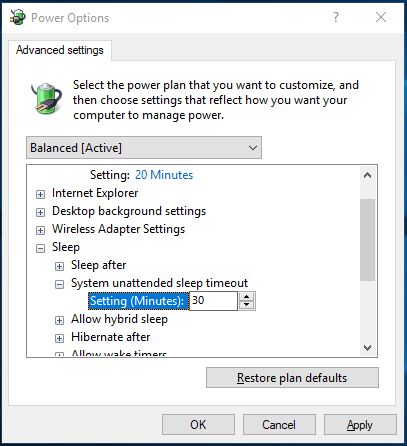 Tip:
These above tips are based on a booting Windows operating system. If Windows 10 fails to boot, you can try these fixes in
Safe Mode
: check the connection, disable screen saver, change power settings, update monitor driver and set System unattended sleep timeout to a long time.
Bottom Line
Monitor going to sleep is annoying but fortunately, you can fix it via some troubleshooting tips. If you are encountering it, take it easy and try these methods in this post now.