Are you using a wired, USB or wireless, Bluetooth mouse but find it disconnects and reconnects randomly? Then, you ask: why does my mouse keep disconnecting in Windows 11/10? How do I stop my mouse from disconnecting? Now, MiniTool will give you the answers in this post and you can easily fix the mouse disconnecting and reconnecting issue.
Mouse Keeps Disconnecting and Reconnecting Windows 10/11
When using a computer, the mouse is an important part that enables you to operate your computer well. A wired mouse, USB mouse, wireless mouse, and Bluetooth mouse are used by you. However, the mouse always goes wrong, for example, mouse lags and mouse keeps freezing – these two situations have been mentioned in our previous articles.
Additionally, you can find another situation –mouse randomly disconnects in Windows 10/11. This is the topic we will discuss today. This issue is confirmed to occur with the older mouse that is still using a PS/2 port and the newer USB-format mouse. Moreover, it can happen on a wired or wireless Bluetooth mouse.
Why does your mouse keep disconnecting? This is caused by mouse hardware detect, enabled USB suspend for HID devices, an outdated or corrupted driver, Windows 10/11 glitch, etc. Now, let's go to troubleshoot the issue in these aspects.
Solution 1: Check for Hardware Issues
Before trying other fixes, you should make some necessary checks.
If the mouse is plugged in a faulty USB port, perhaps the mouse randomly disconnects. So, plug it out and insert it in another port to see if the problem is fixed.
Also, you can connect the mouse to a different computer. If the issue also happens, it's clear that the mouse is damaged and you need to purchase a new one. If it doesn't appear, the issue may be related to Windows, and then follow the methods below to start the fix.
Solution 2: Disable USB Selective Suspend
In Windows 10/11, the feature – USB selective suspend is quite useful if you want to save power as well. However, it is known to cause disconnection issues with peripherals. So, you should disable it to get rid of mouse disconnecting and reconnecting.
Input powercfg.cpl in the Run dialogue box that is opened by pressing Win + R keys and then hit Enter to open the Power Options interface.
Go to the current power plan and choose Change plan settings.
Click the Change advanced power settings link in the new window.
Look for USB settings and expand it, expand USB selective suspend setting and set it to Disabled.
Click Apply and OK to let the change take effect.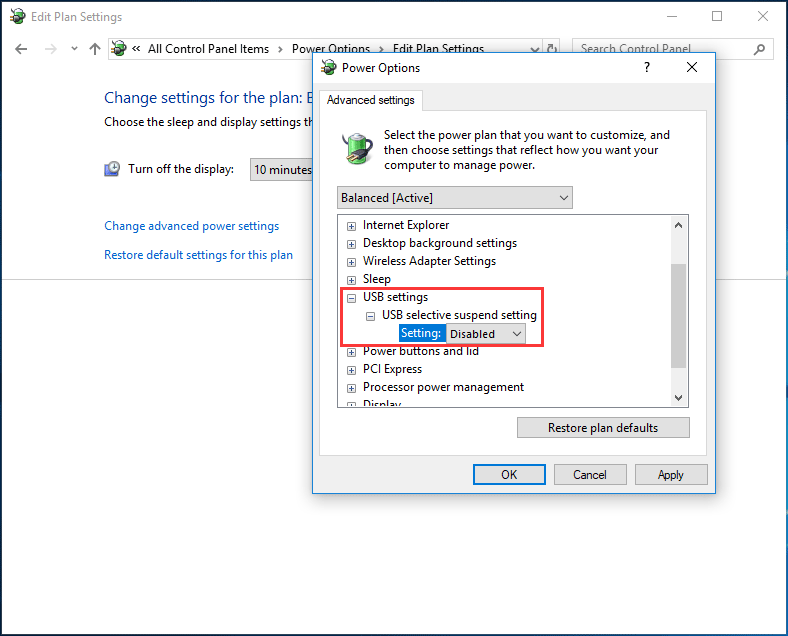 Solution 3: Change USB Power Management Settings
There is a useful feature that Windows can turn off devices that are not in use so as to save power. But sometimes, it goes wrong with some USB devices, for example, your USB mouse keeps disconnecting. A quick fix is to disable the power management settings for USB Root Hub.
Here is how to do this:
1. In Windows 10/11, right-click on the Start button and choose Device Manager.
2. Expand Universal Serial Bus controllers, double-click on a device to open the properties window, go to the Power Management tab and then uncheck the box next to the option – Allow the computer to turn off this device to save power.
3. Click OK and then your mouse should not disconnect randomly.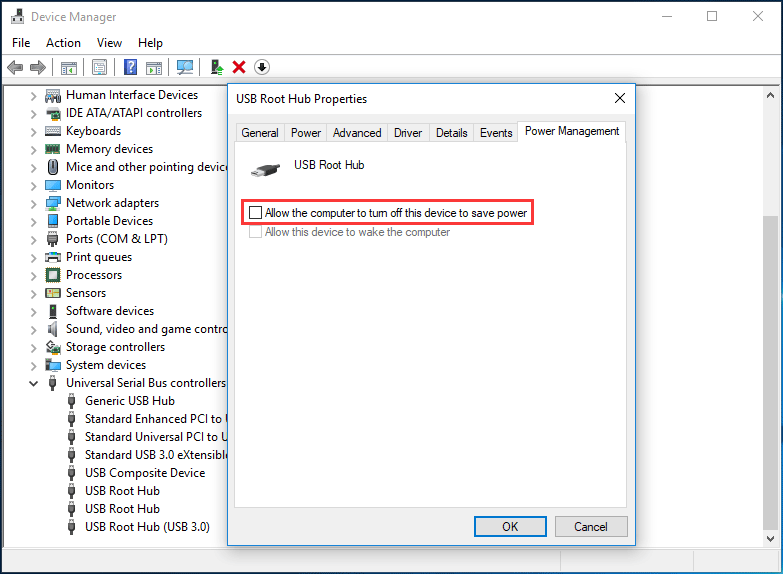 Solution 4: Reinstall the Mouse Driver
As mentioned above, this problem could be caused by the wrong or outdated driver. So you can choose to reinstall it to fix the issue.
1. Go to the Device Manager interface.
2. Expand Mice and other pointing devices, right-click on your HID-compliant mouse and choose Uninstall device.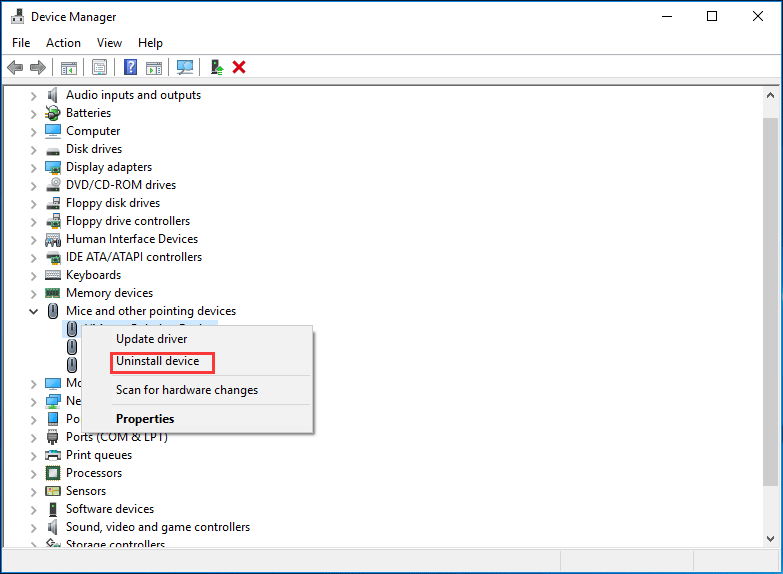 3. Click Uninstall to remove the driver.
4. Disconnect your mouse, restart your PC and then Windows will install the driver automatically. Now, your mouse won't disconnect randomly.
Solution 5: Resolve an Electro Magnetic Interference (EMI)
According to users' feedback, an unlikely culprit but a fairly common one is an Electro Magnetic Interface (EMI) or pulse that can temporarily disconnect the mouse. So if your mouse keeps disconnecting, you need to investigate this case.
Try switching off all lights and all electronic devices to see if the random mouse disconnecting and reconnecting issue is fixed.
Bottom Line
Now almost all the possible solutions are introduced here. If your mouse disconnects and reconnects randomly in Windows 10/11, just try these methods above to get out of the trouble.