What will you do when your MSI camera is not working? Do you spend hours finding solutions for it? Stop wasting your time now! In this guide on MiniTool Website, you can solve this issue easily within minutes.
MSI Camera Not Working
MSI is famous as one of the best gaming hardware peripherals manufacturers in the world. You may need to have a video chat with your friends or colleagues in daily life. If your MSI gaming laptop camera not working suddenly, it will affect your work and game experience. For several reasons, the webcam will stop working. You can adapt the solutions to tackle this issue easily.
How to Fix MSI Camera Not Working on Windows 10/11?
Fix 1: Enable MSI Webcam Manually
By default, MSI camera is disabled, so you need to turn it on manually. Just press Fn + F6 to turn on your camera. If this is not working for you, you can also try to hit the F6 key alone.
Fix 2: Allow Camera Access
MSI camera needs some necessary permissions due to privacy concerns. If you forget to grant the camera corresponding access, MSI camera not working will appear.
Step 1. Press Win + I altogether to open Windows Settings.
Step 2. Go to Privacy > Camera.
Step 3. Hit the Change button under Allow access to the camera on this device.
Step 4. Toggle on Camera access for this device.
Fix 3: Enable Webcam on MSI Dragon Center
Chances are that you have enabled a hotkey on MSI Dragon Center hence triggering MSI laptop camera not working. You can open your MSI Dragon Center to check if the camera is disabled.
Step 1. Launch MSI Dragon Center and go to General Settings.
Step 2. Turn on Webcam.
Fix 4: Update Camera Driver
An outdated camera driver might be the reason for MSI computer camera not working. If you don't update your camera driver for a long time, follow the guidelines below:
Step 1. Press Win + X at the same time and highlight Device Manager in the context menu.
Step 2. Expand Camera or Imaging devices and then right-click on the first drive to choose Update driver.
Step 3. Press Search automatically for drivers and wait for the system to install your latest camera driver for you.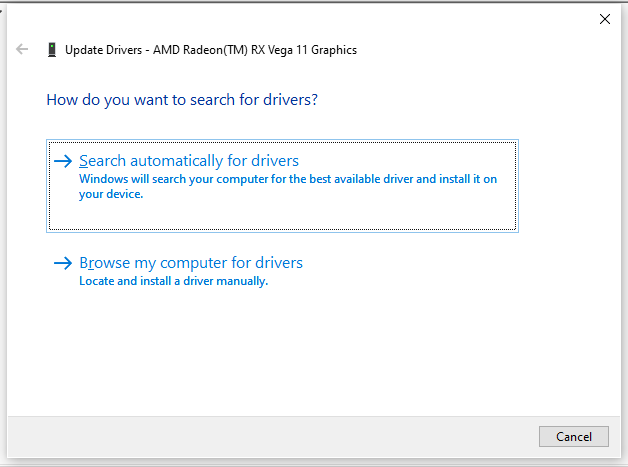 Fix 5: Roll Back Camera Driver
Meanwhile, a camera driver update might also cause MSI camera not working. Therefore, reinstalling the camera drive is also a solution for you.
Step 1. Type device manager in the search bar and hit Enter.
Step 2. Expand Camera or Imaging devices and right-click on the first driver to choose Properties.
Step 3. Under the Driver tab, hit Roll Back Driver.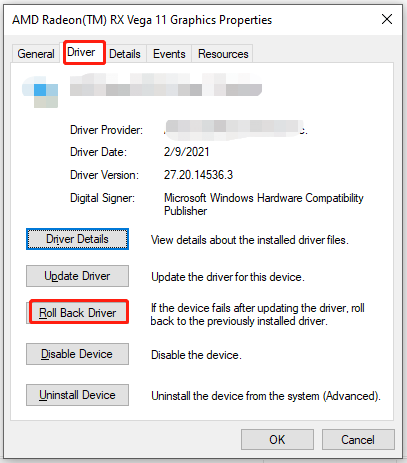 Fix 6: Uninstall Recently Installed Application
If you encounter camera not working on MSI laptop after installing a program, try to uninstall it to check out improvements.
Step 1. Press Win + R to open the Run box.
Step 2. Type appwiz.cpl and hit enter to open Programs and Features.
Step 3. Scroll down to look for the app that you installed recently, right-click on it and choose Uninstall.
Step 4. Hit Uninstall again to confirm this action and then follow the uninstallation wizard to finish the uninstallation process.
Step 5. After the uninstallation process is complete, reboot your computer.
Fix 7: Run the Camera Troubleshooter
If none of the fixes above helps you out, you can consider the internal hardware issues. Try running the hardware troubleshooter to resolve this problem.
Step 1. Press Win + R to evoke the Run box.
Step 2. Type msdt.exe -id DeviceDiagnostic and hit Enter.
Step 3. Press Next to start the detecting process.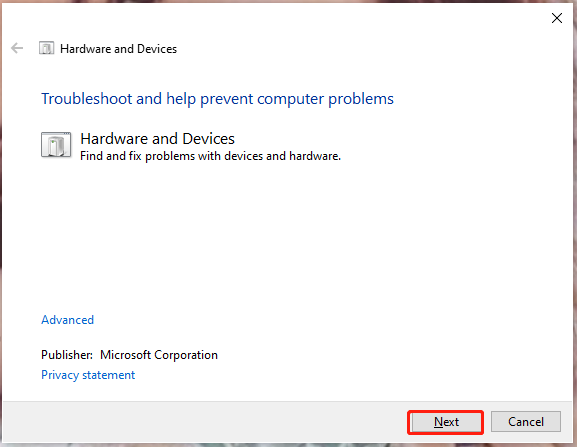 Step 4. After the process is done, you will see the hardware issues and then follow the instructions on the screen to complete the troubleshooting process.